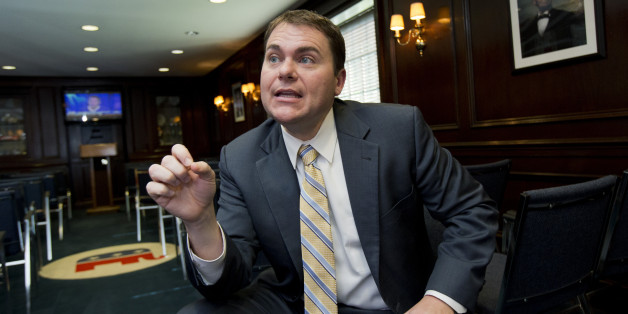 Former San Diego City Councilmember Carl DeMaio (R) may feel a little more than stung by the U.S. Chamber of Commerce's endorsement of his Democratic opponent.
The Chamber's national political director, Rob Engstrom, took to Twitter late Thursday night to chide DeMaio's business bona fides, saying that the candidate's campaign is "imploding" and that he's "pretending to be pro-business." DeMaio is running to unseat Rep. Scott Peters (D-Calif.) in the San Diego-area 52nd District.
.@carldemaio left to rely on his own consultants to pretend he's pro biz. Sad. Fact is he sought our endorse & failed. No one weighed in.

— Rob Engstrom (@RobEngstrom) September 5, 2014
.@carldemaio's campaign pretending to be pro business, and yet loses Chamber endorsement. Not a single company weighed in for him. #Telling

— Rob Engstrom (@RobEngstrom) September 5, 2014
.@carldemaio campaign imploding. Fact: they sought our endorsement for over a year, overwhelmingly rejected. Stop the hypocrisy. Now.

— Rob Engstrom (@RobEngstrom) September 5, 2014
Engstrom's tweets appeared to be aimed at the DeMaio campaign's response to the group's endorsement. After the Chamber's announcement, campaign spokesman Dave McCulloch said Wednesday that the group endorsed Peters to maintain the status quo in Washington, D.C.
"We're not surprised that a special interest group in D.C. is trying to protect members of Congress -- they like the system the way it is," McCulloch said. "They know Carl DeMaio is coming to end the perks for this crowd."
According to the Chamber's scorecard, Peters voted for their priorities 69 percent of the time in 2013. The endorsement is all the more rare since the group backed then-Rep. Brian Bilbray (R-Calif.) against Peters in 2012.
Only one of the other four Democrats with the Chamber's backing, Rep. John Barrow (Ga.), faces a serious Republican challenger this cycle.
Though Peters has the Chamber's endorsement, he has been attacked by Karl Rove's Crossroads GPS nonprofit.
This story has been updated to note that on Friday the Chamber endorsed a fifth Democratic candidate, Rep. Kyrsten Sinema (Ariz.).
BEFORE YOU GO
PHOTO GALLERY
New House Members Of The 113th Congress