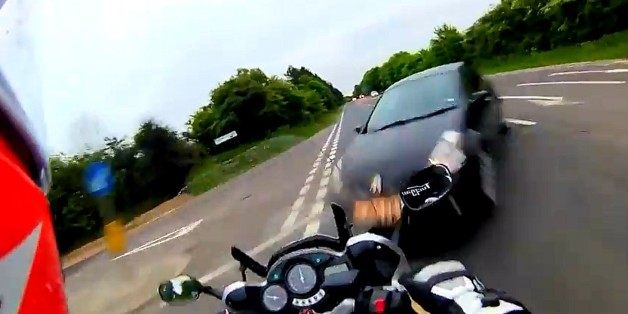 Helmet-cam video showing the final moments of a motorcyclist who died when he collided head-on with a car has been made public.
David Holmes, 38, of Norfolk, England, was riding his Yamaha FJR1300 near Honingham village on the evening of June 8, 2013.
According to KDVR.com, Holmes was traveling at a speed of 97 mph -- nearly 40 mph above the posted speed limit -- when the driver of a Renault Clio pulled out in front of him on the A47 highway.
Holmes' GoPro camera was recording at the time and captured his final moments as he was struck and killed by the vehicle. His last word, uttered seconds before impact, was "whoa."
Warning: The video accompanying this story contains footage of a fatal collision, which some readers may find distressing.
WATCH THE VIDEO: (Story Continues Below)
"He must have had a moment of fear at the end of his life," Holmes' mother, Brenda Holmes, said in a video uploaded to YouTube on Thursday. "I find that very hard to deal with."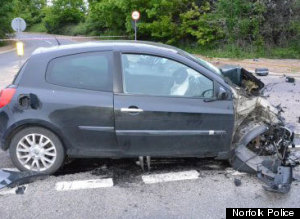 Benjamin Austin's car after the crash.
Benjamin Austin, the driver of the vehicle that struck David Holmes, ultimately pleaded guilty to causing a death by careless driving. He was subsequently ordered to perform 130 hours of unpaid work. His drivers license was also suspended for 18 months.
The Norfolk Constabulary posted the video of the accident to YouTube, with permission from David Holmes' family.
According to video, it has been released to "make riders and drivers think seriously about road safety."
Brenda Holmes said she is hoping the video will save lives.
"This hasn't been an easy thing to do but I just hope that somebody benefits from the warning that people slow down and take time to look for bikes," she said.
Like Us On Facebook |

Follow Us On Twitter |

Contact The Author
BEFORE YOU GO
PHOTO GALLERY
Caught On Camera