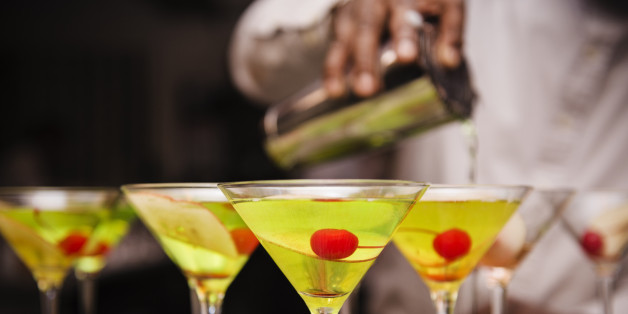 A Canadian student claims he and a male friend were kicked out of a popular bar in Montreal's Latin Quarter after kissing, but the venue's owner has a different story.
As The Toronto Sun is reporting, University of Montreal medical student Gabriel Dion was celebrating with classmates at the Le Saint-Sulpice bar in Montreal. Dion claims he was ejected from the bar after a bouncer spotted him kissing another man, and was told to return after the bar closed to retrieve his personal effects.
"We were both interested in each other so basically we just went to a separate stairway because we didn't want to disturb anyone and we just started kissing, making out, and hugging each other and that's it," Dion told CTV News.
He added, "We definitely know some people are not comfortable with that, especially in a straight bar, so we tried to be as discreet as possible, but then a security guard came in and just told us to leave… I definitely felt disrespected. I felt that there was a lot of prejudice basically."
Meanwhile, bar owner Maurice Bourassa told CBC News that Dion and his friend had gone beyond an acceptable public display of affection, and that the bouncer had found the pair making out on a fire escape, which is against the city's fire department regulations.
"[Patrons] can kiss, no matter the sexual orientation," Bourassa said. "But once [they've] become horizontal, I believe there we have some limits." He then concluded, "We're very open. The St-Sulpice is a very open and welcoming place."
Dion admitted that the party was a bit on the wild side, noting "some people didn't have a lot of clothes on," according to CTV News.
The National Post reported that university protesters were planning a kiss-in for the bar on Sept. 5.
You can watch a video report from CTV News here.
Last year, a Canadian lesbian couple claimed they were kicked out of Montreal's Le Manoir for kissing.
Although owner Peter Sergakis quickly issued an apology for the incident, he said the women's smooch continued for 16 minutes and was captured on security cameras.
"Did the girls do anything really indecent? I don't think so," Sergakis, who stressed that his establishments are open to all members of the lesbian, gay, bisexual and transgender (LGBT) community, told the West Island Gazette. "But was it appropriate for the restaurant? I don't know. If I had been there, I wouldn't have asked them to leave, but I would have tried to make them understand why they should stop."
BEFORE YOU GO
PHOTO GALLERY
LBGT Service Cases