A Florida student says she is embarrassed by the punishment she received after violating her school's dress code, reports ABC News.
Fifteen-year-old Miranda Larkin says she was told to wear a shirt and sweatpants that said "dress code violation" after wearing a short skirt to school. Larkin had just transferred schools, and she says she did not know she was in violation of Oakleaf High School's dress code, according to local outlet First Coast News.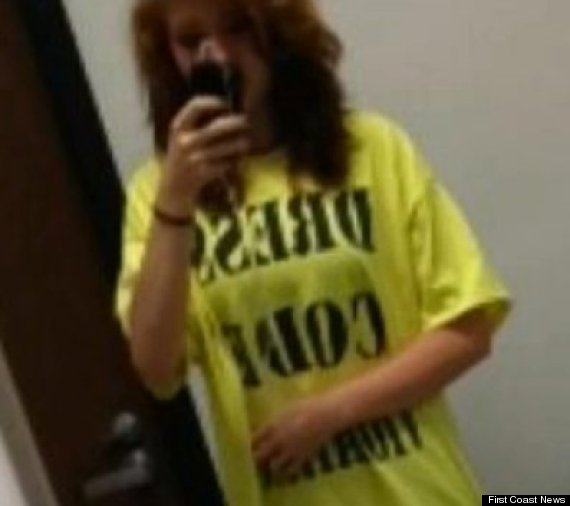 "It was right after first period," Larkin told ABC News. "I was in the hallway and I got stopped by a teacher who told me my skirt was too short and sent me to the nurse's office. They told me I was going to have to change and put on the dress-code-violation outfit."
When dress code violations occur in Clay County School District, students have the options of: Getting an in-school suspension while remaining in their original outfit, having a parent or guardian bring them new clothes, or wearing the "dress code violation" outfit, spokesman for the district Gavin Rollins told The Huffington Post. But according to local outlet WJXT-TV, Larkin thought she only had the option of changing into school-provided clothing.
"She put on the outfit in the bathroom and looked at herself in the mirror and just broke down. She started sobbing and broke out in hives," said Dianna Larkin, the student's mother, told First Coast News.
Dianna Larkin says she is extremely upset about the incident, and told the outlet that she could file a complaint with FERPA, the Family Educational Rights and Privacy Act, because her daughter was disciplined publicly. In response, district's attorney said the incident did not count as a FERPA violation because the discipline is not on any sort of student record. FERPA, a federal law passed in 1974, guards the privacy of student records.
"This is harmful practice and it doesn't teach anything," Dianna Larkin told ABC. "It doesn't have any intrinsic educational value."
Rollins told The Huffington Post that the student should have been aware of the school's dress code, as it had been made clear several times before school. He also said that after the student became upset over the outfit, she was allowed to call a guardian and go home.
"I don't have a recording of what the nurse said to her but I know generally students are aware that if they have an issue they're always allowed to contact parents. Students are never prohibited from calling a parent or guardian to seek further advice," said Rollins.
He also said the district does not mean to humiliate students with the policy, and that the district may end up changing the practice.
"The school was not in any way attempting to harass or publicly humiliate, just remedy the problem quickly. In the past we had normal plain looking clothes but students were actually stealing them" said Rollins. "We're not set in having to do it this way ... we're going to take a thoughtful deliberative process in making policy. We're not going to allow one mom getting upset and outraged ... to allow that to determine what's best for every student."

BEFORE YOU GO
PHOTO GALLERY
The Most Popular Books For American Students