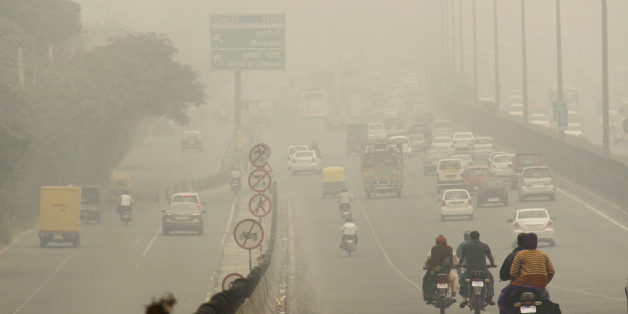 India's smog problem could be preventing tens of millions of the country's poorest people from getting the food they desperately need.
According to a new study published in the journal Geophysical Research Letters, ground-level ozone, the main component of smog, damages about 6.7 million tons of India's staple crops, including wheat and rice, in a single year. Researchers say those lost crops, worth an estimated $1.3 billion, could feed around 94 million people, or about a third of the country's poor.
Veerabhadran Ramanathan, the study's co-author and a professor of climate and atmospheric sciences at the University of California, San Diego, said in a news release that the sheer amount of lost crops -- specifically wheat (3.8 million tons lost yearly) and rice (2.3 million tons lost) -- "surprised" him and his colleagues.
Air pollution is a major problem in some parts of India. New Delhi's air, for example, has been found to be the most polluted in the world. In February, Time said Delhi's air pollution had become a "lethal hazard."
Surface ozone -- caused by vehicle emissions, cooking stoves, industrial facilities and other sources -- has long been known to be harmful to human health, but scientists have also been raising the alarm about its devastating effects on vegetation.
Earlier this year, a study by researchers from the Massachusetts Institute of Technology and Colorado State University found that the combination of climate change and ground-level ozone pollution may pose a serious threat to global food supplies in the coming decades. The researchers said air pollution specifically could significantly increase the risk of malnutrition in developing nations.
Agricultural production is "very sensitive to ozone pollution," said Colette Heald, one of that study's authors, in a July news release. As such, it's important, she said, to consider the "agricultural implications of air-quality regulations."
CORRECTION: An earlier version of this post incorrectly stated 6.7 tons -- rather than 6.7 million tons -- of India's staple crops had been damaged by smog in a single year.
BEFORE YOU GO
PHOTO GALLERY
U.S. National Parks With The Worst Smog