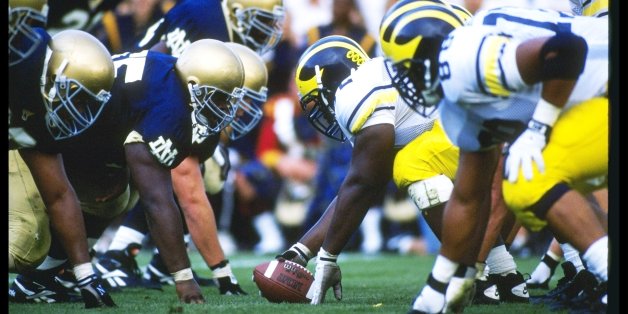 The University of Notre Dame may not want to play football against the University of Michigan any longer. But that doesn't mean the rivalry has to go away entirely. Even if hostilities between the athletes on the field are halted indefinitely, the competition among the school archivists on Twitter may just be heating up.
Ahead of the 42nd and possibly final meeting between the Midwest football powerhouses on Saturday night, U-M's Bentley Historical Library dusted off a letter from 1894 to tweak its rivals in South Bend, Ind.
As #NDFB game approaches enjoy 1894 letter from @NotreDame requesting @umichfootball teach their students to play pic.twitter.com/aJfexIk01o

— UM Bentley Library (@umichBentley) September 4, 2014
The archivists at Notre Dame didn't take the tweet lightly. No, they didn't insist that Notre Dame didn't need Michigan to learn the rules of that newfangled football game back in the nineteenth century. Rather, @NDArchives pointed out that Michigan's football team had taught the game to Notre Dame students even earlier than 1894.
@umichBentley It was 1887 when Michigan, led by #ND Alum GW DeHaven, "came to instruct them in the points of the Rugby game" ...

— Notre Dame Archives (@NDArchives) September 5, 2014
@NDArchives That's right, in 1887 #UM played #ND (W8-0). In 1894, #ND requested the "services of a good coach to make a first-class team."

— UM Bentley Library (@umichBentley) September 5, 2014
Like many with an appreciation for college football history, both @NDArchives and @umichBentley expressed sadness that there a no more scheduled games in the storied rivalry.
@umichBentley Yup, @NDFootball owes a lot to @umichfootball. Sad to see the rivalry go dormant. Strong competition made the series great

— Notre Dame Archives (@NDArchives) September 5, 2014
@NDArchives @NDFootball @umichfootball Yes, very sad to see the competition end, but the rivalry will live on in the #UM & #ND archives!

— UM Bentley Library (@umichBentley) September 5, 2014