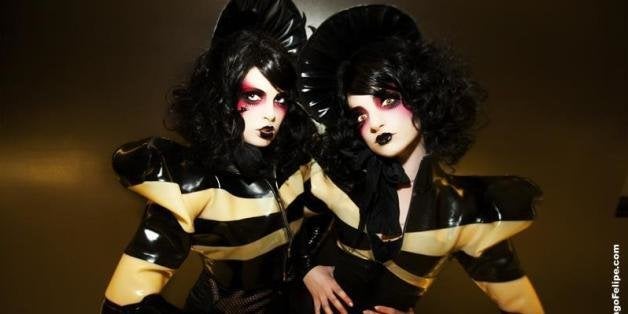 This is the seventeenth installment in HuffPost Gay Voices Associate Editor JamesMichael Nichols' 30-part series "After Dark: NYC Nightlife Today And Days Past" that examines the state of New York nightlife in the modern day, as well as the development and production of nightlife over the past several decades. Each featured individual in this series currently serves as a prominent person in the New York nightlife community or has made important contributions in the past that have sustained long-lasting impacts.
HuffPost Gay Voices believes that it is important and valuable to elevate the work, both today and in the past, of those engaged in the New York nightlife community, especially in an age where queer history seems to be increasingly forgotten. Nightlife not only creates spaces for queers and other marginalized groups to be artistically and authentically celebrated, but the work of those involved in nightlife creates and shapes the future of our culture as a whole. Visit Gay Voices regularly to learn not only about individuals currently making an impact in nightlife, but those whose legacy has previously contributed to the ways we understand queerness, art, identity and human experience today.
The Huffington Post: What did your journeys to becoming fixtures within the New York nightlife community entail? How did the two of you meet and decide to start doing mirror looks together?
Daughters of Devotion: The two of us met seven years ago in Seattle and we were instantly obsessed with one another. When Laura moved to NYC, Kindra would visit and we quickly became best friends. Soon thereafter she put a Wiccan spell on me and -- poof -- a month later I was living a few blocks away in Chelsea. I had a previous twin in Seattle for three years and have always loved drag, but specifically the aesthetic of twinning themed looks.
Part of Laura luring Kindra was that she would be Kindra's new nightwife, and that we would take it to the next level, making sure our looks were always high concept and perfectly executed -- or at least to the best of our ability. The goal was not just to be part of the club creature family and hired by some of our most revered icons, but to create a brand which could eventually be turned into a business. Laura's romantic/fetish fashion sensibility mixed with Kindra's showgirl/glam frivolity resulted into a truly magical concoction. For the past four years we've had opportunities that we would have never dreamed of in a million years; unreal moments like performing for Cher, traveling to Hawaii to lay on the beach with Carmen Electra, being nominated for a Glammy and being featured on the cover of Next Magazine. We feel lucky and honored to be able to live out our fantasies and be celebrated for our expression.
How do you conceptualize your looks -- from where do you draw inspiration? How does collaboration play into the process?
We draw inspiration from so many sources. Couture designers through the ages, vintage patterns, showgirl pageantry, Dolly Parton, John Willie, nightlife artists present and past, fetish, cartoons -- you name it. But most everything we do has a bit of a twist to it. Every look has a name and meaning behind it, even if no one but us knows. We sit down each month and ideate our next few looks together through shared Pinterest boards, then we decide, divide and conquer on bringing them to life with the help of our talented friends -- especially Lydia of Vengeance Designs, who has been our saving grace for the past few years.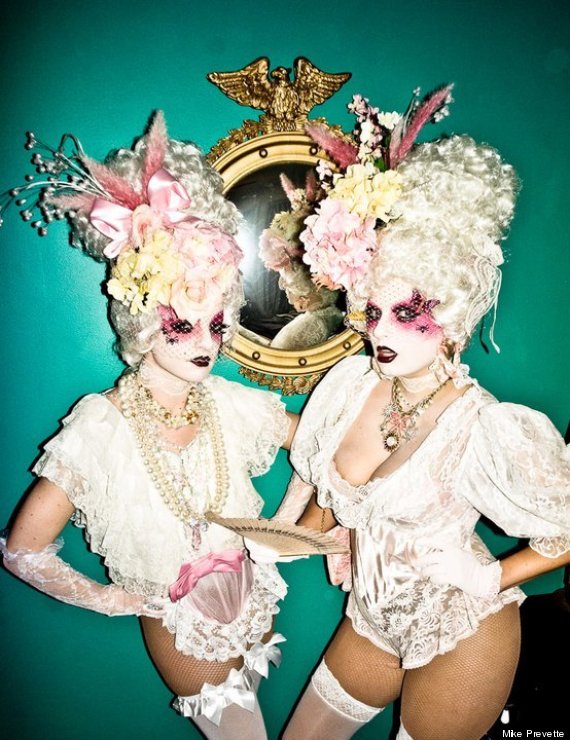 Do you two consider yourselves artists? Does your work expand outside of the looks you produce for nightlife?
In the beginning we always joked about being "artists" and having to be taken seriously, when of course we didn't. But then at some point, after a number of opportunities provided recognition in and outside of our world, we realized that we are actually artists. The looks we conceptualize, create and present to the world are living works of art to be admired for just a moment in time; especially because we rarely repeat looks. Also, because we worked with Susanne Bartsch for a year at Catwalk, she encouraged us to create more installations -- which came naturally, as our looks are conceptual anyway. Interacting with the crowd rather than just being a "Micky Mouse" for people to take photos with is much more interesting to us. For example, our next installation we're creating for fashion week for bARTschinspiration is going to be a human petting zoo, where we will be overseeing, feeding and training a number of live human animals. Yes, feed the models!
Our work expands out of nightlife in a sense, yes. Laura is a hair stylist in the West Village at Seagull, where she's one of the top curly hair specialists in the city. Kindra is a creative director in advertising, so her job is all about conceptualizing experiences for brands and helping bring them to life in exciting and imaginative ways.
PHOTO GALLERY
Daughters of Devotion
Do you ever draw inspiration from or have people compared you to the work of the Fabulous Wonder Twins?
We've actually never had anyone compare us to them, although we've heard of them and their looks are amazing! It's interesting because when we first started in NYC I had been twinning for years, but the only consistent twins on the NYC scene were The Huggums at Vandam, who are fantastic. Now there are multitudes of mirrored creatures in the nightlife world. Which is fun but also sometimes funny because we'll be hired for a party and everyone hired has a twin. And we say, "Oh no, are we a fad and we're going to have to thruple soon?" Twinning has obviously been something that's been done through the ages because it's more fun but it's having a little moment in the club scene right now for sure.
For us it's essential to be precise. Which adds to the impact and the challenge. True twinning for us means always getting ready together so our makeup is exact and it means almost always having everything custom-made. We oftentimes take twinning to a new level by conjoining through chains or collars or even conjoined corsets.
It's a dedication, and part of the reason we're called Daughters of Devotion.
We're devoted to one another and the craft of creating illusion. We aren't transforming from "male to female," but we are transforming ourselves into one entity -- which is quite challenging. If you meet us during the day you'll see we look very different from one another. Of course, Daughters of Devotion is also a name which honors all of the queens and icons who have inspired us, and is a hint to our penchant for kinkery, or "drag torture enthusiasm," as we say.
How would you say nightlife influences or informs your art -- or vice versa -- as well as your identities as artists and nightlife personalities?
We always want to turn looks that have the praise and appreciation of our peers above all others. We turn it out for ourselves and each other, and are constantly inspired by those around us. This last year we've been most obsessed with the Dairy Queens and Ryan Burke, aesthetically, but there's always some new kid showing up and blowing everyone away. And we still almost pass out whenever we see Amanda Lepore. She never ceases to stun. Ever.
In terms of nightlife informing our art, one thing we're known for is using lights (lit up mirrors, lit up wigs, lit up dresses, lit up panniers, lit up metal cages) because we learned early on that it's so dark that oftentimes all of the hard work you put in isn't seen except by the flash of a photographer. So we try to literally give ourselves light to be seen. That, our conjoining and our precision are the things other nightlife artists have been impressed by. And we're on time. Which means in nightlife time we're early.
Nightlife acts as a major force of cultural production. Now, Susanne Bartsch is pushing an initiative to take art "from the clubs to the galleries" in order to showcase and celebrate this work in a different context. How do you see this influencing the future of nightlife?
This movement is fantastic because it's validating nightlife artists' talent. It's also practical as a showcase in so many ways. It's fun to have flashy things at the club but, in the dark with all the music pumping and mind-altering substances, the handful of creators who are truly making something genius are often not fully seen or appreciated. You'll go to a party and see photos the next day and go, "WOW! I had no idea that person I was talking to for an hour was head-to-toe painted orange!"
Moving the installations from the club to the gallery also elevates the execution. You can get away with being a little sloppy in club conditions. In gallery form those who truly are masterful at their craft and inventive will shine. However, that being said club kids, creatures, creators all still need to somehow stay connected to nightlife -- otherwise the magic of NYC dies.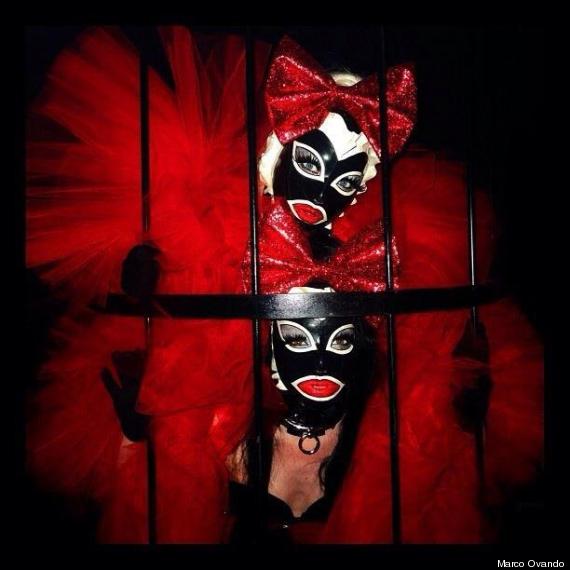 What's the most important thing you see coming out of nightlife today?
The most important thing coming out of nightlife today is that it's still coming out. With all the dramatic changes politically and financially over the last 30+ years, the legacy of New York nightlife still exists. And even though our parties are often held in some of the most elitist "bottle service" clubs, for one night a week the door opens and you don't get in because you are rich, famous or work in PR -- you get in because you're a radical weirdo dressed to the tens, or friends with someone who is. Yes, it has changed, but we're all here together committed to keeping New York weird.
What do you see as the future of NYC nightlife?
We aren't psychics, just witches. So although we can't predict the future we can say what we hope will be the future: mobile parties with a series of unknown destinations. Sensual soirees in ice cream parlors where we can create "installations" of eating vats of soft serve surrounded by leather daddies. And holograms so we can gig while we lay on the beach in Puerto Rico.
And really. The children. The children always are our future.
For more from Daughters of Devotion head here to visit the pair's website. Missed the previous installments in this series? Check out the slideshow below.