What if your favorite queer and pop icons were reimagined... as My Little Ponies?
This is the concept behind Finnish artist Mari Kasurinen's collection of "My Little Pop Icons," a series of My Little Pony-inspired individual pieces that collectively create a nuanced body of work.
Kasurinen's inspiration for the project stems heavily from the digital age obssession with the personal brand, and what it means to translate that brand into a commentary on individualism and consumerism. While the entire "My Little Pop Icons" body of work is not patently queer, many of the pieces are -- including one inspired by Tom of Finland.
In fact, Kasurinen told The Huffington Post that she wants to use the "My Little Pop Icons" series as a jumping off point for an LGBT series of ponies. In order to better understand her work and the inspiration behind the "My Little Pop Icons" series, The Huffington Post chatted with Kasurinen earlier this week.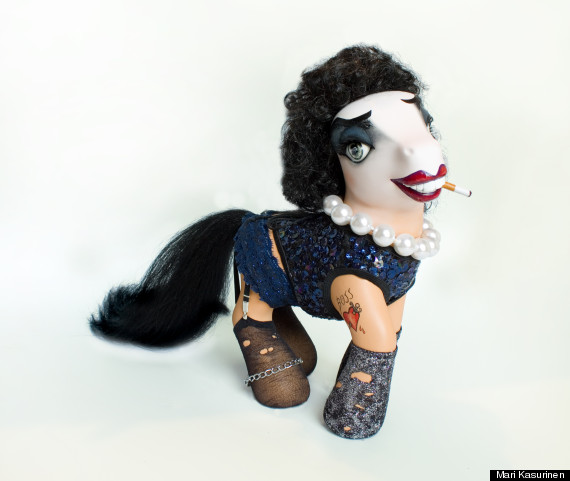 "My Little Dr. Frank-N-Furter"
The Huffington Post: Why did you decided to create the "My Little Pop Icons" series?
I did my very first "My Little Pop Icon" sculpture back in 2008, when I was still in art school. I was looking for a way to express myself concerning today's materialism and individualism. I was very interested in the whole customization phenomenon.
The consumer society, our very visual culture and social media demand us to make our identities and personas tangible -- to give them a material form. Our external appearance has to and will represent our inner qualities. I experienced that the actual guidelines and rules concerning this specific phenomenon were condensed and represented most prominently in the popular culture among celebrities and pop icons. These famous icons were presented to us as examples, ideals -- even as authorities. I wanted to combine this great urge which we have about our own private identity with the identities of pop icons, who are more of an phenomenon than real, private persons. I wanted to study the cult of personality.
I chose to use toys as a base because play is children's way to explore and understand the world around us. Through imitation they learn how to live and act as individuals. I experienced that the boundary between children and adults had vanished within the scope of the phenomenon which I was studying.
Soon after making my first "My Little Pop Icon" I discovered the intoxicating and complex world of personal branding. Nowadays with my "My Little Pop Icons" series I mostly concentrate on studying the personal brand; the ensemble of image and fame and the carefully selected associations, which are divided between the core identity and the extended identity. It was fascinating to see how brand management caused carefully designed brand failures while maintaining the personal brand itself. I construct the personal brand of every pop authority in the "My Little Pop Icons" series, one association at a time using only visual elements.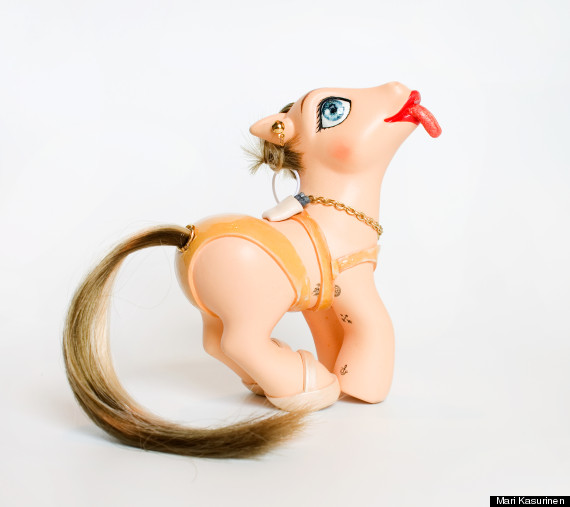 "My Little Miley Cyrus"
How did you choose which LGBT icons to represent?
When it comes to the "My Little Pop Icons" series some of the pieces are commissions. This means that the client wanted me to make a very specific someone or even to portray themselves. It's incredibly interesting to see how people, especially celebrities and pop icons, experience, maintain and communicate with their own personal brand.
When I choose a subject for a "My Little Pop Icon" of my own, I tend to choose characters or people who I find to be icons and phenomenons of their time who, in my opinion, made a great impact within popular culture. People who changed things forever -- sometimes for better and sometimes for worse. Very often that person is someone who I admire and respect or find especially interesting, original and inspiring concerning the personal brand. I enjoy portraying people whose personal brand is visually multi-dimensional, challenging and represents something more than meets the eye. All of the LGBT icons that I have made I chose keeping all this in mind.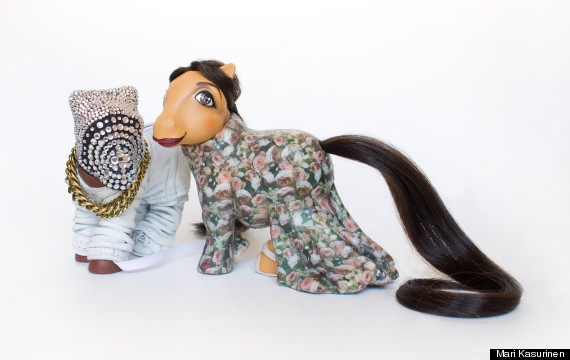 "My Little Kim Kardashian & Kanye West"
Why do you think it is important that we have "icons" within the LGBT community?
I think it's important to have icons in general. Especially within communities, such as the LGBT community, which have to confront and deal with discrimination, prejudice or even racism, hostility and violence. In an ideal situation icons give a positive effect in people's lives with their existence, example and actions. They are people who inspire, empower, give courage or help us to widen our perspective.
On the other hand, when we put matters or people on pedestals the outcome can be rather unpredictable -- especially if those people are from the entertainment industry and are expected to represent primarily their own personal brand. It's a double-edged sword, which can also cause a lot of damage. A healthy, empowering admiration can turn into an obsession which starts to take things away and cause harmful side effects. You might become willing to alter your own persona and identity in order to fulfill the requirements directed at you through the personality cult. Nowadays pop icons very easily get chosen to represent minorities by the popular culture. To be their voice, so to speak. The personal branding phenomenon takes a huge advantage of this and, in most cases, it directs to a desired, controlled consumer behavior instead of benefitting the supposedly represented minority.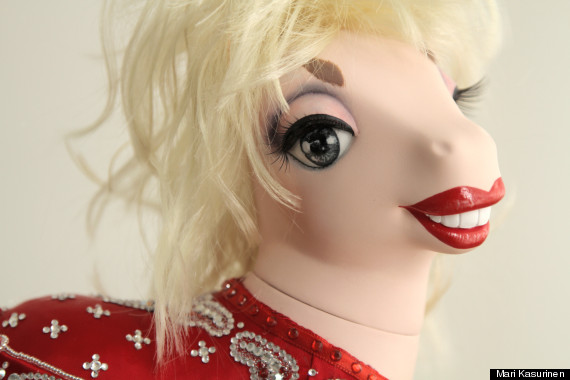 "My Little Dolly Parton"
Are you hoping to expand this collection more in the future? How?
Indeed, I have many exciting, new "My Little Pop Icon" projects and collaborations ahead! I'm especially looking forward collaborating with other fellow artists and then, of course, the pop icons themselves. The personal brand phenomenon keeps inspiring me because of it's incredible ability to alter, adapt and think ahead.

A lot of my upcoming "My Little Pop Icons" indeed are huge LGBT icons who have brilliant, unique and multi-dimensional visual personal brands. They will get a series of their own in the near future. At the moment I have the basic "My Little Pop Icons" series and also the "My Little Pop Icons - Ponies of Power" series, which consists of influential historical female characters and studies authority, power and the interaction of all these elements. When it comes to the upcoming LGBT series, I would love to portray Cher, Madonna, more film starts from the Hollywood's Golden Era, notorious drag queens and burlesque starlets... It's fascinating how you can spend hours just by picking what they should be wearing -- how "a simple dress" can represent such a huge part of the personal brand. Sometimes I organize polls in social media and ask people what they would like a specific pop icon to wear or what style or period she/him should have as a "My Little Pop Icon."
Actually I could do one now and ask you all: "What would you like 'My Little Cher' to wear?
For more of Kasurinen's work head here and check out a slideshow of "My Little Pop Icons" below.
PHOTO GALLERY
My Little Pop Icons