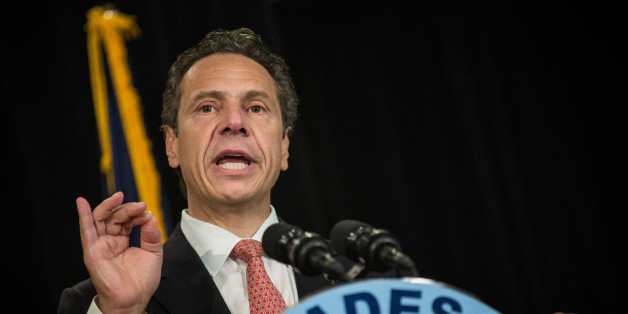 Gov. Andrew Cuomo's key challenger in the New York state Democratic primary may have been on the campaign trail for weeks, but if a union rally for the incumbent on Monday was any indication, she's hardly made a dent in voters' lives.
Members of New York City's hospitality union who attended Cuomo's rally professed little knowledge of Zephyr Teachout, a Fordham University professor who's been as enthusiastic a campaigner as Cuomo has been reticent.
Ivan Steinberg, a union member, told The Huffington Post he had no idea who Teachout was. "I guess she doesn't have the right people working for her," he said.
Fellow worker Rosa Castillo said that she would be voting for Cuomo because he "fights for the middle class."
Asked about Teachout, Castillo was unaware: "I don't have time to know about another person," she said.
Cuomo's 11th hour appearance at the rally, where he was introduced by the highly influential union leader Peter Ward, is virtually the beginning and end of a primary campaign he has tried to avoid at every turn.
As media attention snowballed for Teachout, the governor has remained practically silent throughout the entire primary season. After attempting to effectively silence her campaign through an unsuccessful residency challenge, Cuomo has hardly recognized his opponent by name and rebuffed multiple invitations to participate in an open debate.
Saturday, he even refused to acknowledge Teachout's physical presence at a Labor Day parade, turning away as she attempted to greet him.
Cuomo's conspicuous silence has been the target of the media, in part prompting scathing editorials from the likes of the New York Times as he also suffered an "insurrection" from the progressive left.
But Cuomo's problems -- and Teachout's increasing presence -- have done little damage with voters. If Cuomo wins the Democratic primary on Tuesday as projected, he'll face off against Republican challenger Rob Astorino, a Westchester executive.
BEFORE YOU GO
PHOTO GALLERY
United States Governors