Tuesday is shaping up to be the biggest day for Apple in years.
Tim Cook, Apple's CEO, is under intense pressure. Although the company's stock has hit record highs recently, Apple hasn't come up with a new product category since Steve Jobs, the man who brought us the iPod, iPad and iPhone, died nearly three years ago.
Investors hope that will change on Tuesday, when Apple is expected not only to announce two versions of a new, larger iPhone, but also to unveil a wearable watch-like device.
The only hint Apple has actually given about what's in store this week is an invitation emblazoned with the cryptic phrase "wish we could say more" -- but thanks to leaks and lots of speculation, the rumor mill is abuzz.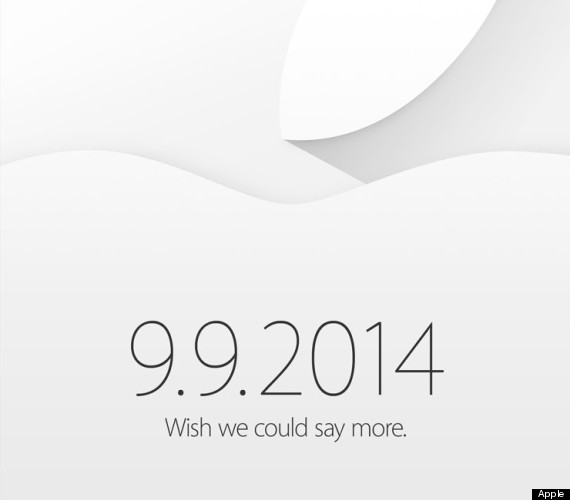 Here are some of the things we're expecting on Tuesday:
iPhone(s) 6:
All reports indicate that Apple will finally release a bigger smartphone. Actually, make that two.
The iPhone 6 is expected to come in two sizes: 4.7 inches and 5.5 inches. The iPhone 5S and 5C, the most recent models sold, have 4-inch screens.
Samsung and other Android rivals have been selling larger-screened smartphones for years, and Apple has given those who want a bigger smartphone no choice but to buy from the competition. And they have: More than 51 percent of smartphones shipped in the first half of this year had screens 4.5 inches or larger, according to IDC, the technology research firm.
A detailed report in The New York Times last week said the phones will have rounded edges like the iPad Air, the latest model of the iPad. The Times' Brian X. Chen also writes that they will have a mode that can be switched on and off that allows for one-handed typing and operation, as typing on a larger phone with one hand can be more difficult.
The new versions of the iPhone are also expected to be capable of making wireless payments at brick-and-mortar stores, acting as a sort of mobile wallet that can store credit and debit cards. The mobile wallet, which could work with a tap or wave of the phone, reportedly will be part of the already available Passbook application, which stores things like movie and sports tickets, gift cards and boarding passes.
According to a recent report in Wired, the phone will include NFC, which stands for "near field communication" -- technology (already included on some Android phones) that allows the phone to communicate with a store's cash register. The payments system likely will also incorporate Touch ID, Apple's fingerprint sensing technology, to verify that the person paying with the phone is indeed the phone's owner.
Bloomberg reported earlier this month that Apple has reached agreements for its mobile wallet with Visa, MasterCard and American Express. According to a recent report in Re/Code, the drugstores Walgreens and CVS will be among the retailers soon able to accept mobile payments from iPhones.
Over the weekend, images and videos that were purported to show the bigger phone, relayed by the Apple news site MacRumors, were leaked to the Chinese site cnBeta. The phone, as shown in the images, is wider and longer than the iPhone 5S, and appears to have space for a sixth row of app icons. Like the 5S, it appears to be equipped with Touch ID.
There are conflicting reports about whether or not the phones will be made of synthetic sapphire, a material more durable and scratch-resistant than the relatively easy-to-break glass already used on the iPhone. Apple has invested hundreds of millions of dollars in an Arizona factory that manufactures sapphire, and the material is already used on the iPhone 5S to cover the camera lens and fingerprint scanner. It's possible that only the higher-end models of the new iPhones will use the material, according to a report last month in the Wall Street Journal.
iWatch:
Will it really be called the iWatch? We'll soon find out. Apple is widely expected to announce a wrist-worn device on Tuesday. According to a recent report in the Wall Street Journal, the watch will have a curved LED screen and come in two sizes.
Like other so-called wearables, Apple's watch will likely be able to keep track of health and fitness data, like heart rate, steps walked and hours slept. But according to the Journal, it will also come with NFC technology, not only giving it the ability to work as a mobile wallet, but also to pair with the new iPhone.
9to5Mac, an Apple news site, reported over the weekend that the watch, just like the iPhone and iPad, will have an app store where third-party developers can showcase apps.
It's also likely that the phone will work with Health, a new Apple app that shows health data, and HomeKit, a platform that allows for mobile control of so-called "smart devices" like thermostats, baby monitors and door locks.
Both Health and HomeKit will be included in Apple's forthcoming iOS 8 mobile operating system.
What about battery life? We don't know, of course, but Jessica Lessin, founder and editor in chief of the tech news site The Information, is prepared to be disappointed. "People who have talked to Apple about the watch said that Apple employees have set low expectations," Lessin wrote on Friday. "Maybe it's Apple sandbagging. Maybe the battery life really is bad."
It's unclear at this point whether or not the watch will actually come out this year, or how much it's going to cost. Or actually any of the above details, because Apple hasn't said anything. But apparently Jonathan Ive, Apple's famed designer, has been bragging about how awesome the watch is, according to a report last week from The Times' Nick Bilton.
iPad:
This might not be as exciting, but Apple Insider, a news site focused on the company, relayed a report last week that Apple could also announce a new iPad at Tuesday's event. The new iPad, perhaps called the "iPad Air 2," according to the site, will have a faster processor, be available in gold (like the iPhone 5S) and come with Touch ID.
We'll be at the event in Cupertino, Calif., on Tuesday, so be sure to follow HuffPost Tech for all of the news and updates.
BEFORE YOU GO
PHOTO GALLERY
iPhones Through The Years