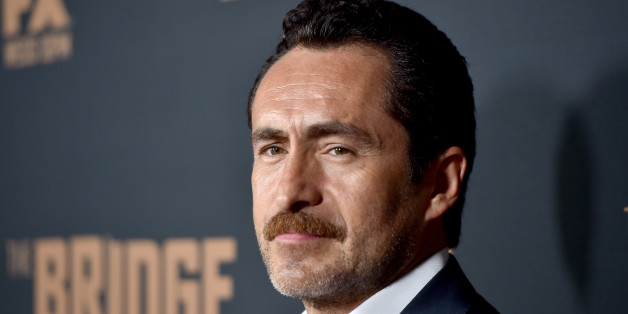 The underrepresentation and stereotyping of Latinos by the entertainment industry is nothing new. Latinos as maids and gardeners seem to be the norm. Yet more and more Hispanic performers are looking for opportunities to break with these roles.
Mexican actor Demian Bichir is one of those groundbreaking performers. He's been able to balance a career in Mexico and in the United States successfully by undertaking a variety of roles, even though one of his most well received performances was as a gardener in Chris Weitz's "A Better Life," for which he was nominated for an Oscar.
"It's complicated because there are many stereotypes and clichés, and we have to break them as much as we can," Bichir told Indiewire. "The only real way to break through them is to write new projects, new stories about success, stories that can inspire the Latino community."
Over the weekend the star's career was honored at the Guadalajara Film Festival in Los Angeles where he received one of the four Arbol de Vida awards, according to Fox News Latino.
The actor-turned-director, who is currently finishing his directorial debut titled "Refugio," stressed the importance of having Latinos working behind the scenes as well.
"I think Latino talent is necessary for this industry in all aspects, not only regarding actors, but also directors, writers and cinematographers," he said. "Throughout the years we have demonstrated how much talent we have to offer. I think there is a lack of stories that represent us."
A recent study from the University of Southern California's Annenberg school
found that Latinos only accounted for 4.9 percent of speaking roles in the top 100 grossing movies of 2013 -- a number unchanged since 2008, even though the Latino population in the U.S. has grown substantially in the past decade, according to Pew Research.
The study also found that Latinos represent a quarter of all moviegoers, making their lack of representation on the screen more outrageous.
Bichir believes that for things to change Latinos have to take things into their own hands.
"The African American talent is first rate. For Latinos, we still don't have the exposure or presence that, for example, Denzel Washington, Halle Berry, Samuel L. Jackson or Kerry Washington have," Bichir explains. "We have an equal amount of talent but we have to claim our own place within the industry."
Read Demian Bichir's full interview on Indiewire.

BEFORE YOU GO
PHOTO GALLERY
Hispanic Celebrities' Real Names