There's nothing like walking the runway at New York Fashion Week to renew a woman's self-confidence.
And now Karen Crespo, 31, knows exactly what that feels like. The Los Angeles native and registered nurse has had a longstanding interest fashion, but, in 2011 at age 28, her battle with a severe case of bacterial meningitis discouraged her from believing that it would one day be possible for her to join that world. Her doctors had to amputate all four of her limbs in order to save her life, Today.com reported, and the result left her with a body she did not recognize and struggled to accept.
But it was designer Carrie Hammer's model selection for her New York fashion show last February that gave Crespo the inspiration she needed. She reached out to Hammer via email soon after she read about her being the first designer to feature a model in a wheelchair. Hammer told HuffPost that Crespo thanked her for showing the world that, "beauty comes in all shapes and sizes there's absolutely no right or wrong."
Moved to tears by Crespo's kind words, Hammer responded by inviting her to participate in "Role Models, Not Runway Models," her second New York Fashion Week show last Friday. She also helped her get a new set of prosthetics for her runway debut, Fox 5 News reported, after learning that her recent order of custom-made limbs (worth $100,000) had been stolen from her porch after delivery.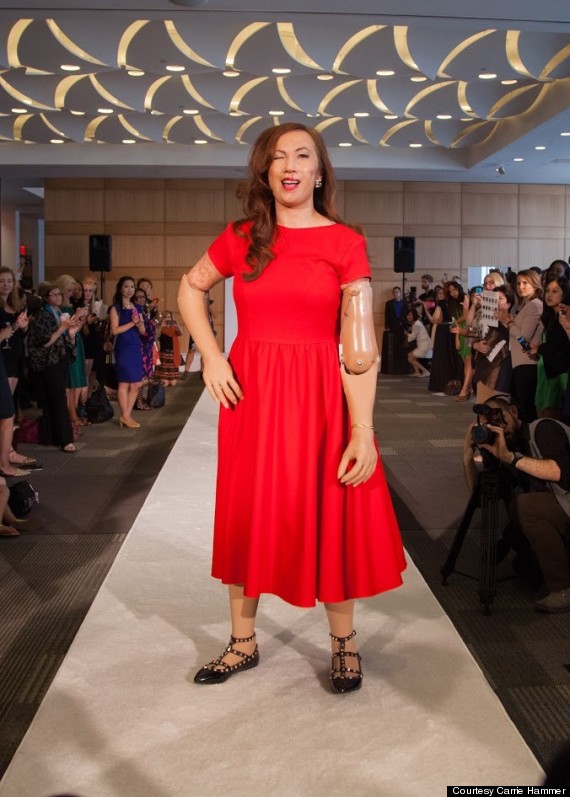 Karen Crespo modeling for Carrie Hammer's Role Models Not Runway Models fashion show on Friday, Sept. 5, 2014, at New York Fashion Week
Becoming the first quadruple amputee to walk at New York Fashion Week last week, gave Crespo a new self-confidence she never expected to find after her life-threatening illness and operations years ago.
"I have a totally different perspective on things," she told Today.com. "Maybe this is why everything happened to me. Maybe I'm supposed to inspire or make a difference in someone else's life, someone who has a disability, or maybe just someone who had a lot of self-doubt."
BEFORE YOU GO
PHOTO GALLERY
Boston Bombing Victim Vows To Dance Again