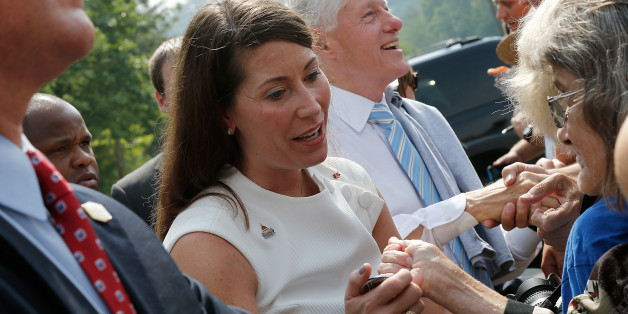 It's been awhile since I've come face to face with one of those "how on Earth did this become a news story" stories, but Monday morning, The Hill spewed one all over the Internet. The story concerns the Kentucky Senate race. Its headline -- "Grimes's parents visited White House while Dems recruited her for Senate" -- suggests menace.
What shady bang-bang took place behind closed doors between the White House and the parents of Democratic Senate nominee Alison Lundergan Grimes? Did Grimes' parents lobby the administration on Environmental Protection Agency executive orders? Did they convince President Barack Obama to punt on immigration reform until after the midterms? Maybe Grimes' mom and dad personally gave the Benghazi "stand down" order? My God, into what conspiracy have we tumbled, bruising our knees and mussing our hair?
Turns out, Grimes' parents looked at some Christmas decorations.
"We had a White House tour. I didn't meet with the president," [Jerry Lundergan] said. "Me and my wife were at the White House to have a tour of the Christmas decorations like anybody else would. I had no meeting with the president.

"My wife wanted to see the Christmas decorations," he added. "There were thousands of people there. It was moving room only. It wasn't a special tour."
Oh, but it was a special tour, you see! As The Hill notes: "Grimes's ties to President Obama have become a central point of the campaign as McConnell has tried repeatedly to portray her as closely aligned with the president." You see, Grimes has been making a sort of melodramatic effort to play up her differences with the Obama administration. And now, here are her parents, caught in flagrante delicto, being Yuletide tourists at the White House. These are the same tours that Republican National Committee Chairman Reince Priebus would caterwaul about being canceled just three months later.
Don't get me wrong: Given that the Grimes campaign has worked to distance itself from the Obama administration, it would be great to find evidence of a tidier relationship. Maybe there's a memo from the White House advising the Grimes camp to tee off on Obama once in a while, or internal emails from Grimes advisers recommending a temporarily convenient "frenemy" period to spur Grimes' electoral hopes. That's the kind of thing worth publishing. Writing about Grimes' parents looking at some Christmas ornaments at the White House just doesn't cut the mustard, I'm afraid. Or it shouldn't, but as the famous GIF says:
How did Grimes' parents going to see the White House Christmas decorations even become a thing? I'm guessing that some opposition researcher put this story in front of The Hill, and everyone at The Hill was rolling on molly at the time, or something. I can't fathom publishing this. If this theoretical opposition researcher had come to me with this "story," I would have been insulted on behalf of the actual good opposition researchers I know. I would have asked this opposition researcher, "Is there anything else you are good at? Like, do you know how to cook or fix cars or teach geometry? Because this profession you've chosen just isn't your bag, dude."
Would you like to follow me on Twitter? Because why not?
BEFORE YOU GO
PHOTO GALLERY
2014 Kentucky Senate Candidates