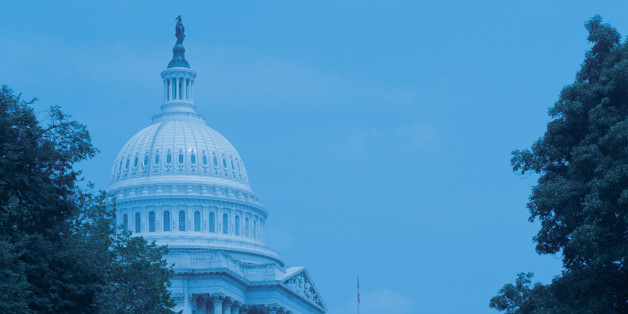 A new round of Senate polling shows a stable, slightly GOP-friendly midterm environment. We look at where the polls do, and don't agree, and how the new data affects our polling model. This is HuffPollster for Monday, September 8, 2014.
A big batch of new polls released since Friday helped nudge the probability of Republican takeover of the U.S. Senate slightly higher, but the overall state of race remains relatively stable. The ultimate outcome of the election will be determined by a small handful of races with remarkably close margins separating the candidates with eight weeks remaining until Election Day.
The new data includes three new NBC/Marist polls in the critical Senate battleground of Arkansas, Colorado and Kentucky and a second wave of data in every Senate contest in the nation from the New York Times/CBS News/YouGov online panel. Marist conducted its polling by telephone Sept. 2-4, while the YouGov panelists completed their interviews between August 18 and September 2.
The updated national HuffPost Pollster Senate forecast currently gives the Republicans a 55 percent probability of gaining majority control, up slightly from 48 percent when our forecast debuted a week ago, but still barely better than a coin toss. The change owes partly to a shift in Alaska, where polling from non-partisan sources has been scarce, and slightly better Republican margins in polling in and handful of other states, including Arkansas and Kentucky.
The Democrats currently enjoy a 55 seat majority in the Senate (including two non-aligned Senators who caucus with the Democrats). Republican candidates appear to be far ahead in three heavily red states -- Montana, South Dakota and West Virginia -- where Democratic incumbents are retiring. Seven more states currently held by Democratic incumbents -- Alaska, Arkansas, Colorado, Iowa, Louisiana and Michigan -- feature contests where the HuffPost Pollster polling model, based on all available public survey data, estimates the margin separating the candidates at 3 percentage points or less.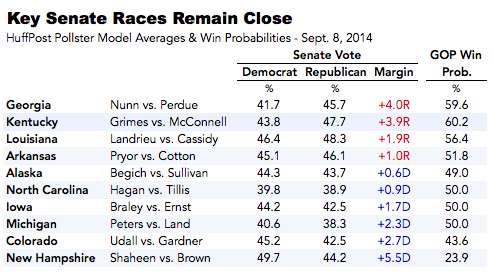 While the model gives the Republicans slight nominal leads in just two of these states, the combination of the size of the remaining pool of undecided voters and the relative scarcity of reliable polling data renders all of these contests true toss-ups where the probability of victory for either side is a 50/50 proposition.
HUFFPOLLSTER VIA EMAIL! - You can receive this daily update every weekday morning via email! Just click here, enter your email address, and and click "sign up." That's all there is to it (and you can unsubscribe anytime).
A CLOSER LOOK AT SOME OF THE MOST COMPETITIVE STATES:
Arkansas - HuffPollster: "In Arkansas, NBC/Marist finds Republican challenger Tom Cotton leading Sen. Mark Pryor (D), 45 percent to 40 percent, while CBS/NYT/YouGov has Cotton up 43 percent to 39 percent….Unlike NBC/Marist's past polls of the races, their most recent polls attempted to screen for only those registered voters likely to actually cast a ballot -- an adjustment that traditionally favors Republicans, who hold the turnout advantage in the midterms. The size of the impact, however, depends on how that likeliness to vote is measured. While NBC/Marist's survey found Pryor doing just points better among all registered voters than among the smaller pool of those considered likely to vote, for instance, a survey last week from CNN found Pryor doing 11 points better among registered voters." The CNN/ORC poll gave Cotton a 2-point edge, while a third poll of Arkansas, released Friday by the DSCC, had Pryor up 2. [HuffPost, Arkansas chart]
Colorado - The polls also differ in the Centennial State, where NBC/Marist's poll gives Udall a 6-point lead ,while CBS/NYT/YouGov has him up 3 (and Rasmussen has him up by 2). NBC/Marist's first poll of the race in July, conducted among registered voters, also gave him a larger lead than other pollsters. [Colorado chart]
Kentucky - Nate Cohn: "Many Democrats considered Mitch McConnell, the Senate minority leader, deeply vulnerable at the beginning of the year. The polls showed a tight race in Kentucky, with his Democratic opponent, Alison Lundergan Grimes, often in the lead. His approval and favorability ratings were low, often beneath 40 percent. But if there is any plausibly competitive state where we have now have a clear sense of a Senate race, it is Kentucky. A recent set of diverse and high-quality nonpartisan polls and the underlying fundamentals are all in alignment: Mr. McConnell has a clear advantage. Every survey over the last month shows Mr. McConnell ahead by more than four points, including two traditional live-interview surveys that contacted voters via a cellphones, one Internet panel survey and a nonpartisan automated poll that contacted voters without a landline by means of an online panel." [NYT, Kentucky chart]
Alaska - Perhaps more than any other competitive Senate race, Alaska has suffered from a lack of non-partisan polling. So far, there have only been four such polls: two from Rasmussen, and two from CBS/NYT/YouGov, both with small sample sizes. The first CBS/NYT/YouGov survey gave Begich a substantial 12-point lead, enough to put him ahead in our polling model. The most recent gives Sullivan a 6 point advantage (44 to 38 percent). "There are reasons to have reservations about the quality of the [YouGov] data" in Alaska, Nate Cohn explains. "The panel had less than 500 respondents, despite recruitment efforts. There should be fairly low confidence in the exact finding." However, Cohn adds that individual panelists in Alaska changing their answers explains some of the change: "Six percent of repeated respondents shifted from 'other' to Mr. Sullivan, along with 2 percent shifting from Mr. Begich to Mr. Sullivan."
As explained in more detail previously, the HuffPost Pollster tracking model does not treat polls equally; instead, the model considers the true poll average to be that of nonpartisan polls with a record of performing well. In Alaska, this calibration procedure places greater weight on the YouGov surveys in Alaska, which had little "house effect" nationwide in 2012. The Pollster estimate, based on all of the public data, still gives Begich a very slight edge (44.3 to 43.7 percent), but only a 51 percent probability of victory in November. [Alaska chart]
OVERALL, FEW YOUGOV PANELISTS SHIFT SUPPORT - Cohn: "The Senate battleground remains broad and competitive, with 10 races within six percentage points, according to the second wave of data from the New York Times/CBS News/YouGov online panel of more than 100,000 respondents….The results are also similar to the last wave of YouGov data, in no small part because 63 percent of respondents participated in the first wave as well. Some of the shifts between the two waves of data reflect the changing opinions of those respondents, though other shifts result from the addition of new panelists and reweighting of the new sample….In the battleground states, 86 percent of repeated respondents offered the same candidate preference and the same level of support — 'lean' or 'strong' — as in the first wave. The respondents who switched their answers usually flipped from 'other' or 'undecided' to 'leaning' toward one of the two main candidates. These flips canceled out in nearly every race." [NYT]
Nate Silver says this weekend's polls show the GOP's possible path to victory. [538]
Daily Kos (D) commenter Tyler Yeargain recounts his experience as a YouGov panelist. [Daily Kos]
INTRODUCING THE 'ORMAN FACTOR' TO OUR SENATE MODEL - HuffPollster, with Natalie Jackson: "If independent candidate Greg Orman ousts Sen. Pat Roberts (R-Kan.) on Nov. 4, three outcomes are possible in the overall battle for the U.S. Senate: The Republicans might still have won enough seats to take over. Democrats might retain control. Or an Orman victory could trigger a 'little-known third category' -- a stalemate in which the Kansas businessman decides which party holds the majority.….Orman has been coy about what he might do in the event his caucus choice would determine which party held the majority….To account for the possibility of Orman breaking a stalemate, we've made slight adjustments to the final stage of our forecast model...We still calculate the probability of Republicans taking the majority or Democrats holding the majority using the simulation method described in our earlier stories. Now, however, in the simulations that project an Orman win, our model will usually assign him to the party in the majority. In the rare scenario in which Orman wins and the chamber is split with 49 Democrats and 50 Republicans, we give Orman a 50 percent chance of caucusing with the Democrats and a 50 percent chance of caucusing with the Republicans." Our tracking model currently estimates a 4.5 percent chance that g Orman will get to decide which party holds the majority in the Senate. [HuffPost]
MONDAY'S 'OUTLIERS' - Links to the best of news at the intersection of polling, politics and political data:
-President Obama's support drops in Iowa. [Gallup]
-Americans have a positive view of banks for the first time since 2008. [Gallup]
-Tyler Damore looks at Latinos' influence on two Arizona House races. [WashPost]
-Amy Walter asks if Republicans can't win swing states like Colorado and Iowa in 2014, who can they win them in 2016? [Cook Political]
-Steve Singiser (D) weighs the difference between "unskewing" and asking questions about a poll's methodology. [Daily Kos]
-Hadley Wickham explains how data science differs from statistics. [IMS Bulletin via @DrewLinzer]
-A startup uses student surveys to grade teachers. [NYTimes]
-Apple pie chart. [@skoczela]