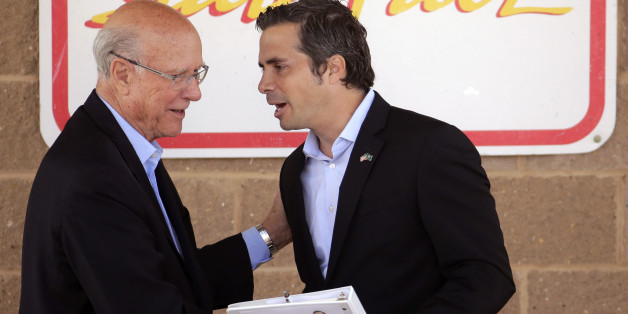 Sen. Pat Roberts (R-Kan.) is running dead even against independent challenger Greg Orman, according to the first Kansas Senate poll since the Democratic nominee announced last week that he was withdrawing from the race.
The SurveyUSA poll, conducted for KSN News, gave Orman 37 percent of the vote to Roberts' 36 percent (a difference within the poll's margin of error). Democrat Chad Taylor, whose name will remain on the ballot pending a lawsuit, took 10 percent, with libertarian Randall Batson winning 6 percent and the remainder undecided.
Orman's campaign cheered the poll's results on Twitter, telling supporters "We're in it to win it" and urging them to "help keep the momentum going."
Before asking voters to weigh in, the poll informed them about the race's complicated dynamics, stating that "Democrat Chad Taylor's name still appeared on the ballot even though he no longer wants to run."
Not all pollsters agree on the best way to survey on the Kansas race, with some saying last week that they would ask voters for their candidate preference first without noting that Taylor didn't wish to compete.
Others expected that most Kansans would understand the situation by Election Day. "I think you have to approach it that by the end of the election, 95 percent of voters will know the Dem is out of the race," Democratic pollster Jon Anzalone said.
Seventy-one percent of voters in the SurveyUSA poll knew that Taylor had withdrawn from the race, and 58 percent knew that Kansas Secretary of State Kris Kobach had ordered that Taylor's name remain on the ballot.
A slim 52 percent majority of Democrats said they were backing Orman, while 21 percent still said they were voting for Taylor, and 11 percent said they were voting for Roberts. Independents also split heavily toward Orman, with 42 percent backing him, 16 percent preferring Roberts and 23 percent choosing Taylor or Batson.
Orman appeared to be cutting into Roberts' support among Republicans as well. While 60 percent of GOP voters backed Roberts, 26 percent said they would vote for the independent.
A victory for Orman could conceivably swing control of the Senate. The candidate has said that he will caucus with the majority party, but he has been coy about how he'll choose if control of the Senate hangs on his choice.
SurveyUSA polled 555 likely Kansas voters between Sept. 4 and Sept. 7 through a combination of automated phone calls and online questionnaires.
BEFORE YOU GO
PHOTO GALLERY
Senate Seats Up For Grabs In 2014