A homeless man is a hero today after he reunited 6-year-old Sergio Zepeda with his family Sunday morning.
The boy, who has autism, had been missing from his San Jose, California home for almost 24 hours as his family and police searched for him, according to a San Jose Police Department press release. Somehow, Zepeda had stripped off all his clothes as he trekked nearly a mile across train tracks and into a makeshift homeless encampment, KTVU reports.
That's when Jose Salmeron, who lives in the encampment, poked his head out of his tent and saw the shivering child.
"I thought honestly it was an [extraterrestrial] or something, a skinny little figure," Salmeron told the San Jose Mercury News. "But when I looked a little closer, it was a little boy."
Zepeda was reportedly unable to speak because of his autism, but Salmeron was his voice. The 32-year-old man called 911, then gave Zepeda a blanket, a sweater, a donut and some water while they waited for police to arrive.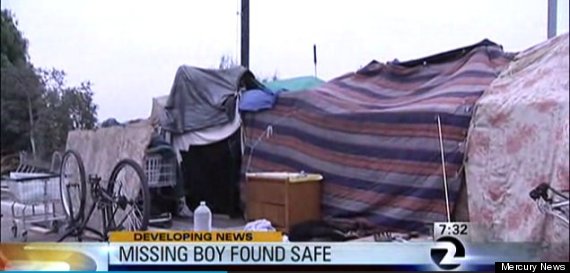 Zepeda was found safe at this homeless encampment by a Good Samaritan.
Police say Zepeda was transported to a nearby hospital as a precaution, but was otherwise in good health. There he was reunited with his family.
Zepeda's mother's boyfriend, Bony Sanchez, told KTVU that the three were at home together when the boy vanished at about 9 a.m. Saturday.
"That kid, he has so much energy, he'll start running, and he won't stop," Sanchez said.
Police didn't arrest Sanchez or Zepeda's mother, Augustina Quinteros, but kept them close by as they initiated a citywide search. Investigators don't suspect any foul play in the disappearance.
Like Us On Facebook |

Follow Us On Twitter |

Contact The Author
BEFORE YOU GO
PHOTO GALLERY
Missing Children