TOP STORIES
ELIMINATING ISIS COULD TAKE OVER THREE YEARS "The Obama administration is preparing to carry out a campaign against the Islamic State in Iraq and Syria that may take three years to complete, requiring a sustained effort that could last until after President Obama has left office, according to senior administration officials. The first phase, an air campaign with nearly 145 airstrikes in the past month, is already underway to protect ethnic and religious minorities and American diplomatic, intelligence and military personnel, and their facilities, as well as to begin rolling back ISIS gains in northern and western Iraq." President Obama is expected to announce the full plan on Wednesday. [NYT]
U.S. MILITARY TO AID EBOLA RELIEF President Obama announced that he will "involve the military in providing equipment and other assistance for international health workers" to help the fight against Ebola. Chaos rules at the epicenter of the deadly virus, as clinics turn away infected patients in droves because of a lack of supplies. [WaPo]
RARE RESPIRATORY VIRUS STRIKES KIDS "Hospitals in Colorado, Missouri and potentially eight other states are admitting hundreds of children for treatment of an uncommon but severe respiratory virus. The virus, called Enterovirus D68, causes similar symptoms to a summer cold or asthma: a runny nose, fever, coughing and difficulty breathing. But the illness can quickly escalate and there are no vaccines or antiviral medications to prevent or treat it … the virus is 'increasingly recognized' for causing severe — and potentially deadly — respiratory illness." And the CDC is calling this the "tip of [the] iceberg." [Story, Image via WaPo]
FERGUSON GRAND JURIES' UNIQUE APPROACH "The St. Louis County prosecutor's office is taking an unusual approach with grand jury members who are weighing evidence against the police officer who shot and killed 18-year-old Michael Brown last month, experts and county officials said. Instead of telling grand jury members what charges they believe police officer Darren Wilson should face, they are leaving it open-ended for now and involving the grand jury as co-investigators." And thank you for the continued support for HuffPost's Ferguson Fellowship, which crowdfunded a reporter to stay on the ground in the St. Louis area for the next year. Due to your genorsity, we've hit over 100% of our goal. [WaPo]
GOP 'HAS EDGE' IN BATTLE FOR CONGRESS Two new polls give the GOP an edge in November's midterms, but the size of that advantage varies. Congress is back in session today after the summer recess, but don't expect much to get done. [HuffPost]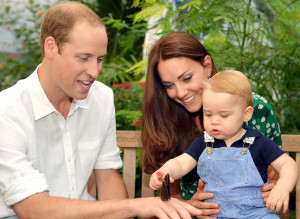 A SPARE HEIR! Kate Middleton is pregnant with her second child, Buckingham Palace announced this morning. Let the royal baby bump watch begin! [Daily Mail]
ANOTHER NBA OWNER TO SELL AFTER RACIST REMARKS Bruce Levenson, the owner of the Atlanta Hawks, is selling his share in the team after self-disclosing an inflammatory email he wrote two years ago. Just how far does the bigotry in this league go? [AP]
WHAT'S BREWING
IT'S HARD BEING A JETS FAN This map of Facebook likes per team shows that The New York Jets "do not have a plurality of fans in any U.S. county." [HuffPost]
TORONTO FILM FESTIVAL PHOTOS These black and white celebrity portraits prove once again that we are but mere mortals. [Vanity Fair]

RACHEL MCADAMS FOR 'TRUE DETECTIVE 2?'' We can't even wrap our heads around how incredible that casting news would be. [HuffPost]
BECAUSE YOU NEED MORE ZOMBIES "The Walking Dead" is getting a "spinoff" of sorts -- a show set in a different part of the infected world. Zombies with British accents? Yes, please. [Entertainment Weekly]
YOU CAN NETFLIX BETTER Here's how to up your binge-watching game. [HuffPost]
SNEEZING? This is how you're making your seasonal allergies much, much worse. [HuffPost]
A FUNERAL FIT FOR A COMEDIC GENIUS Joan Rivers' star-studded funeral was exactly how she wanted it. [Page Six]
ON THE BLOG
PUT A LITTLE EFFORT INTO YOUR LUNCH BOX NOTES "Lunch notes can make all the difference in your kid's school day … Your kids will go crazy too when they open up their lunch box to see these fun and easy notes inside. Just remember, you don't have to be fancy to be effective. Your kids will just love that you took the time to think of them and to write something special." [HuffPost]
WE THOUGHT YOU SHOULD KNOW
~ Could this be Jack the Ripper?
~ A nine-year-old in his pajamas stole a bus in Canada.
~ Baby elephants + tires = pure joy.
~ Apple has an iPhone 6 countdown.
~ Behold the new and improved pizza box.
~ And in honor of The Morning Email's 150th edition, here's a beagle sharing his favorite toys with his baby owner.
Got something to add? Send tips/quips/quotes/stories/photos/events/scoops to Lauren Weber (lauren.weber@huffingtonpost.com). Follow us on Twitter (@LaurenWeberHP). Does somebody keep forwarding you this newsletter? Get your own copy. It's free! Sign up here.