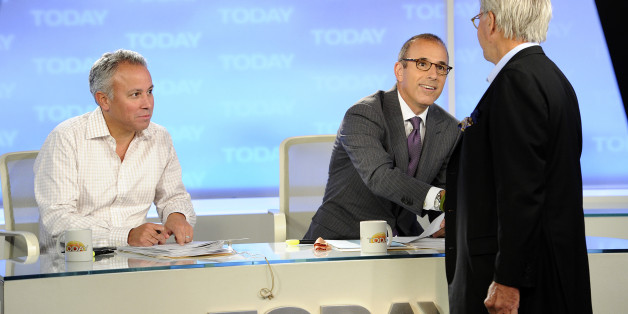 The "Today" show is bringing back some familiar faces this week, to fill in while co-host Savannah Guthrie remains on maternity leave.
Beginning on Monday, the morning show will feature a different NBC face each day to co-host alongside Matt Lauer. Former co-host Meredith Vieira will kick things off on Monday, followed by Brian Williams on Tuesday. Vieira is set to debut her new daytime talk show, "The Meredith Vieira Show," on Monday as well.
Kathie Lee Gifford and Hoda Kotb, who host the fourth hour of "Today" every day, will start a little earlier on Wednesday when they co-anchor with Lauer, which should be... amazing.
On Thursday, the legendary Tom Brokaw will take over once again. Brokaw became a host on "Today" in 1976, before leaving to anchor "NBC Nightly News."
The final day of "Homecoming Week" will be hosted by Maria Shriver, who anchored the very first Sunday broadcast of Weekend "Today" in 1987. Shriver guest hosted last year for the show's "Flashback Friday" special.
With the jam-packed week, "Today" seems to be making the most out of Guthrie's leave. The co-host gave birth to a baby girl in August.