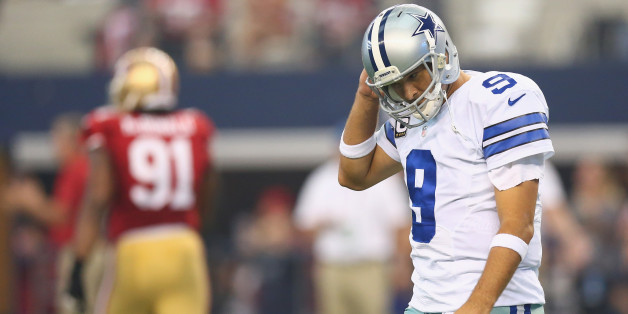 The opening Sunday of the NFL is in the books, and the arduous eight-month wait was well worth it. Rookie stars emerging? Check. Head coaches way over their heads? Check. Wild shootouts and backdoor covers? You betcha. That is why we cherish each week of the season like a great bottle of red wine. Let's take a look at what we learned from Week 1.
Same Ol' Romo
Coming off his second back surgery, the 34-year-old Tony Romo entered 2014 with the weight of an entire city on his shoulders. It took all of one quarter to realize that one of the league's most polarizing players hasn't changed a bit. Facing the potent -- but banged up -- San Francisco defense, Romo ended the first half with 99 yards and three interceptions, including a brutally head-scratching one in the end-zone. Like he always seems to do, Romo tacked on the meaningless yardage to end with a respectable 281 and two touchdowns, but Cowboys fans have seen this movie one too many times. About the only thing to make them feel worse? His six-year, $108 million contract extension just began. The Dallas defense may be historically poor this season, but its quarterback doesn't appear to be much better.
Not The Same Bengals?
Nobody was less bullish on Cincinnati than I was last season, but the Bengals may have turned a corner in their 23-16 road victory over AFC North rival Baltimore. Andy Dalton (the same "0-3 in the playoffs" Andy Dalton), along with that sparkling new six-year, $96 million contract extension, looked strong, as did the normally stout defense that last season ranked among the top in several key categories. Dalton is not a top-five quarterback and he may not be a top-ten guy either, but if he can limit mistakes and get the ball to Giovani Bernard and A.J. Green, this defense will take care of the rest.
Written-Off Quarterbacks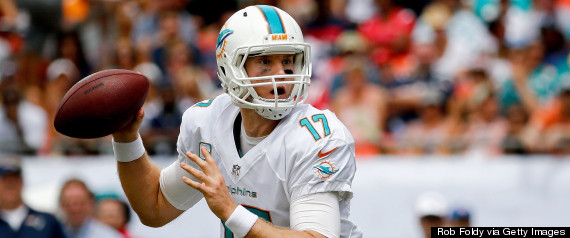 Speaking of quality quarterback play, how about the quartet of Miami's Ryan Tannehill -- a breakout player of mine -- along with Tennessee's Jake Locker, Buffalo's E.J. Manuel and Cleveland's Brian Hoyer? Three of the four pulled out tricky wins, and Hoyer nearly led an improbable 24-point comeback in Pittsburgh. Tannehill (above) and Locker are both elite athletes with great weapons, and it's conceivable that both can continue their quality play. Manuel had a seesaw rookie season but has a new toy in speedster Sammy Watkins, the fourth pick of the draft. With Johnny Manziel waiting in the wings, Hoyer's job will remain a question mark, but Browns fans can't ask for much more than 19-31 for 231, a TD and no picks.
Minimizing The Zebras
One of the things that jumped out during the preseason was the rule changes, specifically the illegal contact rule that drew egregious calls against the secondaries. In fact, more than 100 illegal contact penalties were drawn, nearly as much as during the entire 2013 season. But to the league's credit, Week 1 saw a much cleaner outcome: In the 12 Sunday afternoon games, there were a mere nine illegal contact penalties. It is a small sample size to be sure, but a good start nevertheless.
They've Got Next
It's usually a good idea not to overreact to one performance, but it's hard not to be impressed with a few of Sunday's rookies. Wide receiver Brandin Cooks, who I've lauded for awhile now, showed why New Orleans traded up to nab him in the first round. The diminutive and highly explosive Cooks caught seven passes for 77 yards and a touchdown to go along with an electric 18-yard rush. He might catch 85 balls this season. Carolina's Kelvin Benjamin is a physical freak at 6-foot-5, 240 lbs., but it wasn't until his 26-yard-touchdown grab with a defender draped on him that most people understood his talent. Lastly, did you see Derek Carr? His 151 yards don't tell the entire story. Against a Rex Ryan defense, on the road in Week 1, the second-round pick from Fresno State looked sharp and in control of an otherwise underwhelming Oakland offense. Carr tossed two touchdowns and more importantly, didn't turn the ball over despite being under consistent pressure.
Email me at jordan.schultz@huffingtonpost.com or ask me questions about anything sports-related at @Schultz_Report and follow me on Instagram @Schultz_Report. Also, be sure and catch my NBC Sports Radio show, Kup and Schultz, which airs Sunday mornings from 9-12 ET, right here.