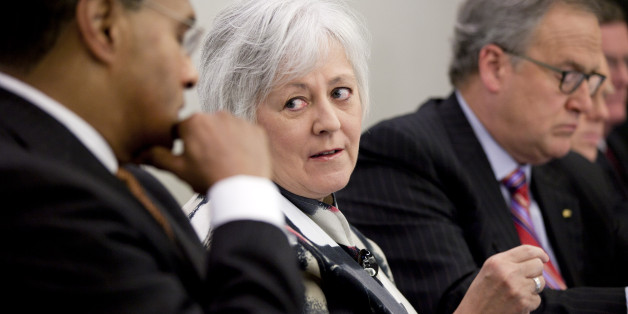 The University of Iowa made it clear last week to students that anyone found responsible for sexually assaulting someone will be suspended, at a minimum.
UI President Sally Mason unveiled a six-point plan in February to address sexual assault with cracking down on offenders being the top priority. On Thursday, Mason posted a sanctioning guideline so students can understand how assailants will be punished.
"Non-consensual Sexual Intercourse," which is not limited strictly to forcible rape under UI's definition, will be met with penalties ranging from a multi-semester suspension to expulsion from the university, "with expulsion being the most likely sanction."
Other behaviors like "Non-consensual Sexual Touching," mostly groping, and attempted sexual assault could be punished with less severe sanctions like probation, but the university noted expulsion will still be on the table.
"When we rolled out the Six Point Plan, I promised that we would crack down on offenders, including making use of the most severe sanction that the university can impose, which is expulsion," Mason wrote to students. "We expelled one student in the spring semester, and today I can share with you that we expelled a second student in the summer term."
The University of Iowa's approach stands in stark contrast to some peer institutions who are facing intense backlash over what students see as lax punishment for sexual assault.
Students at the University of Kansas, for example, are in an uproar following a report by The Huffington Post revealing a student found guilty of "nonconsensual sex," who admitted to police he continued intercourse after the victim said "no" and "stop," was punished with probation and a ban on student housing.
At Central College, a private school in Pella, Iowa, a student found guilty of "non-consensual sex" was allowed to choose his punishment between two options.
Last week, a woman filed federal complaint against the University of Toledo for punishing a student with a $25 fee and probation for sexual assault. Another woman complained the University of California-Santa Barbara investigated her reported drug-induced rape, but declined to rule whether the accused student was responsible or not for sexual assault.
Iowa is also expanding support services, planning to review its sexual assault policy and will seek to improve communication with the campus about sexual violence. The university will even include a "Trigger Warning" in campuswide emails about sexual assault reports.