When one thinks of German artist Wolfgang Laib, it's hard not to conjure an image of a yellow sea of pollen.
The conceptual icon, known for his spiritual takes on natural media as art, has incorporated the vivid golden aesthetic of pollen into his expansive, site-specific installations since the 1970s. Like a blanket of pure pigment unwrapped onto a museum floor, his works prove pollen itself -- not the process of collecting microgametophytes, nor the act of honoring them -- is the artwork.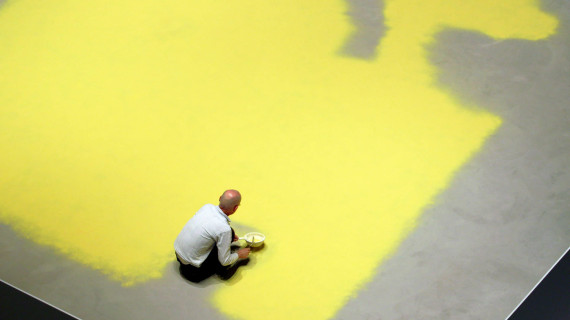 Laib is one of several artists featured on the "ART 21" series on PBS, a show dedicated to profiling famous art and artists of the 21st century. He's been labeled the "honeybee of the international art world" by The New York Times, and just over a year ago, he took over the Museum of Modern Art's space with his 21-foot long hazelnut pollen sanctuary.
In essence, he's no small figure. And everything he's achieved in the last few decades has been largely built off his dedication to the natural world, be it milk, marble, rice, beeswax or his beloved yellow powder.
"I mean, you could see a pollen piece and you could have a visual experience," Laib explained in a past interview with Art in America. "I find that art is always much more important than politics. There are wars, and the kings do this or that, but I think art and culture has much more impact on the changing of humanity."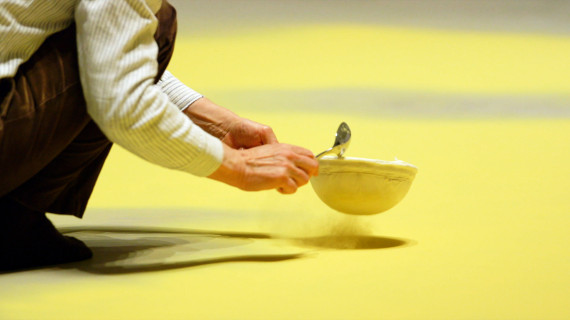 The hazelnut pollen that was used in MoMA's 2013 installation was collected by Laib from the natural environment around his home and studio, in a small village in southern Germany, since the mid 1990s.
Laib is continuing his obsession with pollen in the seventh season of ART 21. "I don't have to explain to someone what the sun is. And I don't want to explain to someone what pollen is," Laib muses in the series clip above, as he sifts real pollen onto a floor. "That is the secret and the beauty and the power and the potential of all this."
"ART21" is set to debut on October 24 on PBS. We'll be previewing clips from the series throughout August and September, giving a sneak peek into the experiences of artists like Trevor Paglen, Graciela Iturbide, Wolfgang Laib and Joan Jonas. Stay tuned.
PHOTO GALLERY
Wolfgang Laib
BEFORE YOU GO
PHOTO GALLERY
12 Famous Artists On Art And Life