Fashion shows are a lot like weddings. You spend a full year planning for them and when the day finally comes it feels like it's over in fifteen minutes. The only difference is that a fashion show is actually that short. Anyone who attends Fashion Week can probably guess how hectic things are backstage the day of, but for at least one brand, there is a certain controlled chaos spanning the days before the show, as well.
We spent the two days leading up to Thursday's BCBGMAXAZRIA's Spring 2015 show following around the team like fashion-obsessed puppies. We sat in on everything from fittings, to makeup and hair tests to a walk through of the entire collection with Lubov Azria herself, Chief Creative Officer of the company. Here's what we learned:
The process is incredibly hands on.
Azria plays a key part in putting the show together. From carpet colors to finding the perfect model for each look, every single detail goes through her.
There are a lot, and we mean A LOT of things happening at one time.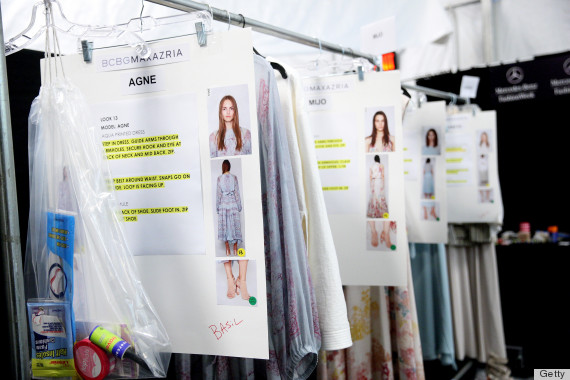 During our visit there were photos being taken, models being fitted, logistics being discussed... All while models in their underwear strutted their stuff down a makeshift runway (aka the hallway).
BCBG is a very well-oiled machine.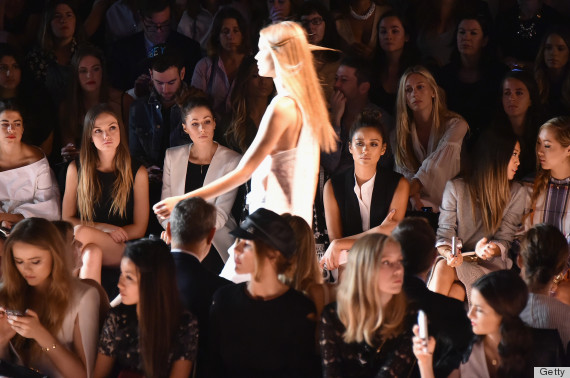 Amidst the chaos, however, was a sense of zen. Azra is known for her meticulous schedule, and we were informed that the show was actually running ahead of schedule. It was almost as if the design team had an unspoken language between them. In fact, at one point it seemed they actually just looked at each other before deciding to tuck in one of the shirts. Magic.
The entire team hauls from California to set up shop in the New York offices.
Stepping into the offices reminded us of what we can only imagine Santa's workshop looks like on Christmas Eve. There are the rooms dedicated to sewers, the makeshift beauty salon, and one room that could be confused for the greatest walk-in-closet of all time.
Coffee -- nay -- espresso, is essential.
The Nespresso machine is fully stocked with pods, syrups and even a caramel macchiato recipe. At one point, after Azria hinted at her coffee craving, a member of the team was quick to bring her one with not one, but two shots. "This is going to be a long buzz," she laughed.
Tying a belt is way more involved than it looks.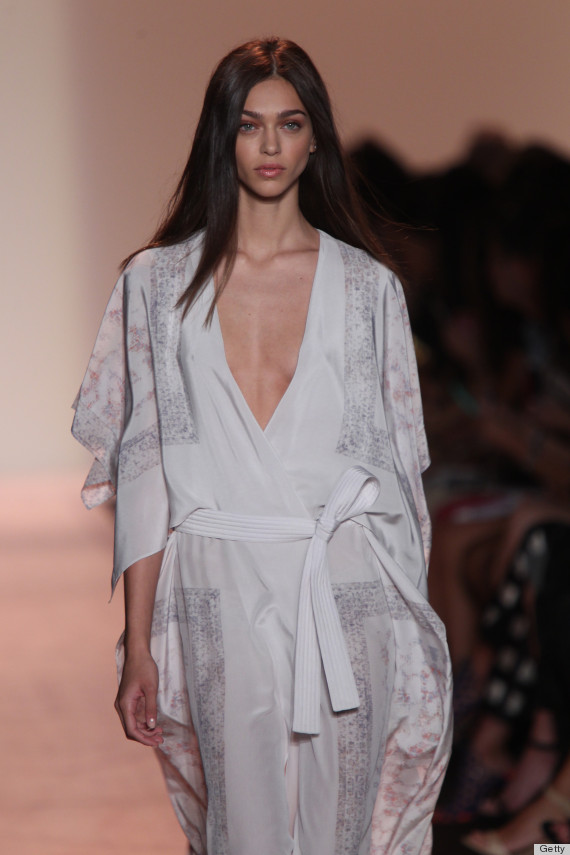 It took nearly every single person to get the knot just right on the collection of belts. We all waited with bated breath each time for Lubov's nod of knotted approval.
Deciding on hair & makeup takes longer than you might think.
Hair and makeup almost seem like an afterthought when you're watching a runway show, as the clothes are the main event. But there is an absolute art in making sure the makeup and hair are not only complementary to the pieces, but to the other models, as well.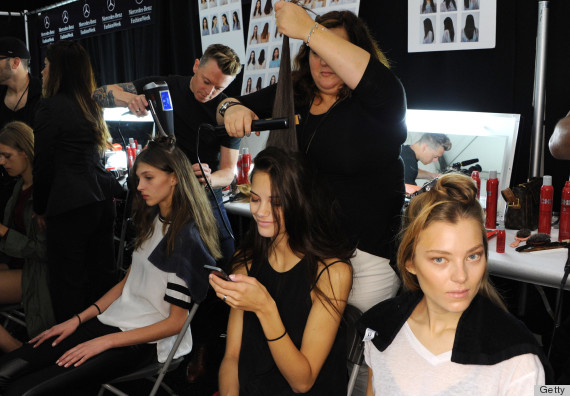 There is a reason women's shirts have pockets on the right.
As Lubov put it "women's shirt pockets are on the right because a woman is always right."
Now that is reasoning we can get on board with.
Head here to see the entire collection.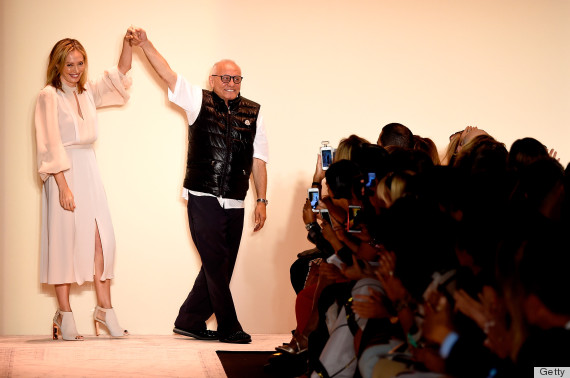 BEFORE YOU GO
PHOTO GALLERY
Fashion Week Street Style