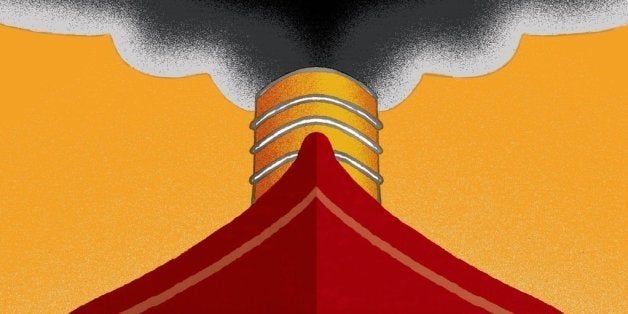 The Book We're Talking About is a weekly review combining plot description and analysis with fun tidbits about the book.
What we think:
Tour guide extraordinaire Armand de Potter's sudden disappearance at the outset of Joanna Scott's new novel is a mystery wrapped inside of an enigma. Though his loving wife, Aimée de Potter, chooses to accept that he was lost at sea and forges forward, she can't prevent doubts about his fate from drifting through her mind -- especially as she grows more doubtful about who he really was, and whether she ever truly knew the man she was married to for decades.
The novel flits back and forth between Armand's disappearance at the age of 53 and the evolution of his life with Aimée -- their burgeoning tour business, their well-appointed lifestyle, their long-awaited child, and, through it all, their steady and lively affection for each other. Though inconsistencies and cracks in Armand's history reveal themselves nearly from the start, Aimée brushes away any concerns about her husband, recording in her diary instead the quotidian sights, gifts and treats of their pleasure-filled life. Even when he vanishes from a steamer under strange circumstances, Aimée's investigations serve more to enlighten the reader than the bereaved wife, who seems to choose to remember her husband as he would have wished to be remembered.
Meanwhile, Scott reveals Armand's personal history in flashbacks, constructing a portrait of a man who, beneath his cultured and savvy facade, was ambitious, deceptive, enthralled by adventure and enraptured by the treasures of foreign lands, perhaps to his detriment. Scott's review of her hero's troubled past trips along in light, well-crafted prose that suits the rather surface-level, gilded vantage point she chooses to present of his complex life. The simplicity of the narration, both in style and often in substance, creates an almost fairy-tale-like atmosphere that keeps the reader at a comfortable remove from Armand's crimes and his sufferings alike.
De Potter's Grand Tour offers a charming and sometimes poignant survey of the pleasures and secret heartaches of a Gilded Age golden couple, but the tale seems to lack a deeper resonance. Though Armand and Aimée are amusingly sketched, they never seem fully realized or knowable to the reader. This may work to emphasize the unknowability of the human heart, a theme throughout the novel, it also necessarily weakens any possible impact of their emotional travails. The mystery itself seems almost Agatha Christie-esque in its lightly witty, genteel tone, but it holds no Christie-like mystery at its heart -- only small, relatively mundane revelations along the way. By the end, readers may be left wishing for more of a payoff for the journey, but they can take comfort in how pleasurable, like one of de Potter's tours, the journey itself was.
What other reviewers think:
Kirkus: "Scott has crafted an understated, atmospheric historical novel as well as an artful mystery set in an era of steamer ships and steam trains, when tourism was new and world travel was a glamorous and sometimes-perilous adventure."
Who wrote it?
Joanna Scott has written 10 books, most recently 2009's Follow Me. Her novel The Manikin was a finalist for the Pulitzer Prize, and both Various Antidotes and Arrogance were finalists for the PEN/Faulkner Award.
Who will read it?
Readers who enjoy genteel, literary mysteries, turn-of-the-century settings and crisp, smoothly written prose.
Opening lines:
"He leaves early on the morning of June 10, descending the carpeted stairs to the lobby of the Pera Palace Hotel. He rings the bell at the front desk. He is about to ring again when a clerk appears from the dark interior of a back office, looking freshly scrubbed, smelling of soap. The bill is settled swiftly, and the clerk is most obliging, despite his limited French, when Armand hands him two last letters addressed to Madame de Potter, care of the Hotel Royal in Toblach."
Notable passage:
"As she watched him looking out through the rain, she told herself that if nothing else, her experiences over the past three months had made her keener, more confident in her ability to see the truth. The inconsistencies she'd discerned in his account of his past added color to the picture, and color added depth. That there was more to him than she had initially perceived would only make the marriage more thrilling."
Rating, out of 10:
6. A delightfully written, intriguing tale despite rather unknowable characters and too-knowable plot twists.