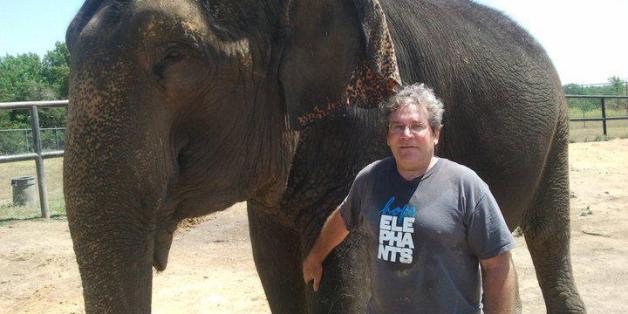 The co-founder of a circus elephant rehabilitation facility in Hope, Maine, has died after apparently being accidentally crushed by an elephant.
Veterinarian Dr. Jim Laurita, 56, was found dead in the barn of Hope Elephants on Tuesday morning, the Portland Press Herald reports. Police first believed he had fallen and hit his head on a cement floor, but an afternoon autopsy determined that the cause of death was asphyxiation and fractures from chest compressions.
Laurita became acquainted with circus elephants decades ago, when he and his brother, Tom, worked at the Carson & Barnes Circus in the late '70s and early '80s.
The brothers joined as a juggling act, but were additionally asked to care for elephants, according to the Bangor Daily News.
James Laurita continued to work with elephants after earning a veterinary degree, caring for the huge animals at places like the Bronx Zoo and Oregon's Wildlife Safari. In 2011, he and his brother founded Hope Elephants and took in Rosie and Opal, two elephants they had worked with at the circus 30 years prior.
Hope Elephants provided rehabilitative care for the two elephants, who had a host of medical problems after their long circus career. The organization also worked to educate the public about elephants and raised money for conservation efforts.
A statement on the Hope Elephants Facebook page reads:
Jim's passion for all animals, but especially elephants, was boundless. It was Jim's ability share that passion with all around him that not only helped to make our organization a reality, but also enriched and enhanced the lives of all those who had a chance to know Jim. It was through education that Jim passed on his passion and the importance of wildlife conservation.
UPDATE 9-1-2014: Rosie and Opal, the two elephants who lived at the Hope Elephants facility, will be moved to the Endangered Ark Foundation in Oklahoma, according to a post on the Hope Elephants Facebook page. The post states that at Endangered Ark, Rosie and Opal "will continue to receive the special care and therapies that Jim pioneered."
Like Us On Facebook |

Follow Us On Twitter |

Contact The Author