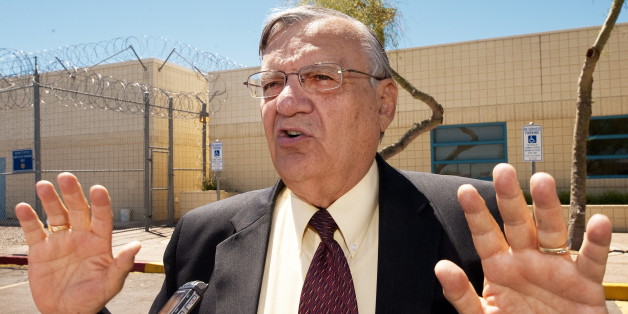 (Updates with quotes from Arpaio, lawyer for dog owners)
By David Schwartz
PHOENIX, Sept 9 (Reuters) - An Arizona sheriff on Tuesday called for felony animal cruelty charges against the owners of a kennel who he said left 21 dogs to die of suffocation and overheating while they were in Florida.
"The key issue here is the failure to provide food and water, and shelter. That's what we're basing the felony charges on," Maricopa County Sheriff Joe Arpaio told a news conference, adding that the dogs were confined to a very small room.
He said an investigation into the incident in June had been completed, and that 21 felony charges and other misdemeanors are being sought each against kennel owners Todd and Maleisia Hughes, and caretakers Austin and Logan Flake.
Austin Flake in the son of U.S. Senator Jeff Flake of Arizona. None of the four could immediately be reached for comment.
Deputies said the proprietors of the facility were in Florida at the time, and that several owners of dogs which died at the kennel were initially told their pets had run away.
The county attorney now must decide whether to file charges in the high-profile case.
A spokesman for the county attorney's office confirmed it had received the case from the sheriff's office, but said there was no timetable for making a decision.
Authorities have said the caretakers told investigators that they discovered there was a power outage in the room where the dogs were housed when they went to check on the canines. It was unclear how long the power had been off.
A preliminary investigation showed a hole scratched out of the drywall in a boarding area which exposed some electrical wires, a part of which looked like it had been chewed through.
An attorney representing all but one of the dog owners in the case said he was encouraged by the latest development.
"We sincerely hope the charges are filed. That's been our goal from day one," John Schill told Reuters. "It's a good day and it will be even better once charges are finally brought."
A spokesman for Jeff Flake released a one-sentence statement saying only that: "This matter is now in the hands of the county attorney." (Reporting by David Schwartz; Editing by Daniel Wallis and Sandra Maler)
BEFORE YOU GO
PHOTO GALLERY
Protesting Animal Cruelty Around The World