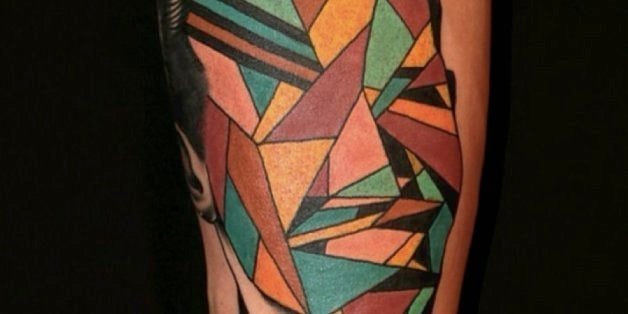 Forget your typical nautical images or lovesick homages to muses, the artist twists saturated color and rhythmically endowed lines into incredibly surreal illustrations not often seen on a human body, let alone a canvas. A woman's face or man's bust becomes the setting for a hypnotic landscape, as hexagonal patterns give way to a mysterious eye, or a mustache morphs into a violent duel between a squid and a whale.
If Rene Magritte had been a sailor, these masterfully imagined works of art would have wound up on his forearm.
Born in Sardinia, Sedda began tattooing back in 1999. Though he originally saw fashion design as a potential career, he took a stab at tattoo art because, in his own words, he "needed a job." His interest in fashion, not to mention geometry and modernist painting, bleeds through his inked creations. From Issey Miyake (Sedda's former teacher) to Dutch artists of the 1600s, Sedda blends art of various sectors to create his distinct style.
"I don't think I can define [my style]," he explained to Inked Mag. "Perhaps melancholic… I don't really like definitions. I prefer to talk about talent and imagination. I consider the exchange between myself and the client a fundamental part of my creative process."
BEFORE YOU GO
PHOTO GALLERY
Amanda Wachob's Tattoo Art