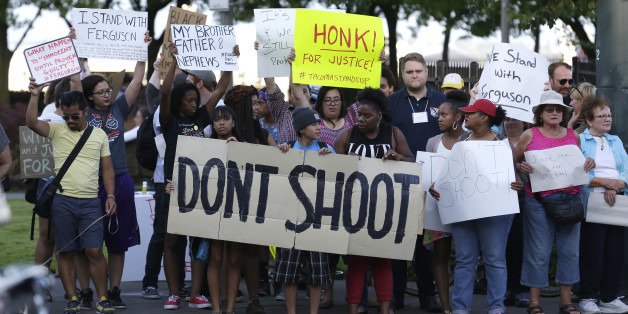 It has been exactly one month since Michael Brown was shot and killed by a police officer in Ferguson, Missouri. The unarmed black teen's death drew national attention to a number of issues about policing and equal treatment under the law that have long been of concern to the African-American community. How did a fatal confrontation sprout, when initial reports suggest that Brown was simply walking in the street? Why did Officer Darren Wilson fire six shots into Brown's body, including two to the head? Were Brown's hands in the air at the time the fatal shot was fired? Was such lethal force really necessary, even if investigators end up concluding Wilson's actions were justified? And if Wilson's actions were criminal, will Brown's family actually find justice?
While much has been said about the role race played in the Brown case and in similar incidents of unarmed black men being controversially and forcefully targeted by police around the country, the events that unfolded in Ferguson on Aug. 9 and in the response to subsequent protests undoubtedly speak more broadly to a disturbing pattern of behavior by law enforcement. Around the nation, people of every race, age, ethnicity, gender and sexual orientation are being treated questionably and aggressively by police officers, in a manner that often leads to suspects being killed or injured, seemingly without proper cause. To make matters more concerning, we have no idea just how many people police kill each year, whether justified or not.
The assorted cases below -- all of which have either taken place or come to light in the past month -- all touch upon many of the core issues at play in the Brown case. Not all of the victims were black males, and the regional context is unique in each case, but they all raise the same questions: How frequently are police too quick or undiscerning in their use of excessive, often lethal force? And are these cases adequately investigated and prosecuted by the other law enforcement officials tasked with making these determinations?
Here's what some of the most controversial police violence looked like in the past month alone:
Aug. 10
On the evening of Aug. 10, an off-duty Dallas police officer confronted Andrew Scott Gaynier, an unarmed 26-year-old who was reportedly pacing up and down the street and making lewd comments to a number of women. Police say Gaynier didn't comply when an officer ordered him to show his hands shortly after attempting to enter a passing family's vehicle. A video shows that Gaynier then charged toward the officer, leading him to open fire on the suspect. Unnamed witnesses claim Gaynier shouted "shoot me" and screamed before rushing toward the officer. A witness also claimed the officer fired four shots, including three to the chest.
An investigation into the incident has been launched and the video of the shooting was turned over to a special investigative unit.
Aug. 11, case 1
Veteran officers with the Los Angeles Police Department stopped Ezell Ford, a 25-year-old mentally ill man, about a block from the street he grew up on in the South Los Angeles' Florence neighborhood on the evening of Aug. 11. Little is known about why the officers stopped Ford, but police say during that stop a scuffle ensued with Ford during which Ford reached for the officer's gun. The partner officer then opened fire upon Ford. The police say Ford was rushed to a nearby hospital, and later succumbed to his wounds. However, eyewitnesses tell a much different story. They say that Ford was unarmed and was being compliant with the officers, lying on the ground when three bullets were unloaded into him by the police. Members of Ford's community and family say that it was well known, even by police officers, that Ford was mentally ill.
Attorney Steven Lerman, who also represented Rodney King -- the man whose videotaped beating by LAPD officers following a high-speed car chase in 1991 sparked outrage around the nation -- took on the Ford case and has said that he intends to file a federal civil rights lawsuit over the shooting, which he described as an "execution."
The LAPD recently released the names of the officers involved in the shooting, but has maintained an "investigative hold" on the Ford autopsy report. The LAPD's Force Investigative Division and Robbery Homicide Division investigations into the shooting are ongoing.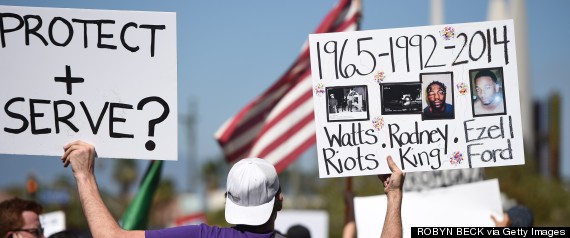 Protestors gather in front of Police Headquarters in Los Angeles on Aug. 17 to demonstrate against the fatal police shooting of Ezell Ford.
Aug. 11, case 2
Salt Lake City police officers were responding to reports of a man brandishing a handgun when they confronted 20-year-old Dillon Taylor outside a 7-Eleven store. Taylor was unarmed at the time, witnesses say, but some reports suggest that he may have reached toward his waistband before being shot by a police officer. Taylor's brother, who was with the 20-year-old when he was killed, said Taylor was wearing headphones at the time, so may not have heard the officers' command for him to put his hands in the air and get on the ground. Taylor died at the scene.
The South Salt Lake Police Department is investigating the incident, but has so far not released a ruling as to whether the officer was justified in firing the fatal shots. The officers at the scene were wearing body cameras during the confrontation, and investigators say the footage will be released when when the investigation concludes.
Aug. 12
On Aug. 12 in Victorville, California, San Bernardino County Sheriff's deputies attempted to take Dante Parker, a 36-year-old father of five, into custody. Parker, who was biking at the time of the confrontation, was a suspect in a burglary, police said. When officers confronted him, they say he became "uncooperative and combative," and acted as if he was under the influence of an unknown substance. Officers deployed Tasers on him repeatedly, according to police officials, and Parker was later transported to a local hospital where he died. The San Bernardino County Sheriff's department is conducting an investigation into Parker's death, but the results have not yet been released.
Aug. 14, case 1
On Aug. 14, the family of Omar Abrego, a 37-year-old father from Los Angeles, came forward to KTLA, claiming that Abrego had been beaten to death by police following a confrontation. The LAPD claims police attempted to pull over Abrego because he was driving erratically and almost hit a pedestrian. Officers say he attempted to flee, first in his vehicle, then on foot, before eventually being caught. In the altercation that ensued, police officials say Abrego suffered a laceration. Witnesses claim to have seen officers striking him on his head and face, however, with one saying the beating lasted 10 minutes. A cell phone video appears to show a motionless Abrego with a bloodied face, lying on the ground. An ambulance was called to the scene, and 12 hours later, Abrego was dead.
The LAPD says the two sergeants involved in the incident were injured as a result of the arrest and that the department has mounted an investigation into the incident.
Aug. 14, case 2
Police in Greeley, Colorado say they were responding to a 911 call reporting an intoxicated man armed with "two or three guns" on the morning of Aug. 14 when they encountered 21-year-old Jacinto Zavala. The military veteran reportedly had a brief encounter with police, officials say, during which he refused their commands to drop a weapon and instead pointed it at officers, leading them to shoot and kill Zavala. While police maintain that Zavala was brandishing an AR-15, his family has claimed he was armed only with a BB gun, and that he never raised it at the officers. The source of the 911 call, who claimed the suspect had PTSD, is also unclear. Zavala's family alleges that he didn't suffer from the disorder, but that officers should have behaved differently if they believed they were responding to a mentally unstable individual.
The Weld County District Attorney's Office is currently investigating the case, though details about incident have not yet been released.
Aug. 14, case 3
On the morning that Diana Showman, a 19-year-old woman with severe bipolar disorder, was shot to death by police officers in San Jose, California, she called 911 reportedly telling dispatchers that she had a gun and was going to shoot her family. However, no one else was at home with Showman. When Showman later approached officers outside of her home with a large black object in her hand, the officers ordered her to drop it, but when she disobeyed the order, police say, an officer fired one fatal round. It was later discovered that the large object was a black cordless drill.
Showman's parents, as well as local police, are demanding a thorough investigation of the shooting.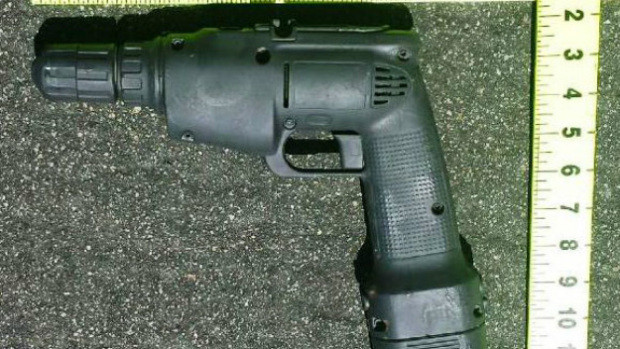 The drill Showman was carrying at the time of her death.
Aug. 14, case 4
On the same afternoon, a veteran officer from the Phoenix Police Department arrived at 50-year-old Michelle Cusseaux's apartment in order to transport her to an in-patient mental-health facility. Police say Cusseaux -- who was said to have serious mental illness which included schizophrenia, bipolar disorder and depression -- met the officer at her front door with a hammer in her hand when she was shot dead.
The Arizona Department of Public Safety will conduct a criminal investigation into the shooting after Cusseaux's mother asked that the city use an independent agency to look into the incident.
Aug. 17
On Aug. 17, Joshua Paul, a 31-year-old from Carpentersville, Illinois, was pulled over by police for a traffic violation. What happened next still isn't clear, but the officers informed Paul that he had an outstanding warrant for his arrest due to prior traffic violations, and attempted to take him into custody. Police reported a "brief physical struggle," which left Paul with a laceration under his chin that required on-scene medical attention from paramedics. The extent of his injuries was reportedly more substantially, because he was eventually taken to the hospital in an ambulance, where he died a few hours later. The cause of Paul's death and extent of his injuries have still not been released by officials, and the Illinois State Police Public Integrity Unit has launched an investigation into the incident.
Aug. 19
On Aug. 19 in Orlando, several people called 911 to report a man with a gun outside of a downtown nightclub, but that he hadn't fired it yet. According to a police affidavit, police ordered Kody Roach, the gunman, to get on the ground, but when he started to back up toward the club again, witnesses say that policed fired as many as a half-dozen shots. Police say that during a police confrontation with the gunman, 22-year-old Maria Godinez was killed by a stray bullet fired by an officer. Roach survived the shooting and now faces a murder charge for the killing of Godinez.
The Florida Department of Law Enforcement has launched an investigation into the shooting.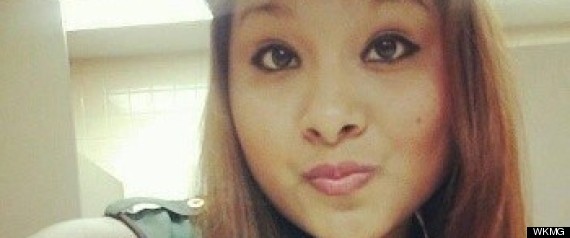 A photo of Godinez, via WKMG.
Aug. 24
Police in Ottawa, Kansas, say they responded to calls about unusual behavior from 18-year-old Joseph Jennings and reports that he may have had a gun. Officers said that when they arrived in the parking lot of a local hardware store on the afternoon of Aug. 24, Jennings ignored police commands. That's when police fired upon Jennings. But witnesses say Jennings may not have had a gun at all, and that police may have fired more than 15 rounds at the teen who had left a psychiatric hospital just hours before. Family members also said that police were aware of Jennings' mental state and had made several recent trips to his home because the young man had been having suicidal thoughts brought on by what his family described as painful seizures.
The case has been taken over by the Kansas Bureau of Investigation.
Aug. 28
Police say they received 911 calls on the morning of Aug. 28 describing a man walking down a street wielding a pipe and bashing in windows. A witness described the man as homeless, and he was later identified as 36-year-old Guillermo Canas. St. Paul Police Chief Tom Smith said that the man was attacking officers with rocks and had also apparently attacked a school bus with a metal pipe. Witnesses say that when police arrived, the man was throwing rocks and trying to punch police officers just before he finally charged at one of the officers and was fatally shot.
Sept. 3
Earlier this month, the family of Marlon Horton filed a civil rights lawsuit over the fatal shooting of the 28-year-old man by an undercover Chicago police officer the year before. Horton was reportedly attempting to visit his girlfriend on the morning of Sept. 7, 2013, but a lawsuit claims that his cell phone battery had died, leaving him unable to call his girlfriend to get into her building. Horton then asked two building security guards, one who turned out to be an off-duty Chicago police officer, to let him into the building. When the pair of guards refused to let him in and asked him to leave, Horton allegedly began to urinate near the police officer's car and a scuffle began. It ended with Horton being shot as he moved toward the off-duty police officer.
Transcripts from 911 calls allegedly reveal a dispatcher instructing the off-duty officer to give Horton medical assistance after Horton had been shot, but security video from the scene of the shooting shows no assistance was given, according to a lawsuit launched by the family.
The family's attorneys say that had Horton been white, he would not have been shot and killed. The Chicago Independent Police Review Authority is investigating the incident.
_______________________
Not every target of police violence that emerged in the past month met such a tragic end. In late August, Chris Lollie, a 28-year-old father of four from St. Paul, Minnesota released video of a January encounter that led to him getting hit with a Taser twice by police before being arrested.
Lollie claims he was sitting in a public skyway-level lounge area when a security guard told him to leave. Believing he was in a public space, Lollie declined, and the guard called police to the scene. When officers arrived, Lollie had left the area to go pick his children up from daycare. They approached him in another section of the skyway and asked him to identify himself; Lollie was filming the confrontation on his cell phone. When he refused to identify himself, officers attempted to take him into custody. Lollie claims an officer placed his phone on a ledge, and audio of the incident shows there was a brief struggle before an officer deployed a Taser on him, allegedly in front of his daughter's day care classmates.
The charges -- for misdemeanor trespassing, disorderly conduct and obstructing the legal process -- were eventually dropped in July, but Lollie is now filing a federal lawsuit, claiming he was a victim of unlawful search and seizure, motivated by racial bias. Lollie luckily wasn't killed or seriously injured in the incident, but as some of the previous stories demonstrate, many similar incidents have had more tragic ends.
Lollie's situation also garnered national attention due to a video, but there is no doubt there are many similarly questionable confrontations we don't hear about. In many of these cases, unnecessary or at least potentially controversial use of force goes unnoticed by the public and unquestioned by police officials. It's only when someone actually dies -- an outcome that officers often have little control over if a Taser or other "non-lethal" weapon is used -- that the story emerges and the nation again is forced to see the parallels to the case of Michael Brown.
BEFORE YOU GO
PHOTO GALLERY
Ferguson Protest