Apple's live event unveiled the Apple Watch, the new iPhone 6, a digital wallet and, unexpectedly, U2's first album in five years, "Songs of Innocence."
The band debuted a new song, "The Miracle (of Joey Ramone)," live and announced that the album would be automatically added to iTunes users' libraries for free starting Sept. 9. (Go check out your library. It's probably already there.) "Songs of Innocence" just had the biggest album release of all time.
"Music runs deep in Apple's DNA. It runs through the core of all of our products," Apple CEO Tim Cook said at the event. "iTunes has been at the center of that experience."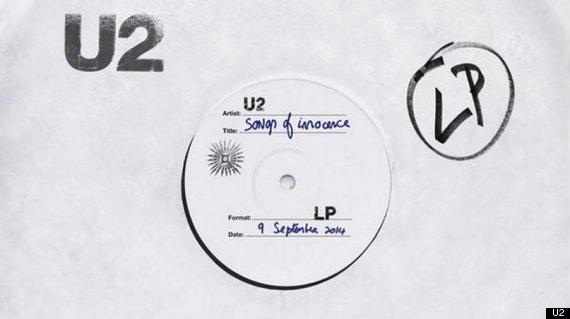 According to Rolling Stone, U2 worked on "Songs of Innocence" with producers Danger Mouse, Flood, Paul Epworth and Ryan Tedder. "We wanted to have the discipline of the Beatles or the Stones in the Sixties, when you had real songs," Bono told Rolling Stone. "There's nowhere to hide in them: clear thoughts, clear melodies."
The album features songs intended to be reminiscent of the Clash and the Ramones, and Bono told Rolling Stone that one song was written for his mother, who died when Bono was a teenager. Lykke Li also appears on one track, "The Troubles."
For now, "Songs of Innocence" is only now available on iTunes, iTunes Radio or Beats Music, but the physical record will be out Oct. 13. A deluxe edition will include acoustic versions of some songs and additional tracks: "Lucifer's Hands," "The Crystal Ballroom, "The Troubles (Alternative Version)" and "Sleep Like A Baby (Alternative Perspective Mix by Tchad Blake)."
Here's the tracklist:
1. "The Miracle (of Joey Ramone)"
2. "Every Breaking Wave"
3. "California (There Is No End To Love)"
4. "Song For Someone"
5. "Iris (Hole Me Close)"
6. "Volcano"
7. "Raised by Wolves"
8. "Cedarwood Road"
9. "Sleep Like A Baby Tonight"
10. "This Is Where You Can Read Me Now"
11. "The Troubles"
BEFORE YOU GO
PHOTO GALLERY
Celebrity News & Photos