In what's been called a "sensational" find, archaeologists have discovered a Viking fortress near the Danish city of Køge, about 30 miles southwest of Copenhagen. The ancient ringed structure is said to have a diameter of 475 feet and to date back more than 1,000 years.
"This is the first time for more than 60 years that a new Viking ringed fortress has been discovered in Denmark," Nanna Holm, curator of the Danish Castle Center and one of the archaeologists involved in uncovering the ruin, said in a written statement issued by Aarhus University.
Lasse Sonne, a University of Copenhagen historian who specializes in the Viking period, called the discovery "great news."
"Although there were Vikings in other countries, these circular fortresses are unique to Denmark. Many have given up hope that there were many of them left," Sonne told Danish newspaper Politiken.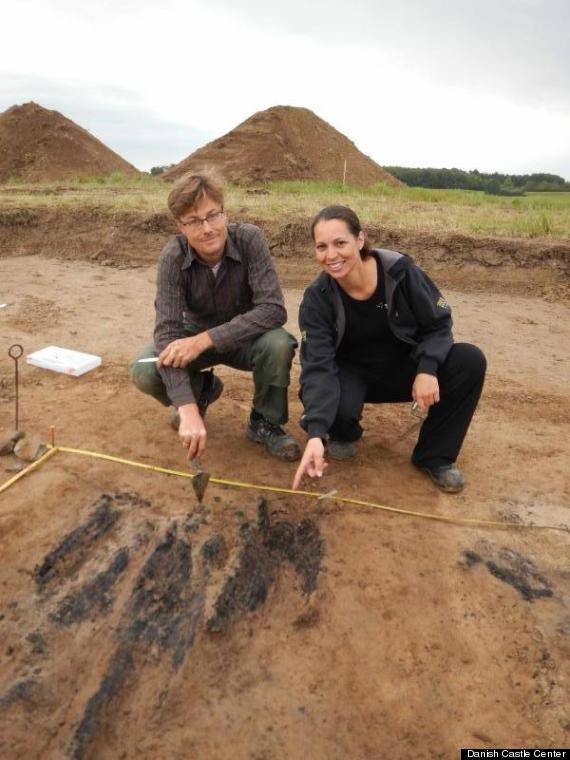 Nanna Holm and fellow archaeologist Søren Sindbæk pose with what is believed to be the burned remains of one of the fortress' gates.
Archaeologists said modern technology had been the key to the discovery. With help from University of York researcher Helen Goodchild, the team employed a technique called gradiometry, according to Gizmodo. The technique measures differences in the magnetic field of soil.
Before long, a "ghost image" of the once-mighty fortress emerged. By comparing it with the layout of other ringed Viking fortresses, the archaeologists said they then knew where to start digging.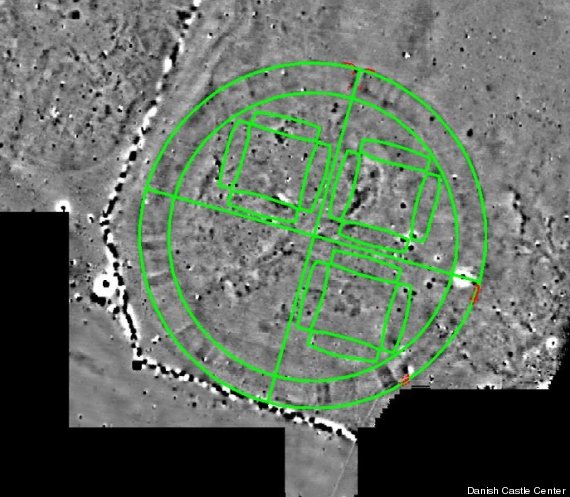 Ground plan of the Fyrkat fortress, another ringed Viking fortress, placed on top of the Vallø ringed fortress. The red lines show the outline of the Vallø excavation.
"The technique gave us a surprisingly detailed image of the fortress in no more than a few days," Søren Sindbæk, a professor of medieval archaeology at Denmark's Aarhus University and another member of the research team, said in the statement. "So we knew exactly where to dig the excavation trenches with a view to learning as much as possible about the fortress."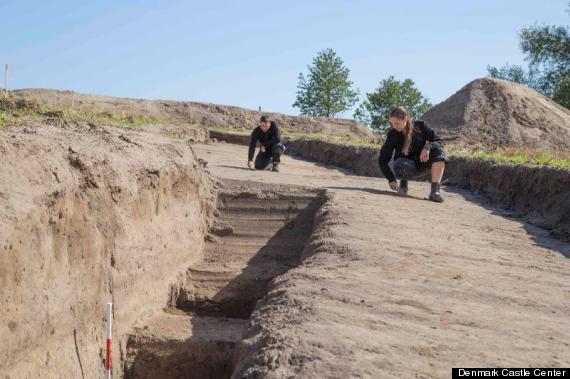 Archeologists at the excavation site
Samples from the fortress were sent to a lab for analysis to determine the structure's precise age, according to the statement. Meanwhile, experts have speculated that the fortress may have been built during the time of King Harald Bluetooth, who reigned in the 900s, or his son, Sweyn Forkbeard, who became the first Danish King of England in 1013.
Holm said the fortress could have been built even before Bluetooth's time, adding that its discovery could transform the understanding of Danish history.
"A military fortification from the Viking Age may shed more light on the links between Zealand, ancient Denmark and the Jelling dynasty — as well as teaching us more about the period during which Denmark became Denmark," she said in the statement.
BEFORE YOU GO
PHOTO GALLERY
Biblical Archaeology