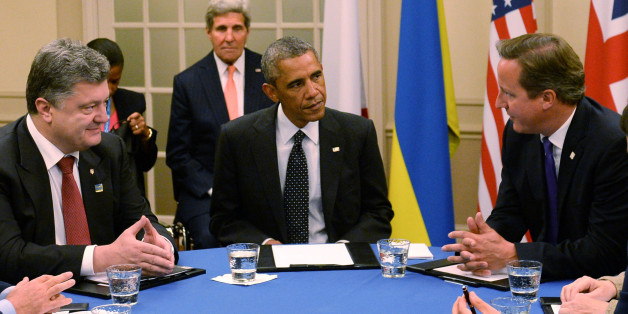 Americans are more concerned about their safety from terrorism than they have been since 9/11. Another poll finds Republicans more enthusiastic about voting in 2014 than Democrats. And we explain how a new Kansas surveys shifts our Senate ratings. This is HuffPollster for Wednesday, September 10, 2014.
AMERICANS' FOREIGN POLICY FEARS GROW - Mark Murray: "The nation is on edge in the wake of brutal beheadings of journalists by Islamic extremists — with more Americans saying the United States is less safe now than at any point since 9/11, a new NBC News/Wall Street Journal Poll shows….And a whopping 94 percent of Americans say they have heard about the news of the beheaded journalists – higher than any other news event the NBC/WSJ poll has measured over the past five years….According to the poll, 61 percent of American voters believe that the United States taking military action against ISIS is in United States' interest, versus 13 percent who don't. (Another 24 percent said they don't know enough to have an opinion.) That's a significant change when a similar question was asked last year about the U.S. taking possible action against Syria's government after its reported use of chemical weapons." [NBC]
Rising GOP support for more active international role - Murray: "The percentage of Americans who believe the United States should become more active in world affairs has increased in the months since international events – including the rise of ISIS in Iraq and Syria – have become major stories, a new NBC News/Wall Street Journal poll finds. Still, a plurality of respondents want the U.S. to be less active in world affairs, but that number is down from April...The change has come primarily from Republican respondents, who favor more activity over less activity in world affairs by a 41 percent-to-34 percent margin." [NBC]
Consistent with earlier results - A Pew/USA Today poll released in late August had similar findings, with the percentage of Americans who said the U.S. should do more to solve global problems rising from 17 percent to 31 percent in less than a year. The change came among both parties and independents, although it was most pronounced among Republicans. [HuffPost]
GOP HOLDS MIDTERM EDGE - Kaiser: "The latest Kaiser Family Foundation Health Tracking Poll finds Republicans with a modest edge in terms of voter enthusiasm, but the Affordable Care Act, also called Obamacare, is not the main motivator. The poll finds that 27 percent of Republicans say they are 'more enthusiastic' about voting this year than in past Congressional elections, compared with 20 percent of Democrats and 18 percent of independents. Asked to say in their own words why they're more excited about voting this year, the most common response among enthusiastic voters relates to a desire to elect more Republicans or help Republicans gain control of the Senate (13%). Just 3 percent mention the health care law specifically." [KFF]
Views of ACA remain low, but negatives down since July - "The latest Kaiser Health Tracking Poll finds that the public continues to be more likely to express an unfavorable view of the health care law (47 percent) than a favorable one (35 percent). However, after rising to 53 percent in July, the latest poll finds that the share with an unfavorable view fell back down closer to the shares reported earlier in the year. The share not offering an opinion on the law increased to 19 percent this month, while the share with a favorable view remains similar to previous levels." [KFF]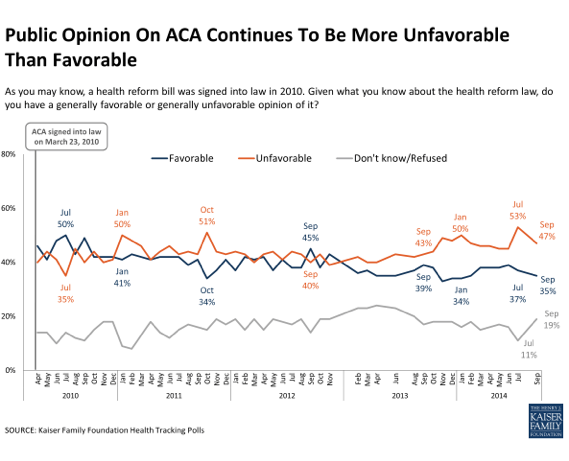 MAJORITY OF AMERICANS SAY THIS CONGRESS IS THE WORST IN THEIR LIFETIME - Mark Preston: "Americans are angry with Capitol Hill, as a whole, with a whopping 83% saying they disapprove of how Congress is handling its job, while 65% describe it as the 'worst Congress of their lifetime.' The current approval rating for Congress is 14%, just four points higher than the all-time low of 10% in a September 2013 CNN/ORC Poll. This might explain why voter enthusiasm has dropped off significantly since the last midterms in 2010 -- particularly among Republicans. Four years ago, 53% of Republicans said they were enthusiastic or very enthusiastic about voting, that number has now dropped to 37%. In 2010, 30% of Democrats were enthusiastic about voting -- fast forward four years and that number has decreased two points." [CNN]
SENATE FORECAST UPDATE: KANSAS - The HuffPost Pollster Senate Forecast ticked six percentage points in the Democratic direction on Tuesday, largely the result of our incorporating recent polls into the model for upended Kansas Senate race. That decision and its impact require more explanation than usual.
To review: When we have fewer than five public polls available for a race, as has been the case in Kansas, our model assigns a probability of victory using the Cook Political Report's current rating. When Democratic Senate nominee Chad Taylor asked to have his name removed from the ballot on September 3, the Cook Report shifted its rating to "lean Republican," which translated into an 80 percent chance of victory for Republican incumbent Pat Roberts, according to our historical analysis of the Cook ratings. On Monday, however, SurveyUSA and KSN News released a new poll showing a nearly tied race between Roberts and independent Greg Orman in Kansas. The new survey was the fifth since June to ask voters to choose between Roberts, Taylor and Orman (the Kansas Secretary of State has ruled that Taylor's name must remain on the ballot, although Taylor's challenge to that ruling is pending).
(As of this writing, the number of available polls is also now sufficient to allow estimates based on polling data in three more states -- Maine, Oregon and Texas).
With five polls available in Kansas, including the four conducted prior to Taylor's departure for the race, HuffPost Pollster's poll tracking model still gives Roberts a narrow advantage (39.2 to 36.9 percent). But given the relatively small number of polls available and the large number of undecided voters remaining, our model considers the race a true toss-up, putting Roberts' current probability of victory at just 50 percent. [Pollster chart for Kansas, details on how the model calculates win probabilities]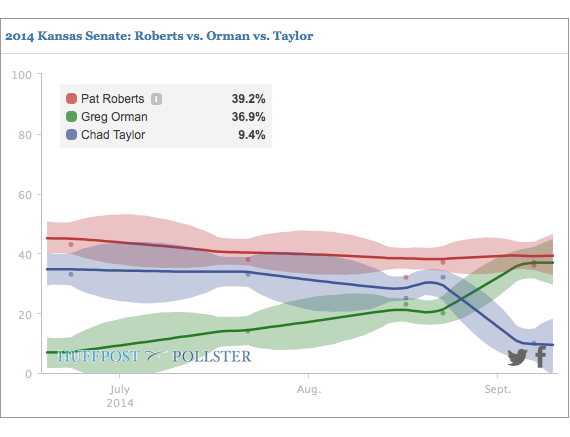 The new SurveyUSA poll used what amounts to an "informed" question to ask about vote preference to ask about the Kansas Senate race: respondents were told that Taylor's name would still appear on the ballot "even though he no longer wants to run" and that the Secretary of State who refused to take his name off the ballot is a Republican. Ordinarily, Pollster does not include informed ballot questions in our polling averages, but we have opted to make an exception in this case due to the extraordinary circumstances of the Kansas race. Pollsters are likely to take different approaches to measuring voter preferences in this context, especially if Taylor's name remains on the ballot, so we are not likely to see the usual "apples-to-apples" comparability in poll questions there. Further, the inclusion of the four past polls and the use of the Cook Political rating to "initialize" the estimate (more details here), makes the current estimate more robust. Note that Roberts' share of the vote remains roughly constant in the chart, with aggregate preferences shifting mostly between Taylor and Orman.
Don't be surprised if the Kansas polling average shifts in the coming weeks. Both voter preferences and poll measurements are likely to be more volatile than usual in this race, but for now our best estimate based on the available polling data is that the race is a tossup.
NATE SILVER CALLS OUT RV POLLS - Silver: Polls of so-called likely voters are almost always more favorable to Republicans than those that survey the broader sample of all registered voters or all American adults. Likely voter polls also tend to provide more reliable predictions of election results, especially in midterm years. Whereas polls of all registered voters or all adults usually overstate the performance of Democratic candidates, polls of likely voters have had almost no long-term bias. This represents one difference between FiveThirtyEight's Senate projections and several other forecast models. Our program "translates" registered voter polls to make them equivalent to likely voter results. With some exceptions, other forecast models do not. This is one reason the FiveThirtyEight model tends to show a more favorable outcome for Republicans....As the election gets closer, a higher and higher proportion of pollsters will release likely voter results exclusively or in conjunction with registered voter results. A model that's ambivalent about the distinction might misinterpret the switch between registered and likely voter numbers as reflecting "movement" toward the Republican Party." [538]
Not many RV Senate polls left - While the HuffPost Pollster model will include a result among all registered voters when the Pollster provides no results based on a narrower "likely voter" population, these polls have become few and far between in recent months. Of 88 statewide Senate poll entered into the Pollster database that have come out of the field since August 1, just 3 were samples of all registered voters and only one (a Democratic Party sponsored survey in Arkansas) was fielded in a race considered competitive. The "switch" between registered and likely voter samples is already largely complete.
HUFFPOLLSTER VIA EMAIL! - You can receive this daily update every weekday morning via email! Just click here, enter your email address, and and click "sign up." That's all there is to it (and you can unsubscribe anytime).
WEDNESDAY'S 'OUTLIERS' - Links to the best of news at the intersection of polling, politics and political data:
-A survey finds Michelle Nunn (D) gaining on David Perdue (R) in Georgia thanks to improved numbers among women. [SurveyUSA]
-Rick Scott (R) and Charlie Crist (D) are nearly tied in Florida. [SurveyUSA]
-A new poll gives Mark Warner (D) a 22-point lead over Ed Gillespie (R) in Virginia. [Christopher Newport University]
-Connecticut. Gov. Dannel Malloy (D) trails his challenger by 6 points. [Quinnipiac]
-PPP (D) finds Gary Peters (D) leading Terri Lynn Land (R) by 7 points, but also finds the governor's race nearly tied. [PPP]
-Nate Cohn argues Alaska could be the state that determines control of the Senate...which may be a problem since there has been almost no reliable polling there. [NY Times]
-Harry Enten says we already knew Americans would say the Obama presidency has been a failure. [538]
-Charlie Cook finds Democrats "increasingly resigned to an ugly midterm election." [National Journal]
-Sam Greene and Graeme Robertson look into Vladimir Putin's rising approval numbers. [WashPost]
-AAPOR issues a task force report on survey refusals. [AAPOR]