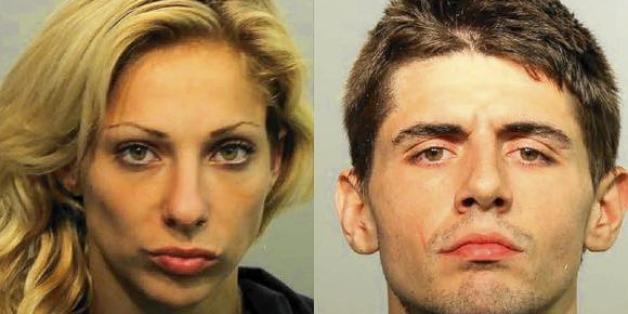 These two have been watching too many old heist films.
But they aren't Steve McQueen and Faye Dunaway -- they're Johnathan Kokontis and Melissa Schneider of Seminole County, Florida. Their steamy plan to escape custody didn't quite work.
Their alleged heist began Saturday morning in a subdivision of Fern Park, when a woman called 911 to report that the couple was walking around acting suspicious, according to WFTV.
"I asked, 'What are you doing?' And they said, 'We are looking to buy a house,'" local resident Joanne Terry told WFTV. She didn't believe them, because they were wandering the neighborhood wearing backpacks at the time. She may have been right to assume something was wrong, too -- Kokontis and Schneider have been implicated in several car break-ins in the area.
Deputies arrived to find Schneider, 27, and Kokontis, 25, hiding behind a shed. The two were thrown in the back of a police cruiser while an investigation ensued. But the perpetrating pair got right to work. Schneider helped Kokontis get his cuffed hands in front of his body, according to the Orlando Sentinel.
Then, the two kissed in an attempt to pass Schneider's earring to Kokontis, which he used to break free from the cuffs.
Schneider, a stripper from Orlando, stayed back while Kokontis allegedly shoved a deputy and ran to a nearby home, where he broke in. He demanded the homeowner's keys and tried to flee in a car, but the car wouldn't start, so he fled back inside. Responding deputies said he threatened them with a pickaxe, so they sent in a K-9 unit to subdue him.
Kokontis was taken to jail and handed a laundry list of charges: Escape from custody, robbery, armed burglary, resisting arrest, battery on a law enforcement officer, attempted grand theft of a vehicle, criminal mischief, petit theft and violation of probation.
Schneider was released, but arrested again on Sept. 5 when she allegedly beat down a pregnant woman who asked for a cigarette, according to the Orlando Sentinel.
Like Us On Facebook |

Follow Us On Twitter |

Contact The Author