At first glance, Annie appears to be your average border collie mix. She spends her days hiking, taking long walks, playing fetch and lounging around with her newly adopted sister, Maisie.
But come mealtime, you won't find her nosing through her food bowl on all fours like the rest of her doggy friends, her owner Elizabeth Nash told The Huffington Post. Annie has megaesophagus, which causes the enlargement of the esophagus and prevents the development of esophageal muscle tone. Therefore, she must eat in an upright position to make sure her food reaches her stomach properly.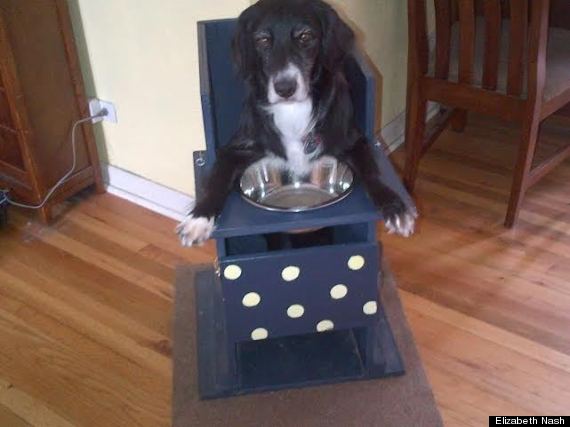 Annie sitting in her high chair, ready for mealtime.
When Nash adopted Annie in April 2013 from the Adams County Animal Shelter in Brighton, Colorado, she was looking for a companion to fill the void her late rescue dog Holly left when she passed away a month earlier. Annie was a 2-year-old stray dog who had been abandoned by her previous owners when Nash came along. And instead of celebrating her adoption, they spent the following day together at her veterinarian's office, ultimately receiving her disorder diagnosis.
While caring for a special needs dog isn't an easy task, Nash felt up to the challenge. Her veterinarian's husband built Annie her special high chair, which is where she eats her two meals each day and hangs out for 20 minutes following mealtime to make sure her food is fully digested.
"She's been with me for a year and a half now, and she is a happy, healthy 3-year-old with a wonderful quality of life," said Nash. "While it was initially overwhelming, her feeding is now part of our daily routine, and, like clockwork, she sits by her chair when it's time to eat. Other than her feeding routine, she does all of the things that dogs love to do."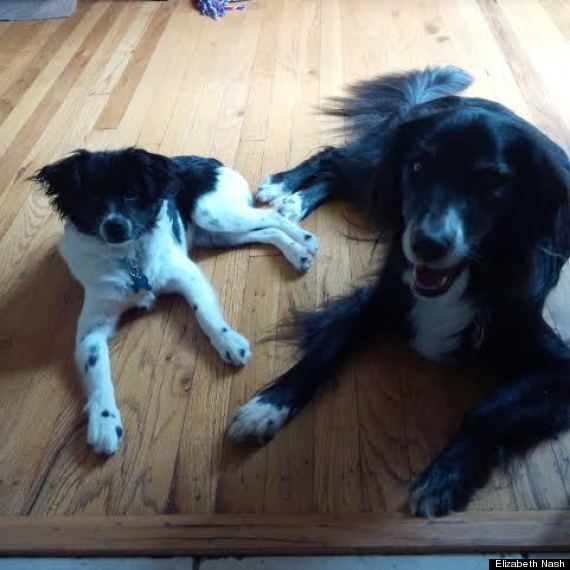 Annie (right) and Maisie.
While Nash has ensured that Annie has a safe and supportive home for the rest of her life, she insists that it is her pet that enriches her life and teaches her valuable lessons each day about what it means to care for a loving animal deemed imperfect by others.
BEFORE YOU GO