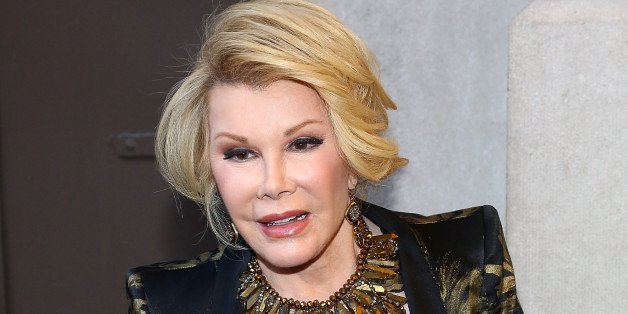 UPDATE: In a statement to The Wrap on Sept. 10, Yorkville Endoscopy said "a biopsy of the vocal cords has never been performed at Yorkville Endoscopy."
Without making specific mention of Rivers' name due to patient confidentiality laws, the clinic added, "General anesthesia has never been administered at Yorkville Endoscopy. The type of sedation used at Yorkville Endoscopy is monitored anesthesia care. Our anesthesiologists utilize light to moderate sedation."
PREVIOUSLY: Joan Rivers' official cause of death remains unclear after the New York City medical examiner performed an autopsy last week, but a source tells the New York Daily News it was an unplanned biopsy on her vocal cords that caused the comedian to stop breathing.
The Daily News reports that Rivers, who died on Sept. 4, initially went to Yorkville Endoscopy on the Upper East Side on Aug. 28, for what her friends described as "a diagnostic procedure [to] see why her voice had gotten raspy."
During the routine procedure, Rivers' doctor reportedly noticed "something" and asked if he could perform a biopsy on the 81-year-old's vocal cords, at which time it's believed she suffered vocal cord contraction (laryngospasm), which stopped her breathing.
The paper's source adds that the comedian had only agreed to the endoscopy, not a biopsy. Described as a "huge no-no," Yorkville Endoscopy should not have allowed the doctor to perform the procedure without patient consent, and a biopsy should only be done in a hospital setting. "If she had been in a hospital when it happened, she might have been okay," said the source.
Yorkville Endoscopy, which opened in February 2013, is currently under investigation by the New York State Health Department, and declined to comment to the New York Daily News, citing patient confidentiality laws.
HuffPost Entertainment's request to Rivers' rep has yet to be returned at this time.
BEFORE YOU GO
PHOTO GALLERY
Celebrity News & Photos