When their daughter was diagnosed with cancer, Kim and Jon Smith did everything they could to try and save her. They exhausted treatment options in the United States and then in Europe, but the cancer simply would not be overcome. Tyler Rebekah Byrd died at the age of 15 in December 2003.
Kim and Jon say that losing Tyler was, of course, a deeply personal tragedy, but their experience was also part of a much bigger problem. There was, they realized, a tremendous lack of funding for childhood cancer, and there seemed to be little movement toward change.
Since then, Kim and Jon have been advocating for more funding and more research for childhood cancer and, on Sept. 1, the first day of Childhood Cancer Awareness Month, the couple, both of whom are cycling enthusiasts, hopped on their bicycles to begin an arduous, 3,000-mile cross-country journey -- all in the name of saving young lives.
According to their fundraising website, Kim and Jon (also known as Team Tyler Rides) are planning on bicycling from San Diego to St. Augustine, Florida -- a distance of about 3,069 miles -- throughout the course of the next few weeks. They hope to raise at least $30,690 ($10 per mile), all of which will go to St. Baldrick's Foundation, an organization that funds research into childhood cancer treatments.
"[We] hope to make a difference for other families fighting this battle," Kim told The Huffington Post via email this week.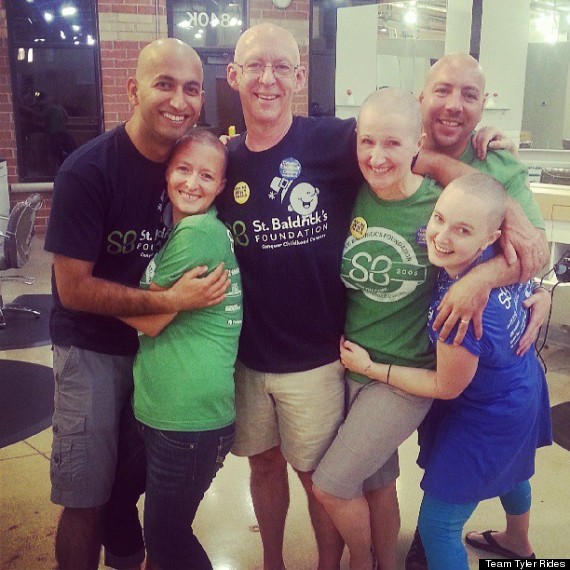 Jon (middle) and Kim (fourth from left) pose with family and friends after shaving their heads
Cancer kills more children in the U.S. than any other disease. According to St. Baldrick's, more kids in this country die of childhood cancer than of AIDS, asthma, cystic fibrosis, congenital anomalies and diabetes combined.
"And yet, all types of childhood cancer combined receive only four percent of the U.S. Federal funding for cancer research," the Smiths wrote on their website. "This was really alarming to us. We also found out the pharmaceutical companies put close to nothing into developing drugs for childhood cancer because it is not profitable. We want more people to be aware of this huge gap and help to make the change."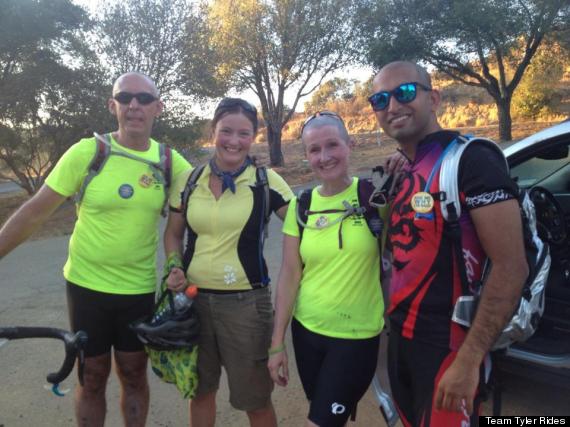 Jon (first from left) and Kim (third from left) on the road
As of Tuesday, the Smiths -- who both shaved their head before starting their epic bike journey -- have raised more than $20,400.
Currently in Arizona, the couple has already endured some harsh conditions, including sweltering desert heat, non-stop rain and swirling dust storms, but their spirits haven't waned.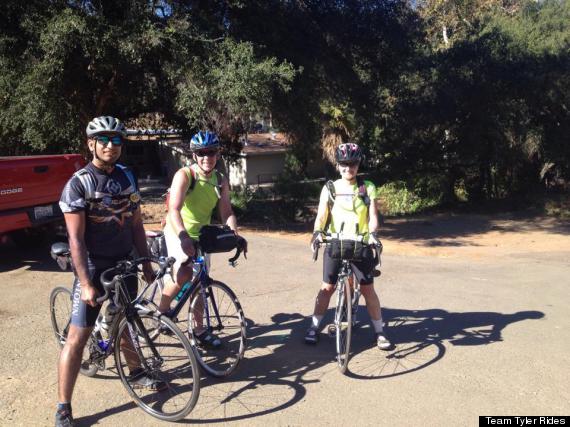 Jon (middle) and Kim (right) on the road
Kim told The Huffington Post that though she and her husband are life-long bikers, they've never before embarked on such a long and difficult journey. "[We're] combining our passion for biking with a cause we feel passionate about," she said, adding that she and Jon have been planning this journey for over three years.
Ultimately, the couple says they hope their long ride eastward will cast a spotlight on a cause so close to their hearts.
"Let's band together to stop cancer," they wrote on their website. "Hoping some day children can be children and not ever have to suffer this horrible disease."
BEFORE YOU GO
PHOTO GALLERY
5 Inspiring Cancer Stories