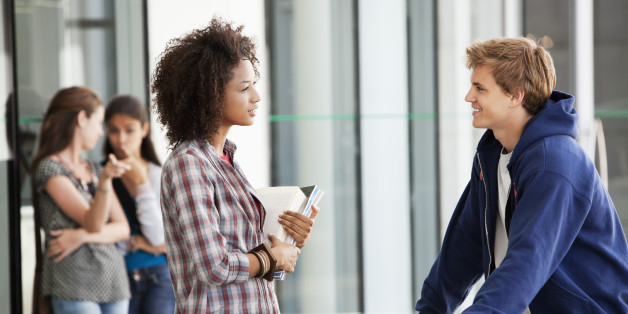 By now you're probably overwhelmed by all the advice from people who know you're headed off to your first year of college: Make lots of friends, study hard, don't party every weekend…
Lucky for you, we've got it all written down with some personal input from real collegiettes to help guide you through your first week of college! The first week is a tough transitional period that can be endlessly fun but also overwhelming, so this is the time to put all that advice into practice.
DO keep your door open
This is an oldie but goodie when it comes to making friends during the first week or two at a new school: Now that you're living dorm-style, it's up to you who comes in and out of your room. An open door or a welcoming sign is a friendly invitation for your neighbors (and possible future friends) to step inside.
"I met one of my best friends during the first few days of college because she had a sign on her door saying they had cookies to share," says Alex Watson, a junior at New York University. "My roommates and I lived on the same floor and decided to indulge in cookies one day and ended up gaining a few friends, too!"
Whenever you and your roomie are having some downtime and are hanging around the room, open the door and see if any future friends wander in!
DON'T buy your textbooks early
No, this doesn't mean you won't be doing any studying. Buying school supplies for college is a bit different than it was in high school. Unfortunately, one big difference is the cost. Textbooks can cost up to hundreds of dollars each semester, depending on your school and courses.
However, there are ways to avoid the worst of the bills! Some professors don't even use the textbooks that are on the bookstore's list, so we recommend waiting until the first day of class before making any purchases. That way you won't shell out your savings on anything you don't truly need.
Ivy Stafford, a junior at Keene State College, says, "I originally bought my textbooks too soon and almost always ended up not needing them, which could get pretty annoying." If you're too nervous about showing up empty-handed, shoot the professor an email beforehand asking for his or her suggestions.
Once you have a final list of books, see if you can rent them, buy them used or even find them at a cheaper bookstore in the area. There are tons of deals online for students, so check out the six best sites for cheap textbooks.
DO try new things
It's important to head into this new chapter of your life with an open mind. If you want to get involved and meet new people, you'll have to try your hand at a few new things! Don't hesitate to join extracurricular groups you may not have considered, try out for a team sport or approach a group of students at the dining hall. Check out your school's a cappella groups, look into an art class or try your hand at a group fitness class. Many schools offer job fairs and/or club fairs that allow you to see all your options at once, gather some info and sign up on the spot. Now's the time to try new things, so take advantage of it!
Kendall Donohoe, a third-year student at Northeastern University, says that the first week of school is a great time to branch out and meet new people. "During the first week of school, everyone is trying to make new friends and will be especially friendly, so try hanging out with different groups of people, not just your roommate or someone you knew before coming to campus," she says.
BEFORE YOU GO
PHOTO GALLERY
Happiness Quotes