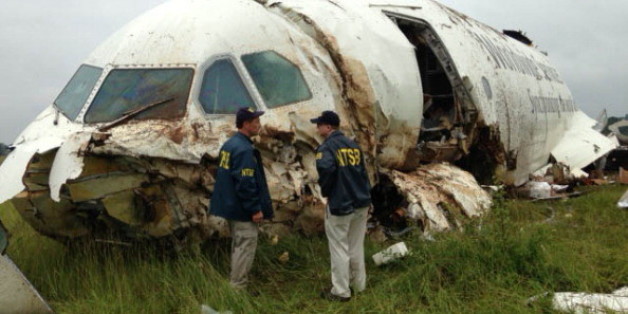 By Eric Beech
WASHINGTON, Sept 9 (Reuters) - The fatal crash of a United Parcel Service Inc cargo plane at an Alabama airport last year resulted from pilot errors that caused it to clip trees and slam into the ground just short of the runway, the National Transportation Safety Board said on Tuesday.
Pilot fatigue also appeared to be a factor in the early morning crash, the board said, noting that both pilots discussed tiredness in the cockpit before the crash. UPS disagreed with that part of the agency's findings, saying the two pilots had ample time to rest.
Numerous issues contributed the crash, NTSB acting Chairman Christopher Hart said at a hearing. "But ultimately ... this airplane was on an unstabilized approach."
The Airbus A300-600 crashed less than a mile short of the runway at Birmingham-Shuttlesworth International Airport on Aug. 14, 2013, at about 5 a.m., killing the only two people on board, pilot Cerea Beal Jr., 58, and copilot Shanda Fanning, 37.
The NTSB said other factors that contributed to the crash included the crew's failure to properly configure the plane's flight management computer and the failure of the copilot to notify the pilot of the plane's altitude as it neared the airport.
The crew also was not provided complete weather information by UPS. They were told to expect a cloud ceiling at 1,000 feet (304 meters) but the possibility of a much lower ceiling was not included, NTSB said. The plane came out of the clouds only 350 feet above the ground (107 meters), giving the pilots less time to visually locate the runway.
The NTSB said UPS failed to implement a software update of the plane's Enhanced Ground Proximity Warning System, which tells pilots if they are flying too low.
The updated software would have alerted the crew 5-1/2 seconds before the plane clipped some trees. The system did not warn the crew until one second after hitting the trees.
The NTSB found that the pilot and copilot were likely fatigued due to the early morning hours of the flight from Louisville, Kentucky, to Birmingham. During cockpit communications captured by the plane's cockpit voice recorder, both crew members complained of being tired.
The board also noted that the copilot had enough time off to rest before the flight, but did not use it for sleeping.
"From what we found looking at her personal electronic device use, she did not allow herself adequate time to get the rest she would need to not acquire a sleep debt prior to going back on duty," NTSB staff member Katherine Wilson told the board.
UPS disagreed with the board's findings on fatigue. "It is difficult to understand how the NTSB reached its conclusion regarding fatigue related to night flying when the pilot had not flown in 10 days and the first officer was off eight of the previous 10 days," the company said in a statement.
"We believe these facts - and others - don't support such a finding," it said. (Reporting by Eric Beech; Editing by Alwyn Scott and Lisa Shumaker)
BEFORE YOU GO
PHOTO GALLERY
Signs You Need More Sleep