On Thursday, family members of September 11th victims gathered to commemorate the 13th anniversary of the attacks. The annual ceremony brought together city officials and New Yorkers alike for a citywide moment of silence and reading of names to honor those who lost their lives.
Below are images and reflections from the scene near the September 11th Memorial Museum: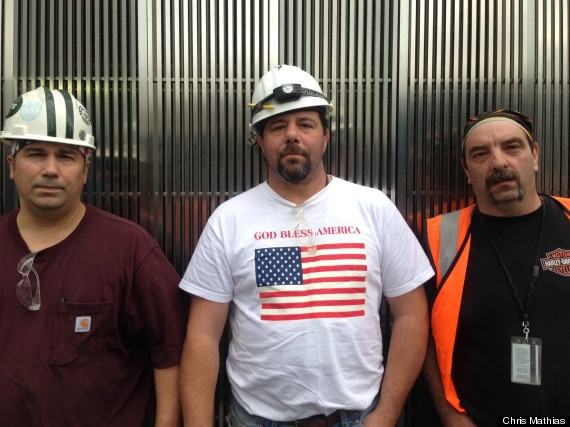 Matt Jarmek, Tom Bruno, and Ron Caruso took a break Thursday morning from their jobs as workers at the World Trade Center construction site. They're all proud of the work they do, but today is hard, especially for Jarmek. Thirteen years ago today he rushed down to Ground Zero and joined what later became known as the 'Bunker Brigade' - a group of volunteers who, for two days, dug through the rubble for bodies.
"It was horrible," Jarmek said. "There were bodies everywhere."
"It's always hard," Jarmek said of working at the World Trade Center site now as an electrician. "It's always a reminder."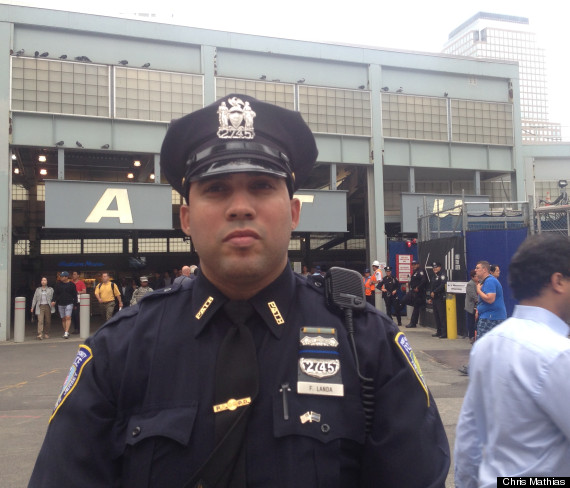 At 9:03 am Thursday morning, Port Authority officer Fabian Landa removed his hat, held it against his chest and bowed his head. It was at this exact moment 13 years ago that the second plane hit the Twin Towers. Lanza, and all Port Authority officers, are told over the radio when to observe these brief moments of silence. He'll bow his head again two more times this morning, at the exact times when both the towers fell.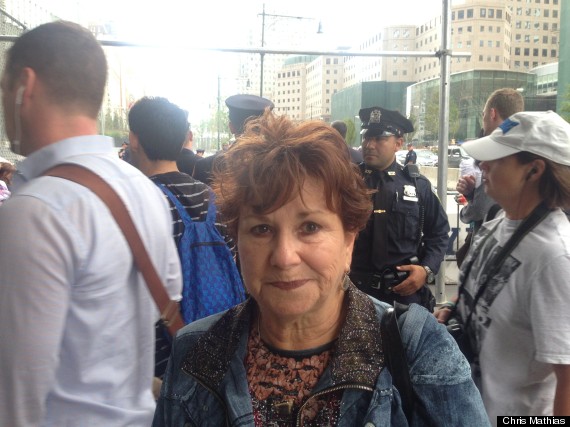 Gail Steinberg lost her 23-year-old niece, Brooke Alexandra Jackman, on Sept. 11 2001. Jackman worked at Cantor Fitzgerald in the Twin Towers. She was planning on leaving the job soon though, saying there "was more to life than money." She'd been accepted to UCLA to study social work and hoped to work with children.
Steinberg said her niece made the last known phone call from the towers on Sept. 11. She called her mother's house and left a voicemail. Crying, Jackman told her mother that she was alright. "I love you guys," she said. A short time later, the tower collapsed.
Steinberg was with her sister, Jackman's mother, when they received the voicemail. She said they listened to it 35 times that day.
Last night, Steinberg accidentally played a recording of the voicemail on her computer. "It was the first time I'd heard her voice in 13 years," she said.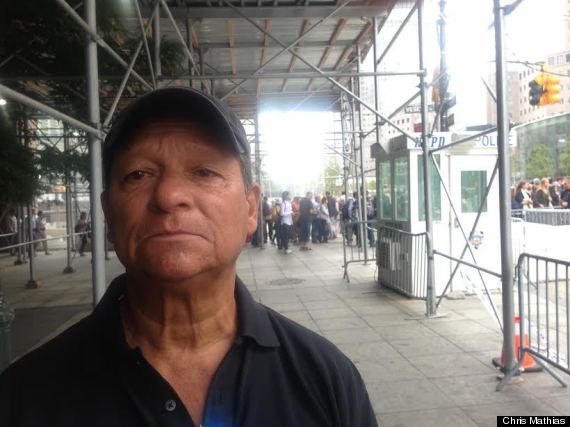 Dairo Muiillo was listening to a Spanish radio station at work when he heard about the Sept. 11 attacks and 'thought it was a joke.' He called his son, Caesar Augusto Muiillo, who worked for Cantor Fitzgerald in Tower One. Caesar didn't pick up. Dairo then heard from his son's wife that Caesar was in a stairwell in the tower, trying to make his way down. It was the last anyone heard from him.
"It gets worse every year," Dairo said of losing his son, tears beginning to pour out of his eyes. He's gone to every memorial service for the last 13 years. "I'm alone. I need him now."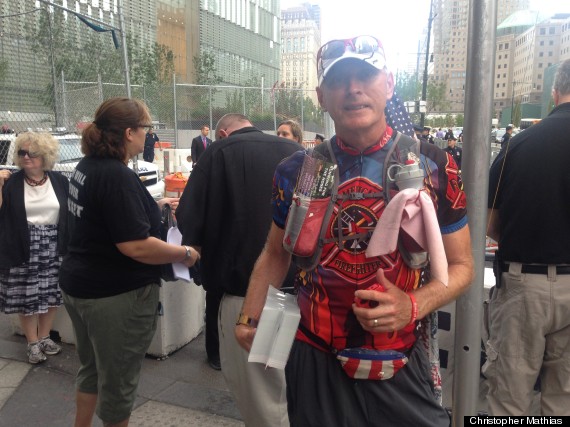 It took Jeff Venabel three months to run 3,600 miles from Oregon to New York City. It was all part of an effort to raise money for the families of fallen firefighters across the country. He was joined Thursday morning by his wife, Linda, who was a firefighter for 30 years.
"When a firefighter dies in the line of duty, firefighters come from around the country to pay their respects," Jeff said, explaining why he and his wife ended their long journey at the 9/11 Memorial. You can donate to their charity at here.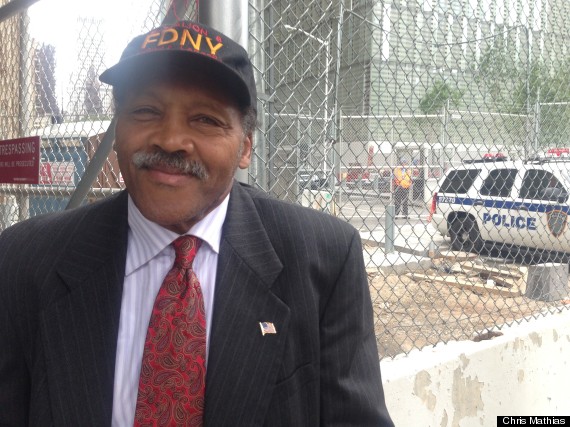 The butcher shop where Michael Montague works on 51st St. is close to a fire station and for years, FDNY firefighters have come in and talked to Montague while he served them up cuts of meat. He also played football and basketball against a lot of the firefighters, including one named Tommy, who died on 9/11. Although he didn't know Tommy too well, Montague said he still felt compelled to come to the memorial today and pay his respects.
His tribute to Tommy: a FDNY hat.
Below, more images from Ground Zero Thursday morning:
PHOTO GALLERY
September 11th Anniversary 2014