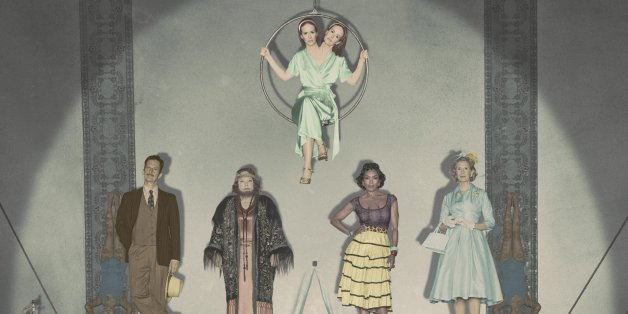 The slow unveiling of Ryan Myrphy's "American Horror Story: Freak Show" has been one of multiple short teasers and much speculation. Finally, however, all the main characters have been named.
In Entertainment Weekly's Fall TV Preview and an in-depth interview with Murphy, a slew of new details were revealed about Season 4 of the anthology series. Along with what we've heard over the past several months, here's everything we know so far about "Freak Show" -- and if you don't want it spoiled, look away now!
"Freak Show" is darker than "Coven"
Set in Jupiter, Florida, in 1952, Season 4 centers on one of the last remaining American freak shows in the country. At the Television Critics Academy earlier this year, FX CEO John Landgraf described "Freak Show" as a mix between the camp of "Coven" and the darkness of "Asylum." In EW's Fall Preview issue, co-star Sarah Paulson said this season is about "being a forgotten soul that's been cast aside in the world. Everybody feels like that at some point in their lives." The season premiere will also be an extra-long 90-minute episode!
Jessica Lange plays Elsa Mars
Elsa is a former German cabaret star -- and yes, we will get flashbacks to her cabaret days in the '30s -- who runs the freak show. Lange told EW that her character, while "very manipulative," also "loves her performers." "She truly cares for them in her own selfish, narcissistic way. It's not just exploitation," said Lange. Also, Elsa looks killer in a tent-patterned dress, as the first trailer proved. Lange will also apparently perform a Lana Del Rey song this season.
Lange will sing a Lana Del Rey song
Murphy announced on his Twitter that Lange will cover a Lana Del Rey song this season. In an interview with The Hollywood Reporter, Murphy said the cover will happen in the two-part Halloween episodes.
Sarah Paulson plays Bette and Dot
The only thing better than one Sarah Paulson is two Sarah Paulsons, and with "Freak Show" we get Bette and Dot.
Kathy Bates plays Ethel
Bates returns for her second season of "AHS" as Ethel, the bearded woman and "Elsa's right hand woman," according to Murphy. The creator also said that Ethel was a circus star in the '20s and '30s and became a drunk after she had a baby. "Elsa saved her," Murphy said. We'll also get a flashback of young Ethel.
There are clues in the opening credits
In every season of "AHS," Murphy litters subtle clues about the story in the opening credits sequence. For "Freak Show," the title sequence is very sexual and eerie. Murphy has said that some of the figures depicted in the credits may appear in the show, specifically the creature near the end with a leg where their genitals should be.
Evan Peters plays Jimmy
Jimmy is Ethel's son, born with "lobster-like hands." He's said to be the male leader of Elsa's troupe until his father, Dell Toledo, arrives to fight for power.
Emma Roberts and Denis O'Hare play con artists
As a pair of con artists, we really hope nothing creepy happens between the two this season. (Remember when Spalding kept Madison's body in a trunk? Ew.) Roberts will play Maggie and according to Murphy she's a "fortuneteller with a crystal ball who's a complete con artist."
Roberts and Peters will have a romance (again)
The real-life couple had a thing in last season's "Coven," when Madison took advantage of Kyle's zombie state. When asked if the two will have a romantic story again this season Murphy was short and sweet: "Yes they do."
Michael Chiklis plays Dell Toledo
The strong man, Dell Toledo, is the Ethel's ex-husband and Jimmy's father. Dell is married to Desiree Dupree (Angela Bassett), and he's also "on the run from the law."
Patti LaBelle appears in four episodes
The music legend (this year's Patti LuPone?) will have a four-episode arc this season as mother to Gabourey Sidibe's character. According to TV Line, her mission will be to uncover the mystery of the clown killer. Murphy also said that LaBelle won't since since it's "a straight dramatic part," but that there will be some singing this season.
Gabourey Sidibe plays a socialite
According to EW, her character will return home to the small Florida town when her mother (LaBelle) goes missing.
Angela Bassett plays Desiree Dupree
Dell's new wife, Desiree is also a performer with three breasts, which requires the actress to wear a prosthetic piece across her chest.
Matt Bomer will guest star
The "Normal Heart" actor will appear on Episode 5 "Freak Show" where something "horrible and dastardly" happens. Murphy told THR that the seven-page scene between Bomer and Chiklis is legitimately terrifying and said it's "maybe one of the most disturbing things we've ever done." Whoa, that can't be good.
John Carroll Lynch plays Twisty the Clown
We've already been scared to our core with that terrifying teaser, so it's pretty certain that Lynch's evil, murderous clown will be a nightmare. Murphy told EW that Twisty wears a mask on part of his face, but "there's a point in the season where takes the mask off and when you see what's under you will faint in terror." Murphy also said that during some of Lynch's clown scenes a third of the crew had to leave out of fear. We'll also find out Twisty's back story and why he's so scary in Episode 4.
Wes Bentley plays Edward Mordrake
"The Hunger Games" actor will make an appearance in the two-part Halloween episode as Edward Mordrake, the subject of a "famous horror myth [about] a man with two faces."
Pepper returns
Naomi Grossman's fan-favorite character Pepper, the microcephalic woman from "Asylum," is officially returning for "Freak Show." Murphy said that Season 4 "is sort of like what happened to Pepper before she went to the asylum." Hopefully we'll see the incident that got her stuck in Briarcliff.
The cast includes the "world's smallest woman"
Jyoti Amge, a 20-year-old Indian woman, is the shortest woman in the world, according to Guinness World Records.
Neil Patrick Harris may guest star
The actor has mentioned his interest in appearing on "AHS" before, and now apparently Murphy has talked to him about it. Murphy told THR that he's been talking with Harris on combining their ideas for his possible guest role.
Frances Conroy and Finn Wittrock play mother and son
"AHS" staple Frances Conroy will return as a wealthy woman, Gloria Mott; newcomer Finn Wittrock (from Murphy's "The Normal Heart") will play her son, Dandy Mott, who wants to join the freak show.
"American Horror Story: Freak Show" premieres on Oct. 8 at 10 p.m. ET on FX.
BEFORE YOU GO
PHOTO GALLERY
"American Horror Story"