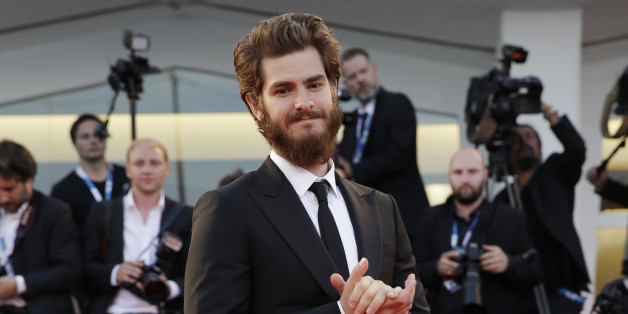 When Sony's "The Amazing Spider-Man 2" premiered in May, the resounding reception focused on the movie's bloated plot lines and overabundance of characters. The latest Peter Parker sequel, despite its current $708 million worldwide intake, also underwhelmed at the box office, leaving tepid expectations for the next sequel and multiple planned spin-off movies.
Andrew Garfield says studio cuts are to blame for Marc Webb's sequel failing to spin many webs with moviegoers. The newly bearded actor revealed in a new interview that he did read reviews but had to stop because they distracted from his love for Alex Kurtzman and Roberto Orci's script.
"There was this thread running through it," Garfield told The Daily Beast while promoting "99 Homes" at the Toronto International Film Festival. "I think what happened was, through the pre-production, production, and post-production, when you have something that works as a whole, and then you start removing portions of it -- because there was even more of it than was in the final cut, and everything was related. Once you start removing things and saying, 'No, that doesn't work,' then the thread is broken, and it's hard to go with the flow of the story. Certain people at the studio had problems with certain parts of it, and ultimately the studio is the final say in those movies because they're the tentpoles, so you have to answer to those people."
Garfrield said there was greater insight into Peter Parker's orphan backstory and more "deep scenes that you don't usually see in comic book movies" that were removed from the final cut. But the actor said he's appreciative of constructive criticism, which is good because Webb and company have until 2018 to perfect the third installment.
"What's underneath the complaint, and how can we learn from that?" he said. "We can't go, 'Oh God, we fucked up because all these people are saying all these things. It's shit.' We have to ask ourselves, 'What do we believe to be true?' Is it that this is the fifth 'Spider-Man' movie in however many years, and there's a bit of fatigue? Is it that there was too much in there? Is it that it didn't link? If it linked seamlessly, would that be too much? Were there tonal issues? What is it? I think all that is valuable."
Garfield has addressed the audience reaction to his Spider-Man franchise before. Back in March, the actor discussed the poor critical reception the first "Amazing Spider-Man" movie received back in 2012.
"In the first movie we were obligated to retreading the origin story which Tobey Maguire and Sam Raimi did so beautifully. But now that that's done, we get to own the character as filmmakers and we get to own it as Peter. There is a life imitating art kind of thing going on, I think. So, I am super excited because ['The Amazing Spider-Man 2'] was more fun to make," Garfield told IGN. "Because of that, I think when I put on that suit I felt freer. I felt like, you know, I can't think of a word to use that is not the F-word, but, like, screw the critics, screw the scrutiny. And, you know, that is the motto for life as well."
For the full interview, head to The Daily Beast.
BEFORE YOU GO
PHOTO GALLERY
Celebrity News & Photos