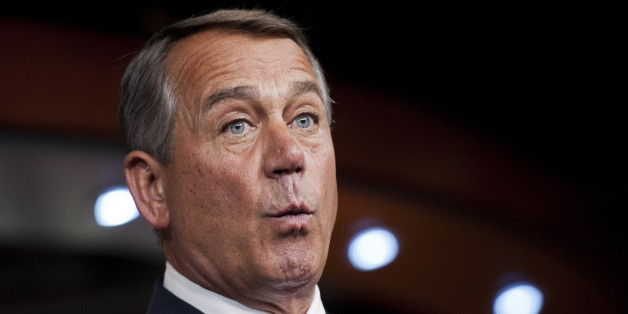 WASHINGTON -- House Speaker John Boehner on Thursday urged Congress to authorize the arming and training of opposition forces in Syria, a key element of President Barack Obama's plan to defeat Islamic State militants threatening the Middle East. But the Ohio Republican expressed concerned that, even if implemented successfully, it would take years to defeat a group that poses such a threat to America.
"We ought to give the president what he's asking for," he told reporters at a weekly press conference.
The president on June 26 asked Congress for $500 million to arm and train Syrian rebels, which he again urged Congress to approve in a prime time address to the nation Wednesday evening. In the fight against Islamic State extremists, Obama said, "we must strengthen the opposition as the best counterweight to extremists like ISIL, while pursuing the political solution necessary to solve Syria's crisis once and for all."
The speaker said that a number of House Republicans do not believe that Obama's strategy, which requires American airpower in conjunction with allies and partners in the region, would ultimately accomplish the goal of destroying the militants. After meeting with his conference at a special members conference Thursday morning, Boehner said that "no decision has been made" on the way forward, and that security briefings would continue for members over the weekend.
Boehner said that while "it would be in the nation's interest" for Congress to approve military action on ISIS, traditionally a president must ask for it. The administration maintains that Obama already has the authority to take military action against the Islamic State, using the 2001 Iraq War authorization for military force as its legal rationale.
The speaker also said he supports the president's request to arm Syrian rebels because without a ground presence, defeating Islamic State militants would be extremely difficult.
"An F-16 is not a strategy. Airstrikes alone will not accomplish what we're trying to accomplish. Somebody's boots have to be on the ground," he said.
Boehner also suggested that he disagreed with the president's decision to take U.S. troops on the ground off the table, but that as commander-in-chief, the president's wishes should be followed.
"I would never tell the enemy what I was willing to do or unwilling to do," he said.
BEFORE YOU GO
PHOTO GALLERY
Syria War In August