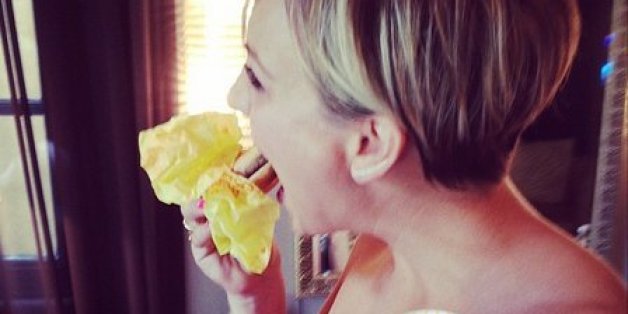 Eating lean fish is good, and eating a cheeseburger is bad, right? Before you agree, you may want to ask yourself what makes you so sure.
Thinking about eating in moral terms -- good food vs. bad food -- is so commonplace in our society that it's sometimes hard to pinpoint exactly where we pick up the mindset. Yes, we learn it through overt instances of food-shaming, like when a family member comments on your choice of dinner entrée, or a co-worker won't stop remarking on the size of your ice cream sandwich. But even those who haven't had such personal experiences are still conditioned to think this way, often through the subtle, yet pervasive media messaging we encounter everyday.
Celebrity news sites repeatedly use the word "indulge" to describe the process of eating fast food or ice cream, implying that it's shameful to snack on anything that isn't kale. In August, the U.K.'s Daily Mail announced really important Heidi Klum news:

So, what's the problem here? As health experts commonly stress: eating is not a moral issue.
"Food is not intrinsically good or bad -- that in and of itself is a judgment," Michelle May M.D. and author of "Eat What You Love, Love What You Eat," recently told Women's Health magazine. "When we judge food as being 'good' or 'bad,' we also judge ourselves and other people as 'good' or 'bad,' depending on what we ate."
Kale is not a "good" food, and eating it doesn't make you a good person. Ice cream is not a "bad" food, and eating it doesn't make you a bad one. When up to 24 million people in the U.S. have an eating disorder, the consequences of seeing this kind of culturally ingrained food shaming over and over again are pretty clear. And we do see it over and over again...
Here are some examples:
1. x17online, February 28, 2011

2. People, September 19, 2012

3. Glam, October 18, 2013

4. EntertainmentWise, December 27, 2013

5. Posh24, February 2, 2013

6. EnStars, May 1, 2013

7. Daily Mail, September 2, 2013

8. Daily Mail, September 22, 2013

9. x17online, March 20, 2014

10. E!, July 31, 2014

11. Reveal, August 26, 2014

12. Daily Mail, September 5, 2014

If we're ever going to undo our culture's moral fixation on eating, we need to address not only the direct offenses we face in our personal lives, but also the subtle ways the media conditions the public. And change in the media is possible: HuffPost has been guilty of the problematic practice in the past, but has adapted standards to improve the quality of coverage.
Celebrities eating anything that isn't salad really doesn't need to be written about, because it shouldn't be considered noteworthy. But if the practice must be discussed, then let's at least use the verb that actually describes what's happening: "eat."
BEFORE YOU GO
PHOTO GALLERY
Body Image Heroes