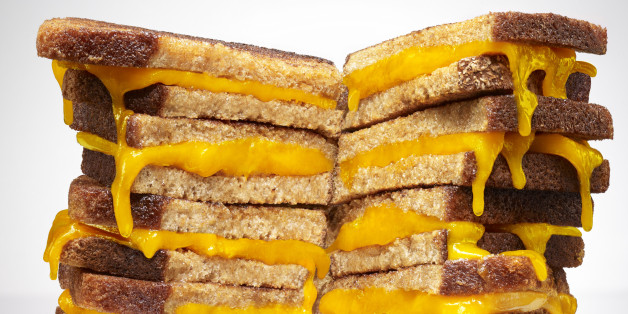 Everyone knows that grilled cheese sandwiches are created in a skillet -- with lots of butter and lots of love. But when you've got more than a couple people to feed, and if you all want to eat together, making grilled cheese the traditional way gets to be a little tricky (read: impossible). That's when you've got to think outside the skillet and start entertaining new possibilities, like the oven.
When you need to make more than just a couple grilled cheese sandwiches, you bake them -- like a cupcake, in the oven. It works like magic, promise. Here's how it's done:
Preheat the oven with two baking sheets inside. Heating the baking sheets is like heating the skillet, it'll make sure that the outside of the sandwich is nicely browned.
Prepare your grilled cheese sandwiches as you normally would -- or use one of the recipes below.
Place the grilled cheese sandwiches on one baking sheet, carefully top with the other baking sheet and return them to the oven for a couple of minutes.
Ta-Da. Multiple grilled cheeses done all at once.
Cooks Country came up with this genius idea, but we found it on Life Hacker. Either way, you should try it next time you're having guests over for a meal. It's an awesome excuse to make grilled cheeses.
Want to read more from HuffPost Taste? Follow us on Twitter, Facebook, Pinterest and Tumblr.
BEFORE YOU GO
PHOTO GALLERY
Grilled Cheese Sandwich Recipes