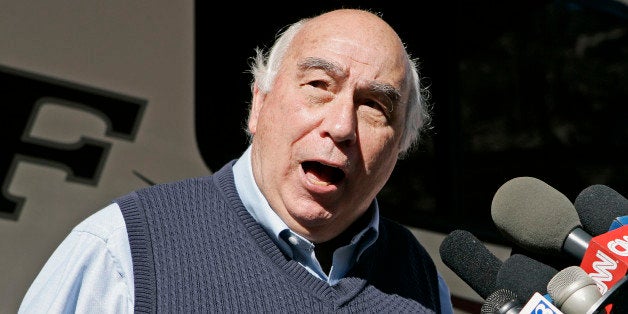 The complaint, first reported by the Charleston Gazette, claims that Jean F. Cochenour, a former Murray Energy foreman at a Marion County mine in West Virginia, received multiple letters from the CEO instructing her to donate to specific GOP candidates with strong pro-coal positions, and even included recommended donation sums for Republican Senate candidates like Scott Brown and Terri Land.
Cochenour was then fired in early May for her refusal to donate, and her for gender, she claims. She was reportedly the only female preparation plant foreman at the company.
In response to an inquiry from The Huffington Post, a spokesperson for Murray Energy called the lawsuit "baseless," "blatantly false" and "an attempt to extort money" from the company.
"Ms. Cochenour was fired because she failed to perform her job adequately," the company's statement, emailed to HuffPost, said. "Undoubtedly, her lack of management cost Murray Energy Corporation hundreds of thousands of dollars."
CEO Robert Murray has been a voracious defender of the coal industry, and his Murray Energy Corporation Political Action Committee has funneled hundreds of thousands of dollars every year exclusively to Republican candidates. The lawsuit alleges that Murray has a "long history" of requiring his managers to donate to the PAC.
Murray Energy workers have previously claimed that their boss forced them to attend partisan political events without pay, including for a high-profile Romney campaign event in 2012.
In the new lawsuit, Cochenour says she received such requests monthly, and that contributions had to be directly returned to Murray in a self-addressed envelope. She alleges that all managers were expected to voluntarily contribute 1 percent of their annual salary to the PAC.
Murray Energy Corporation told HuffPost that while the CEO encourages his employees to donate, he "deliberately never knows who gives to his fundraisers and who does not," and claims that the fundraising events "are merely an attempt to support the coal industry and to save the jobs in it from the ongoing destruction of them."
The lawsuit states Cochenour was fired under the pretext that she had allowed some employees to work overtime on a weekend, even though she wasn't in charge of scheduling and employees regularly worked overtime on weekends. She and two male foremen were fired over this scheduling conflict, but the male foremen were quickly rehired, according to the lawsuit. Cochenour says she was "singled out" for her failure to donate and her status as the only female foreman, but fired under the guise of this overtime work issue.
A letter from Murray attached to the lawsuit includes donation forms for Republican Senate candidates Scott Brown of New Hampshire, Ed Gillespie of Virginia, Terri Land of Michigan and Mike McFadden of Minnesota. A letter also describes how "our jobs are being destroyed by President Barack Obama, his appointed bureaucrats, and his supporters in the U.S. House and Senate."
State and federal election laws prohibit employers from coercing their employees to make political contributions.
You can read the lawsuit in its entirety here.