As polls find Americans find increasing concern in reaction to ISIS, very few mention terrorism as the most important problem facing the country. Democrats get some good Senate news from a new poll in Michigan. And 'other stuff' can make for better election predictions. This is HuffPollster for Thursday, September 11, 2014.
RISING CONCERNS ABOUT EXTREMISM - Pew Research: "As President Obama prepares to address the nation about the militant group ISIS, the public has become more worried about Islamic extremism. Six-in-ten (62%) are very concerned about the rise of Islamic extremism around the world, which is the largest share dating back to 2007. A somewhat smaller majority (53%) is very concerned about the possibility of rising Islamic extremism in the U.S, which ties a record high. The new national survey by the Pew Research Center, conducted Sept. 2-9 among 2,002 adults, finds that ratings of the government's job in reducing terrorism have worsened since late last year….The survey also finds a shifting balance between concerns about civil liberties and protection from terrorism. In a reversal from last year after Edward Snowden's NSA leaks, 50% today say they are more concerned that government anti-terrorism policies have not gone far enough to protect the country, while 35% are more concerned that the policies have gone too far in restricting civil liberties." [Pew]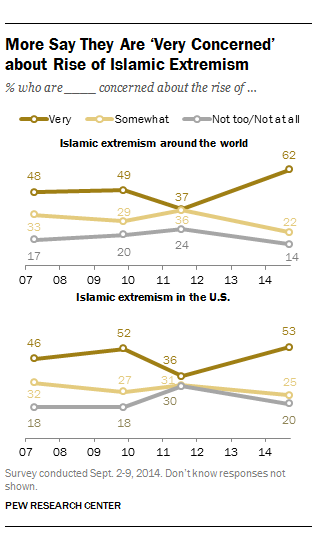 But not all Democrats are convinced - Kathy Frankovic: "[L]less than half of Democrats in the most recent Economist/YouGov Poll believe the United States should launch air or drone strikes against Islamist militants in Iraq or Syria; more independents and Republicans are already on board and favor action….Those percentages have changed relatively little in the last two weeks, though the percentages favoring action have inched up a bit. One hopeful sign that the President can make a case for action on Wednesday to his partisans is the response to another question in the poll – one that asks for a retrospective judgment about the air strikes that the U.S. has already conducted against ISIS fighters in Iraq. On that there is no party difference. Most Republicans, Democrats and independents agree that it was not a mistake to conduct those air strikes." [YouGov]
TERRORISM HAS FADED AS A TOP CONCERN SINCE 9/11 - Rebecca Riffkin: "Four percent of Americans currently mention terrorism as the most important problem facing the U.S. Although low on an absolute basis, it is the highest percentage naming this issue since May 2010. Mentions of terrorism have been near 1% for the past four years. Relatively few Americans -- usually less than 0.5% -- mentioned terrorism as the most important problem facing the U.S. prior to 9/11. But that changed quickly after the 9/11 attacks. Mentions jumped to 46% the month after the attacks, the highest percentage Gallup has found for terrorism since it began asking Americans monthly to name the most important problem facing the nation in March 2001….The current increase in mentions of terrorism follows a great deal of media attention about Iraq, Syria, and the terrorist group the Islamic State in Iraq and the Levant (ISIL), most notably the group's beheading of two U.S. journalists." [Gallup]
-Frank Newport explores why Americans worry about terrorism but don't mention it as the most important issue. [Gallup]
FOX FINDS AN 'AVALANCHE OF BAD NEWS' FOR OBAMA - Dana Blanton: "59 percent of voters think the U.S. is less respected today than when Obama took office. That's up 11 percentage points from 48 percent who felt that way last year -- and up a significant 22 points from 37 percent in 2012….Overall, 57 percent of voters think Obama is 'weak and indecisive' on foreign policy, up from 48 percent last year. People fear an attack is coming -- yet don't think the president will do what it takes to defeat ISIS. More than three-quarters of voters think ISIS is planning an attack on U.S. soil (77 percent) and about the same number say the U.S. should be doing more to stop ISIS (76 percent). Still, by a 54-39 percent margin, voters say Obama isn't prepared to 'do whatever it takes to defeat' ISIS, and a 55-percent majority feels embarrassed he doesn't have a strategy to deal with the Islamic extremist group in Syria." [Fox]
SENATE UPDATE - The overall HuffPost Pollster Senate Forecast remains in the same place, indicating a 55 percent chance of Democrats retaining the Senate based on current polling. The probability was bolstered by earlier in the week by new polling suggesting a near tie in the Kansas Senate race, but saw no net movement based on new polls released on Wednesday.
Michigan - Two new polls show Rep. Gary Peters (D) leading Secretary of State Terri Lynn Land (R) in the open-seat U.S. Senate contest to succeed Michigan Senator Carl Levin (D). A live interviewer telephone poll conducted by The Glengariff Group for Detroit television station WDIV and the Detroit News, that called both landline and mobile phones, gives Peters a ten percentage point lead (47 to 37 percent). An automated telephone survey by the Democratic party affiliated firm Public Policy Polling (PPP) released on Tuesday gave Peters a seven point lead (43 to 36 percent). [Click On Detroit, PPP]
All but two of eleven surveys released in Michigan since July give Peters at least a nominal advantage. The exceptions were two CBS/New York Times/YouGov internet panel surveys that each gave Land a 1-point edge. Even those polls suggested Democrats were "poised to perform better among undecided than decided voters," because "a disproportionate share of black voters, who might be expected to support the Democratic candidates" remained undecided in the YouGov poll, according to the New York Times' analysis. The Pollster poll-tracking model gives Peters a slightly better than 5 percentage point lead (46.4 to 41.1 as of this writing), with a probability of victory just under 60 percent. [NYTimes, Pollster chart]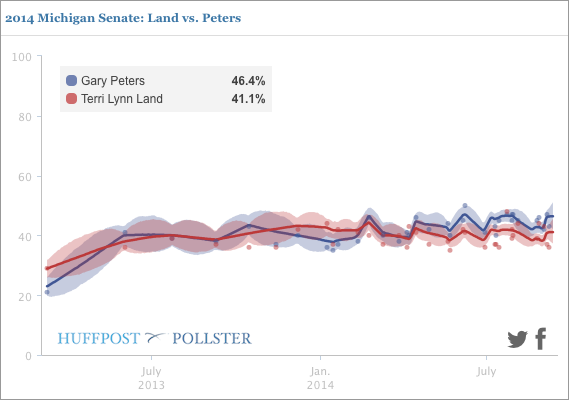 Georgia - A SurveyUSA/11Alive poll finds Republican David Perdue with a 3-point edge over Democrat Michelle Nunn, 47 percent to 44 percent. The results are significantly closer than those of SurveyUSA's August poll, which gave Perdue a 9-point lead. The Pollster model puts Perdue up by about 4 points. [SurveyUSA, Pollster chart]
Virginia - A Christopher Newport University poll gives Mark Warner (D) a 22-point margin over Ed Gillespie (R). Nonpartisan polls have given Warner margins ranging from 10 to 29 points, with no sign that the race is narrowing. [CNU, Pollster chart]
Kentucky - Two dueling partisan polls present very different pictures of the race. A Magellan (R) poll for the National Mining Association gives Senate Minority Leader Mitch McConnell an 8-point lead over Alison Lundergan Grimes, while a Mellman Group (D) internal for Grimes finds her up one point, 43 percent to 42 percent. The Mellman poll is the first since June to show Grimes ahead. [Magellan, Mellman]
The HuffPost Pollster tracking model incorporates partisan polls to help determine trends in candidate support, while controlling for consistent "house effects" among pollsters, but it also discounts the results from partisan polls in determining the overall average. In Kentucky, the Pollster model currently gives McConnell a slightly better than four percentage point margin (48.2 to 43.9 percent) and a 63 percent chance of winning in November. [Pollster chart]
North Carolina - A Garin-Hart-Yang (D) poll for the DSCC gives Sen. Kay Hagan (D) a 3-point advantage over challenger Thom Tillis. A recent NRSC poll showed the race as tied, while other surveys since August have ranged from a 5-point Tillis lead to a 4-point Hagan lead. [GHY, Pollster chart]
'POLLS VS. OTHER STUFF' IN SENATE MODELS - Josh Katz: "[The NYT] model uses factors sometimes called 'fundamentals' — like fund-raising, candidate experience and the general political character of a state — as a starting point for its poll-based forecasts. In the language of statistics, these race fundamentals form what's known as a Bayesian prior, which is a fancy way of saying it's our starting assumption. Incorporating prior information in this way is a common statistical technique and is especially useful in the absence of other information. The Huffington Post, for example, bases its forecast on race ratings from The Cook Political Report when there are fewer than five polls in a particular race. Failure to incorporate information like this can lead to a wildly noisy forecast at the beginning of an election cycle, when polling is more sparse and less reliable. As more polls come in, and as Election Day approaches, the strength of the prior — the power of the fundamentals over the forecast — gradually lessens as we supplement and replace our old information with the new. But does including fundamentals in the forecast really help?.... If you want to find out whom people are going to vote for, a good way is to ask them. By Election Day, polls contain almost all of the information. But over the course of the entire cycle, the combined forecast outperforms both the fundamentals-only and the polls-only forecasts." [NYT]
HUFFPOLLSTER VIA EMAIL! - You can receive this daily update every weekday morning via email! Just click here, enter your email address, and and click "sign up." That's all there is to it (and you can unsubscribe anytime).
THURSDAY'S 'OUTLIERS' - Links to the best of news at the intersection of polling, politics and political data:
-Quinnipiac finds Pennsylvania Gov. Tom Corbett (R) trailing his rival by more than 20 points. [Quinnipiac]
-Larry Sabato and his colleagues continue to see Republicans winning a Senate majority, but are uncertain whether than would amount to a wave. [Crystal Ball]
-Nate Cohn argues polling is starting to show a clear edge for Tom Cotton (R) in Arkansas. [NYT]
-Aaron Blake lays out why the GOP isn't nearly as hated as polls suggest. [WashPost]
-Derek Willis reports on how Facebook campaign advertisers can target ads to registered voters or political partisans. [NYT]
-Jay Cost says the new NBC/WSJ polls "is precisely the sort of poll you do not want to see if you are a Democrat." [Weekly Standard]
-Harry Enten previews New York Gov. Andrew Cuomo's (D) 2016 chances following his unimpressive showing in Tuesday's primary. [538]
-Americans disapprove of the NFL's handling of the Ray Rice situation despite support for Rice's new punishment. [HuffPost]
BEFORE YOU GO
PHOTO GALLERY
September 11th Anniversary