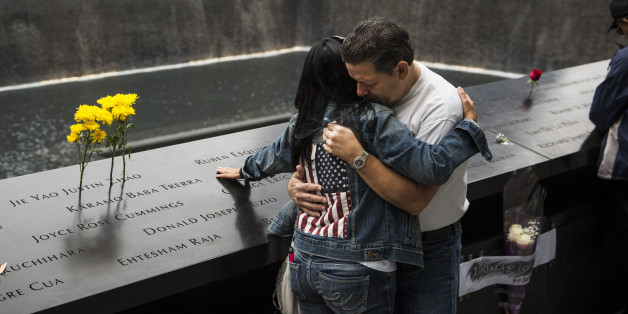 Amanda Gregory often thinks of Sept. 11, 2001, the day she lost her father in the World Trade Center attacks. But there was one event in particular in recent memory that she says stirred up feelings of grief: the Sandy Hook Elementary school shooting on Dec. 14, 2012, when she was living just 40 minutes away.
Now, on the 13th anniversary of her father's death and the terror attacks, Gregory, 32, has been volunteering through nonprofit Tuesday's Children. The nonprofit is one of only a small handful of organizations still helping not only those affected by Sept. 11, but also families in Newtown, Connecticut, after a school shooter took 26 lives.
Though her feelings in the immediate aftermath of Sept. 11 had been a blur, she said one thing was clear: She wanted to channel her grief to help others. And this calling was only bolstered after the Connecticut tragedy in 2012.
"I broke down [Dec. 14], as many did...because I knew what it was like to lose someone so tragically and publicly to an act of human violence," she told HuffPost in an email. "My heart broke for those families but this time I didn't feel so helpless. I wanted to help the community heal and let them know that there are people who understand what they are going [through] and that while it may take a long time, there is a light."
Gregory is a junior board member for Tuesday's Children, and through her work with the nonprofit, she is a volunteer helping with fundraising efforts for the Resiliency Center of Newtown -- an organization Tuesday's Children helped launch last year, in response to the devastating school shooting.
Stephanie Cinque, the founder and executive director of the center who lives in Newtown, had heard about the work of Tuesday's Children and thought a comparable model could help her own community deal with the tragedy.
"I said, 'Well [Tuesday's Children is] still around, and though the events are very different and the communities are very different, there are some similarities,'" Cinque told HuffPost, explaining that she had contacted the nonprofit before launching the center in Connecticut. "They may have some tips or lessons learned that we could take and help Newtown."
Cinque, a certified social worker who has two children of her own growing up in Newtown, said the organizations communicate on a near-weekly basis.
The Resiliency Center of Newtown, which is funded in large part by a grant from the Department of Justice, has helped 700-800 men, women and children. The center offers its community art, play and music therapy services, as well as support groups and opportunities to partake in social events, like professional sports games.
Cinque said one of the most impactful workshops created by the center has been Creative Insight, a life skills program that successfully helped families directly impacted by Sept. 11. The workshop in Newtown is now run by two women who suffered losses on Sept. 11, proving connections made between those who've been affected by such incidents are meaningful ones, Cinque said.
"That shared experience is something people really hold on to," she told HuffPost.
That, and the idea that their town is healing from the heartache as one.
"A lot of people who come here trust what's happening here," Cinque said. "It's a very safe space. It's run by the community, for the community."
BEFORE YOU GO
PHOTO GALLERY
Memorial 9/11