This month marked the 69th anniversary of the Japanese surrender that formally ended World War II. Those six years of fighting saw approximately 16 million American men leave their jobs and homes for war.
American women, then, were left to clean and tend to their households. And ration supplies. And raise money for the war effort. And make uniforms. And build tanks. And fix engines. And run the railways. And take over office jobs from male workers. And fly planes from base to base while sometimes acting as target practice. And pretty much just generally keeping sh*t together while every able-bodied Tom, Dick and Harry was off fighting the good fight abroad. Some ladies even joined them, serving as nurses or enlisting in reserve corps, sometimes giving their lives.
Did we mention how badass women were during WWII? Just look at this lady putting in work on a "Vengeance" dive bomber in Tennessee.
Over the course of the war, nearly 350,000 women volunteered for female branches of uniformed services, about 6 million more worked in factories, and 3 million joined the Red Cross. (They leaned way in.)
At the end of the war, federal policies encouraged the replacement of female workers with men returning stateside. The factory and manufacturing jobs given to women to sustain the war were handed over to the men returning from it.
While Rosie the Riveter was the iconic symbol of women's work during the Second World War, there's more to the story than bandana-clad white women. Because it's never too late to honor a job well done, we've compiled 21 historical photos that capture the true breadth of what "We Can Do It" meant.
Women on the home front made sure the war was well-funded...

Above: Pie and coffee served by women of the Epping, North Dakota, Woman's Christian Temperance Union to promote sale of defense stamps and bonds. (This and image above from Library of Congress via Photogrammar)
And the public didn't forget what it had to lose.

Above: Women painting propaganda posters. The master document hangs in the background.
They helped covert existing factories to manufacture necessities for the troops.

Above: An employee of a hosiery-turned-mosquito-net-factory holds a contraption used to determine tensile strength of yarn and keep it in place during production. (Library of Congress via Photogrammar)
They took their new roles seriously.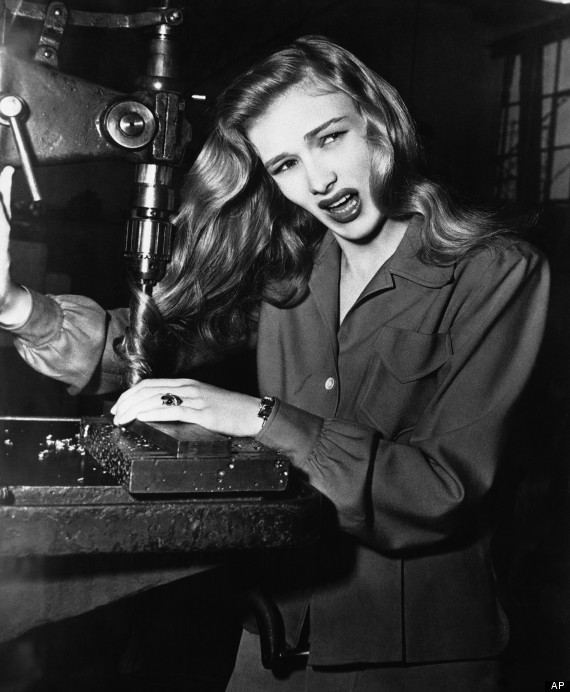 Above: Veronica Lake, an American film actress, illustrating why you can't wear your hair long on the job.
There were "practically no jobs" that could not "be adapted for women workers," according to a 1943 issue of Newsweek.

Above: Mildred Webb learns to operate a cutting machine at the Assembly and Repair Department of the Corpus Christi, Texas, naval air base. After about eight weeks of training, she'll be eligible for a job. (Library of Congress via Photogrammar)
And often they'd work side-by-side with men.

Above: A camouflage class at New York University, where men and women make models from aerial photographs and devise a camouflage scheme for a defense plant. (Library of Congress via Photogrammar)
Women took care of the industrial equivalent of "women's work," like textiles.

Above: A woman in the Philadelphia Quartermaster Corps depot hand-stitches sleeves onto an Army jacket. (Library of Congress via Photogrammar)
But they also handled "men's work." Like welding.

Above: A female welder takes a moment to rest at the Richmond shipyard in California. The same Newsweek article noted that women could be found working "in the shipyards, lumber mills, steel mills, foundries ... Women engineers are working in the drafting rooms and women physicists and chemists in the great industrial laboratories." (Library of Congress via Photogrammar)
And lumber work.

Above: Women employed by a U.S. Department of Agriculture timber salvage sawmill in Turkey Pond, New Hampshire, taking a break. Dorothy De Greenia, far right, said she doesn't find the job hard after years of housework. Her son was deployed with the U.S. Army in Australia at the time of this photo. (Library of Congress via Photogrammar)
They made sure transportation infrastructure was running smoothly...

Above: Women clean off an H-class locomotive in Clinton, Iowa. (Library of Congress via Photogrammar)
And their compatriots serving abroad had all the munitions they needed.

Above: A worker at the Seattle Boeing plant, where about half are women, helps complete the fuselage framework on a B-17 "Flying Fortress" bomber. (Library of Congress via Photogrammar)
(While keeping up-to-date with the news of the day.)

Above: A woman responsible for operating railroad block signals reads the paper in the signal tower. (Library of Congress via Photogrammar)
They were up for any task...

Above: A woman applies finishing touches to giant floatation devices used to keep military aircraft above water when forced down at sea. (Library of Congress via Photogrammar)
Because often, they had close family fighting overseas.

Above: Civil service worker Grace Weaver paints American insignia onto repaired airplane wings at the Corpus Christi, Texas, naval air base. Weaver was formerly a schoolteacher with a brother working as an Army flight instructor. (Library of Congress via Photogrammar)
In WWII, women defied stereotypes.

Above: "The gags about women drivers fall flat" at the Army quartermaster depot where these female drivers line up. They have an "enviable" service record. (Library of Congress via Photogrammar)
Some of them left the home front to serve their country abroad...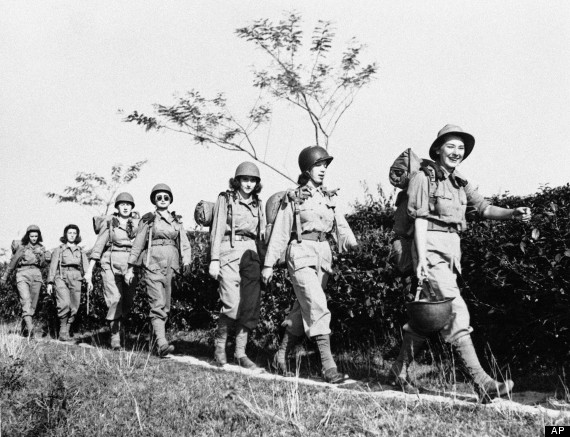 Above: Army nurses march single-file along the border of India and Burma (now Myanmar) carrying heavy combat packs. They're training to replace Lieutenant Colonel Gordon S. Seagrave's nurses at the front lines in the jungle.
Joining auxiliary branches of the U.S. military...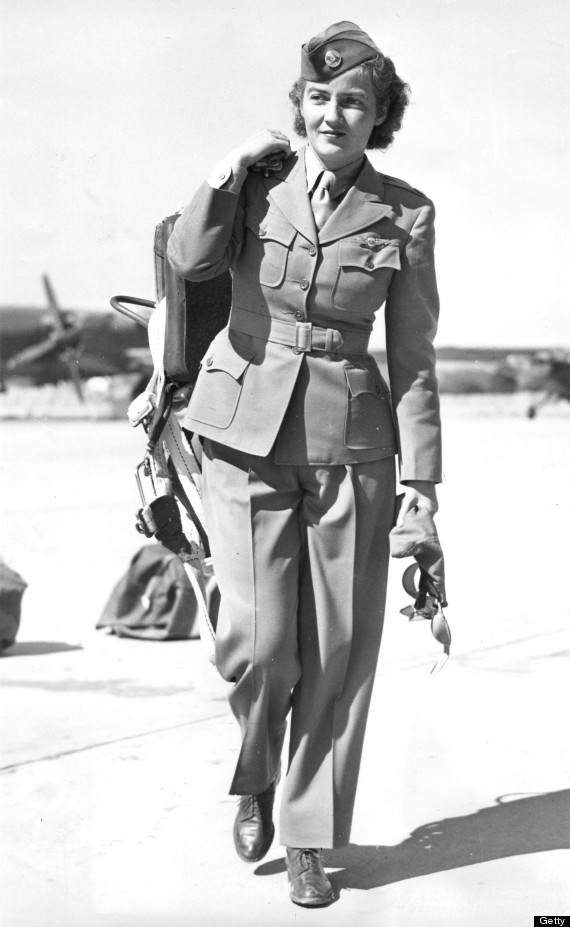 Above: Nancy Harkness Love, an American pilot and Commander of the Women's Auxiliary Ferrying Squadron -- which was later absorbed into the Women's Airforce Service Pilots -- walks across a tarmac in England.
And black women fought for their country decades before much of their country fought hard for them.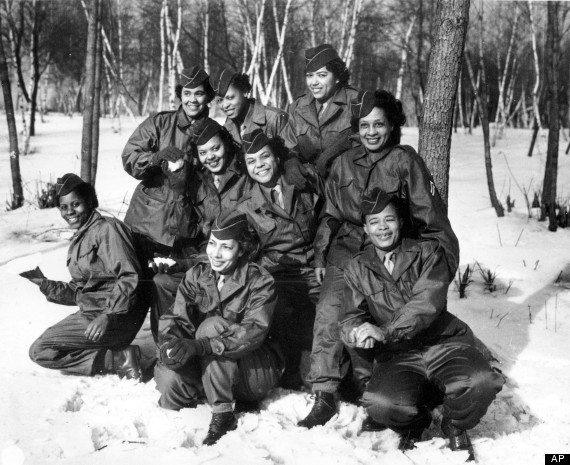 Above: Members of the Women's Army Corps pose in Camp Shanks, New York, before embarking overseas. They're the first black members of the WAC to go abroad in the war effort.
And yet, in uncertain times, they kept the home front prepared for any possibility...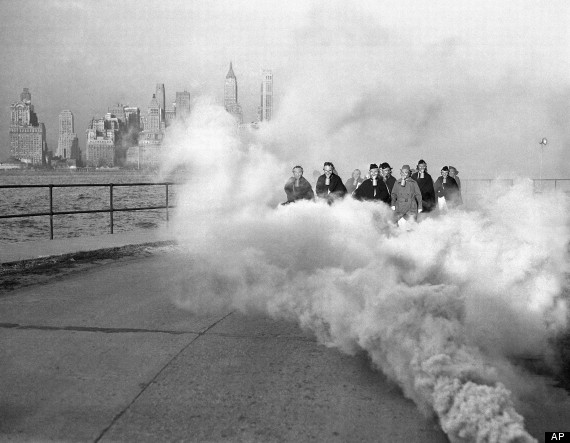 Above: Army nurses undergo a defense drill wearing gas masks at Fort Jay on Governors Island, New York, in 1941.
However they could.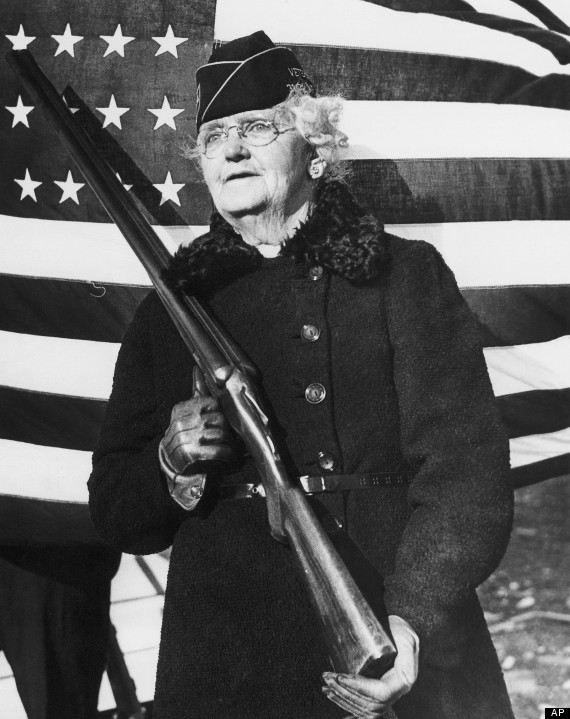 Above: Mrs. Paul Titus, a 77-year-old air raid spotter in Bucks County, Pennsylvania, patrols her beat with a gun. "I can carry a gun any time they want me to," she said.
BEFORE YOU GO
PHOTO GALLERY
21 Ways Gloria Steinem Taught Us To Be Better Women