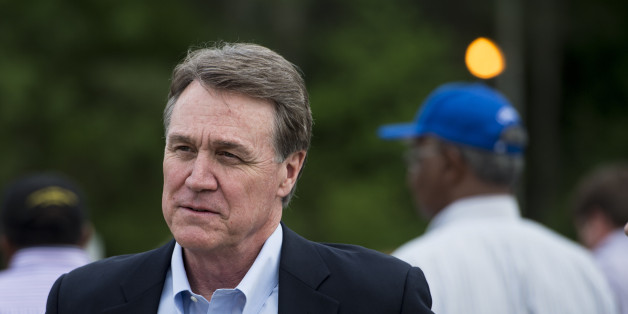 Two new polls in Georgia find Republican David Perdue running narrowly ahead of Democrat Michelle Nunn in one of the year's most competitive Senate races.
An Atlanta Journal-Constitution poll conducted by Abt SRBI and released Friday gave Perdue a 4-point edge, with his 45 percent to Nunn's 41 percent, while a SurveyUSA poll for WXIA had Perdue up 3 points, 47 percent to 44 percent. Libertarian Amanda Swafford took 6 percent in the AJC poll and 5 percent in SurveyUSA's.
A third recent survey, conducted by online pollster YouGov for CBS and The New York Times, gave Perdue a wider 6-point lead.
Mark Schulman, the chief research officer at Abt SRBI, told the Journal-Constitution that African-American turnout could be crucial in determining the race. The survey finds just 24 percent of those likely to vote are African-Americans, lower than the 28 percent of the electorate they accounted for in the 2010 midterms. Democrats are making a concerted effort to increase voter registration and turnout in the black community.
HuffPost Pollster's Senate model currently has Perdue up about 5 points, 49 percent to 44 percent, with a 67.5 percent chance of winning over Nunn in November.
In the event that no candidate wins a majority of the vote on Election Day, the race will go to a Jan. 6 runoff, which could -- at least theoretically -- determine which party controls the U.S. Senate.
Both polls also looked at Georgia's gubernatorial race, which is essentially deadlocked. The Atlanta Journal-Constitution finds Gov. Nathan Deal (R) with 43 percent to Democrat Jason Carter's 42 percent, while SurveyUSA gives Deal 45 percent to Carter's 44 percent. Deal, who's currently the focus of several ethics investigations, led his rival in early polling last year, but has since seen his edge largely evaporate. HuffPost Pollster's model currently gives him 47 percent to Carter's 45 percent.
The AJC/Abt SRBI poll surveyed 884 likely voters Sept. 8-11, using live calls to both cell phones and landlines, while the SurveyUSA poll reached 558 likely voters Sept. 5-8, using automated phone calls and an online questionnaire.
BEFORE YOU GO
PHOTO GALLERY
Senate Seats Up For Grabs In 2014