It was an uncomfortable day. Video surfaced of Jim Clyburn excitedly discussing sexting, which might explain that message he sent us about taking a tour of his lower chamber. Steve Southerland laughed off charges that his male-only fundraiser was sexist, saying his opponent is a silly little woman who should show her underwear. And Michael Hayden compared air strikes to casual sex, which is an apt analogy, as both are often unexpected, over quickly and the result of millions of dollars of expenditures by Raytheon. This is HUFFPOST HILL for Friday, September 12th, 2014:
GOP PLANS FIRST 100 DAYS OF SENATE MAJORITY - That is, after they fix all the walls punched by Harry Reid. "Republicans believe many of their priorities could be embraced by Democrats. Legislation endorsing the Keystone pipeline included Democratic Sens. Joe Donnelly (Ind.), Heidi Heitkamp (N.D.), Claire McCaskill (Mo.) and Jon Tester (Mont.) among its co-sponsors. And a bill to repeal the medical device tax has six Democratic cosponsors, including Sens. Al Franken (Minn.), Amy Klobuchar (Minn.), Bob Casey (Pa.), Jeanne Shaheen (N.H.), Kay Hagan (N.C.) and Donnelly...On regulatory reform, they note that Senate Majority Leader Harry Reid (D-Nev.) halted action on the energy and water development appropriations bill earlier this year because he feared centrist Democrats were inclined to support an amendment curbing regulations on coal. Centrist Democrat Joe Manchin (W.Va.) introduced legislation at the beginning of the year requiring that new greenhouse gas standards set by the Environmental Protection Agency be realistically achievable by coal-fired power plants...Republicans say they want to pass a budget in the first half of next year that would include special procedural instructions known as reconciliation to smooth the way for broader tax reform and entitlement reform." [The Hill]
Congressman Mark Sanford has written a really long, really passive aggressive, really tl;dr Facebook post about his many relationship problems, chief among them that his wife is suing him again and he has ended things with Marai Belen Chapur.
CONGRESS MULLS REVERSING PENTAGON SEQUESTRATION CUTS - Also a great opportunity for John McCain to grumble about invading everywhere. Politico: "Some defense-minded lawmakers from both parties say the new U.S. campaign to destroy the Islamic State of Iraq and the Levant should also spark a new effort at home: ending sequestration for the Pentagon. With President Barack Obama warning the fight against the Islamic State militants will be a long-term effort, several lawmakers say the initiative should finally end the logjam over the sequester spending caps that have curbed defense budgets. "If we don't replace the cuts in sequestration, we're going to compromise our ability to be successful against ISIL and other emerging threats," said Sen. Lindsey Graham (R-S.C.). "I hope those Republicans who thought this was a good idea will revisit that. If we don't, we're doing the country a great disservice." [Politico]

O hai
Keep digging, Steve Southerland: "Rep. Steve Southerland (R-Fla.) was criticized last week for hosting a male-only fundraiser in March, with his opponent Gwen Graham's campaign calling the event 'offensive.' But Southerland laughed off the criticism to the Tampa Bay Times on Friday, comparing the event to a 'lingerie party.' 'I live with five women. That's all I'm saying. I live with five women,' Southerland said. 'Listen: Has Gwen Graham ever been to a lingerie shower? Ask her. And how many men were there?'" [HuffPost]
DAILY DELANEY DOWNER - Next week the U.S. House of Representatives will likely consider legislation to prevent a government shutdown, and maybe a bill to authorize a new war in Iraq. But the Republican-controlled House will also target the scourge of poor people withdrawing welfare benefits from ATMs inside Colorado pot shops. Lawmakers will vote on the Preserving Welfare For Needs Not Weed Act on Tuesday, according to a spokeswoman for sponsor Dave Reichert (R-Wash.). Reichert originally introduced the bill in March after the National Review reportedthat welfare debit cards had been used 64 times inside Colorado's new legal marijuana establishments. "The fact that some people are using welfare for weed is outrageous," Reichert said in a press release at the time. [HuffPost]
Does somebody keep forwarding you this newsletter? Get your own copy. It's free! Sign up here. Send tips/stories/photos/events/fundraisers/job movement/juicy miscellanea to huffposthill@huffingtonpost.com. Follow us on Twitter - @HuffPostHill
SOME SUPER PACS DISAPPEARING FASTER THAN THE DEMOCRACY THEY'RE DESTROYING - Paul Blumenthal: "The American Future Fund is not the only nonprofit disappearing act. The conservative nonprofits 60 Plus Association, Americans for Tax Reform, and Americans for Job Security also have largely evaporated from the federal election scene after spending millions in both 2010 and 2012. The disappearances show how nonprofit political networks use groups with the capability for electoral action as fronts for their own campaigns and, when they are no longer useful or become a distraction, how easily they can be cut loose...Running afoul of federal and state laws and regulations, or the desires of their funders, appears to be a prime reason for this year's lack of spending from these nonprofits." [HuffPost]
STYROFOAM WARS: NEWS FROM THE FRONT! - "Look at our fighting boys go! On the march to defeat the plastic menace! Buy war bonds!" Kate Sheppard: "Fifty-nine Democrats are rallying once again to get House leadership to toss the polystyrene packaging used in congressional cafeterias. The appeal comes as the District of Columbia is poised to phase out foam packaging, and as scientists have warned of potential health risks posed by the chemical used in their production...Democrats have griped about the reversal ever since. But this summer, their campaign gained steam when the District of Columbia passed a law requiring restaurants and food trucks to get rid of polystyrene packaging by January 2016. The National Academy of Sciences also upheld a decision this summer that added styrene to the list of chemicals 'reasonably anticipated to be a human carcinogen.'" [HuffPost]
JIM CLYBURN ALL ABOUT SEXTING - SWIPE LEFT: "Rep. Jim Clyburn (D-S.C.) may have found the solution to Democrats' woes at the polls this November. In a Labor Day C-SPAN appearance that was flagged by the The Daily Caller, the civil rights leader appeared to endorse 'sexting' as a new way to get people out to vote. 'Use the tools that we have,' he told an elderly caller concerned about the shooting of Michael Brown. "We've got great tools to communicate about everything else. We can text -- what do we call it? Sexting. Let's do some voting, organizing over the Internet. We've got the tools. Let's use them for a new massive movement that will make sure that we can have in November 2014 the kind of turnout at the polls that we had in 2012 in November.'" [HuffPost's Igor Bobic]
ROB FORD, WE HARDLY *REALLY* KNEW YE - Guess he cracked under pressure?? ...Eh??? ...Eh??? ::punches self in face:: "Toronto Mayor Rob Ford withdrew his re-election bid Friday as he seeks treatment for a tumor in his abdomen, ending a campaign he had pursued despite a stint in rehab and persistent calls for him to quit amid drug and alcohol scandals. But he said his brother would run in his place, saying 'we cannot go backwards.' Rob Ford will instead seek a seat on the City Council, after a nephew withdrew his candidacy. 'My heart is heavy when I tell you that I'm unable to continue my campaign for re-election as your mayor,' Ford said in a statement. 'I have asked Doug to run to become the next Mayor of Toronto, because we need him. We cannot go backwards.'" [AP]

Eliot's office plant, Rob Ford, is doing just fine.
YOU COME AT THE ORRIN, YOU BEST NOT MISS - In retrospect, Orrin Hatch would fit in a little too nicely as a character in "Breaking Bad." Jen Bendery: "Sen. Orrin Hatch (R-Utah) is so mad about the Senate's failure to extend tax breaks to businesses, he's having murderous thoughts. According to a CQ Roll Call report, Hatch vented to a business crowd on Thursday about how Senate Majority Leader Harry Reid (D-Nev.) set up the amendment process for a bill in May that would have extended a host of expiring business tax breaks for two years. Reid opted to fill the amendment tree, a procedural step aimed at limiting amendments. Republicans refused to support the bill without amendments, the tax breaks were not extended, and Hatch has not forgotten. 'I'm speaking as softly as I can; I'm ready to kill somebody,' Hatch said as he left the stage at the event." [HuffPost]
BECAUSE YOU'VE READ THIS FAR - Here's a cat facing down a lemon slice.
MARK WARNER UPSET KIRSTEN GILLIBRAND CALLED ARLINGTON 'SOULLESS'
...but everything is better now.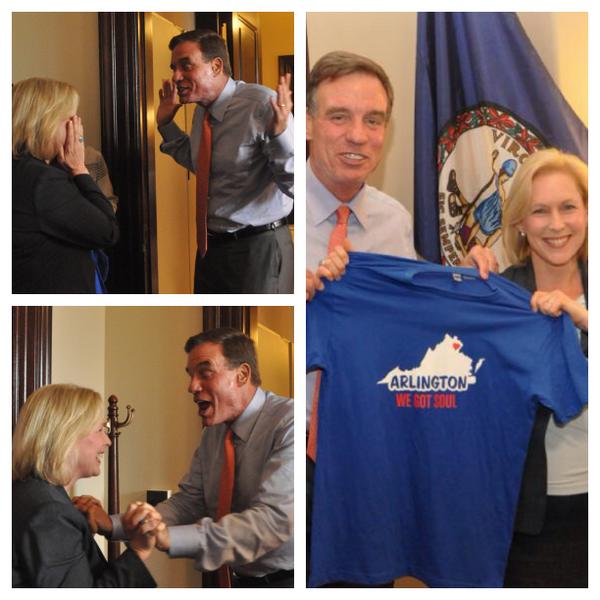 COMFORT FOOD
- "Portraits of vice presidents with octopuses on their heads."
- A hedge fund is up in arms over Olive Garden's unlimited breadsticks
- Dad and beatboxing baby.
- Alabama football nut when incredible lengths to propose to his girlfriend in Nick Saban's office.
- Behold the Chewbacca dog.
TWITTERAMA
@aedwardslevy: 1. Legally change name to "Vote 'Em All Out"
2. Run for Congress
@dceiver: To be fair, casual sex with Michael Hayden seems like it would be quite degrading, perhaps moreso than these airstrikes
@elisefoley: Politics twitter today is all Clyburn sexts and a retired general comparing air strikes to casual sex.
Got something to add? Send tips/quotes/stories/photos/events/fundraisers/job movement/juicy miscellanea to Eliot Nelson (eliot@huffingtonpost.com) or Arthur Delaney (arthur@huffingtonpost.com). Follow us on Twitter @HuffPostHill (twitter.com/HuffPostHill). Sign up here: http://huff.to/an2k2e