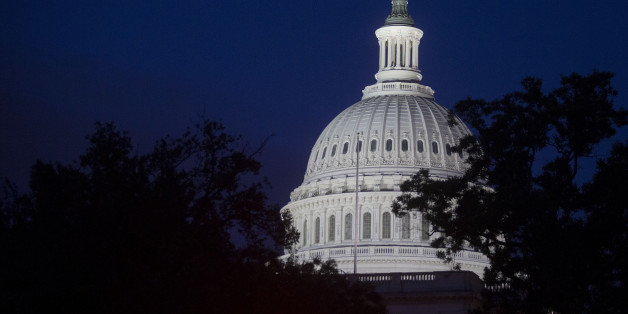 A national poll finds the Republicans ahead, while state-level Senate surveys have some good news for Democrats. This year's gubernatorial races look as competitive as everything else, but most GOP incumbent have an edge. And a large number of independents complicates the Alaska Senate race. This is HuffPollster for Friday, September 12, 2014.
GOP ADVANTAGE IN NATIONAL POLLING - Dana Blanton: "American voters disagree with President Obama that the economy is in better shape today than in 2008. Most are unhappy with ObamaCare. And optimism about the future of the country is down. With only 54 days until Election Day, these sentiments are pretty well baked into the cake -- boosting Republican candidates in a new Fox News poll....Overall, when asked who they would back if the Congressional election were today, 47 percent of likely voters say the Republican candidate in their district and 40 percent the Democrat. Recent Fox News polls of registered voters have shown a narrow Democratic advantage, although the lead bounced back and forth between the two parties for most of the spring and summer....In states with active U.S. Senate races, likely voters would back the Republican candidate in that race by a 48-39 percent margin. And when looking at the results in just the 14 Fox News battleground states, that GOP edge widens to 53-35 percent among likely voters." [Fox News]
A GOP generic upward trend - The Fox News result is the most favorable to Republicans so far in 2014, although other recent likely surveys by CNN and GWU/Battleground also showed a Republican advantage. The HuffPollster chart of the national "generic" U.S. House vote now shows a slight Republican edge (44.4 to 42.9 percent as of this writing) for only the second time this year. [Pollster chart]
How does generic compare to past elections? - The crew at Ace of Spaces Decision Desk put together the following chart comparing the generic ballot results of 11 pollsters in every election since 2002 as of September 11. [@AOSHQDD]
More volatile than usual? - Edison Research exit pollster Joe Lenski, via Twitter: "I will remind everyone that the generic house vote question will mean less this year than in most years...35 [congressional districts] have no Dem candidate and 41 CDs have no GOP candidates - that's 17% of the country with no Dem v. Rep choice....just saying question has tons of noise & volatility - pollsters are asking a choice that 17% of voters won't have on 11/4." Fivethirtyeight's Harry Enten replied: "Predictiveness of generic for house elections may very well be less, but in judging the national environment I'm not as sure." [@JoeLenski and @ForecasterEnten via Storify]
BUT DEMOCRATS GET BETTER NEWS IN STATE POLLS:
-Michigan: A Suffolk University poll for USA Today was the latest of three polls to find Gary Peters (D) significantly ahead of Terri Lynn Land (R) -- in this case, with a 9-point margin, 46 percent to 37 percent. PPP (D) and Glengariff polls released earlier this month gave him leads of 7 and 10 points, respectively. Several other pollsters, including CBS/NYT/YouGov in its two rounds of polling, give Land better numbers. HuffPollster's Senate model puts Peters up by just over 6 points, with a win probability of about 68 percent. [Toplines, Pollster chart]
-North Carolina: Rasmussen gives incumbent Kay Hagan (D) a 6-point edge over Thom Tillis (R), her best showing since June. Polling of the state remains inconsistent, and dominated by partisan results. In September, a survey for the DSCC gave Hagan a 3-point edge, while one for the NRSC found the race tied, and CBS/NYT/YouGov put Tillis up by one. HuffPollster gives Hagan a lead of just under 3 points, with both candidates facing essentially even odds of winning. [Rasmussen, Pollster chart]
-New Hampshire: "Sen. Jeanne Shaheen (D-N.H.) continues to lead Republican challenger Scott Brown,according to a poll conducted by Mayday, a campaign finance reform super PAC, and released Thursday to The Huffington Post. The automated phone survey, conducted by the Democratic firm Global Strategy Group, finds Shaheen leading the former Massachusetts senator, 48 percent to 41 percent, in New Hampshire's U.S. Senate race….Journalists and politicians on both sides of the aisle raised eyebrows at an August survey that showed Shaheen in a dead heat with Brown. But a broader look at the polling shows her continuing to lead, though her margin narrowed over the summer as Republican voters began to line up in support of Brown. Surveys conducted in August and September find her lead ranging from 2 to 8 percentage points, down from 5 to 12 points in June and July. Brown has not led in any survey of the race." HuffPost Pollster's Senate model gives Shaheen a lead of about 6 points." [HuffPost, Pollster chart]
New Jersey: Two new university-sponsored surveys confirm that Cory Booker (D) is comfortably leading opponent Jeff Bell (R). Fairleigh Dickinson University and Stockton College both give Booker a 13-point margin, unchanged from the first polls on the race this summer. The Pollster model gives him a 99.9 percent chance of victory. [Stockton, FDU, Pollster chart]
IS HUFFPOLLSTER 'OUT ON A LIMB'? -- As of this writing, the HuffPost Pollster Senate Forecast gives Republicans a 44 percent probability of gaining a Senate majority, which is slightly lower than similar Senate forecasts as of this writing, such as the Daily Kos Poll Explorer (48 percent), The Washington Post/Monkey Cage's Election Lab (54 percent), New York Times/Upshot's Leo (57 percent) and the FiveThirtyEight forecast (58 percent). [HuffPost Pollster Senate Forecast]
A friend of HuffPollster emailed yesterday, asking, "are you lonely out there on that limb?" Our answer is, it may feel a little lonely, but HuffPollster does not consider our estimate to be as far "out there" on a limb as some may believe. The models cited above are all telling is more or less the same thing: It's a "toss-up." We don't know with meaningful confidence which party will control the Senate.
The difference between 44 and 58 would be huge as a percentage of votes cast, but it has little substantive significance when it comes to probabilities. As the Times' Josh Katz and Amanda Cox noted back in May, if you had two "biased coins" that came up heads 49 percent and 55 percent of the time, respectively, it would take 375 flips of those coins (and about 30 minutes of flipping) to know with certainty which coin was which.
A helpful summary chart produced by New York Times/Upshot shows how four of the models differ in terms of their forecasts for individual states. Two of the biggest differences involve Alaska and Kansas. In Alaska, Pollster's model sees an almost exactly even race (both in terms of the vote margin and probability), while FiveThirtyEight gives Republican nominee Dan Sullivan a 68 percent chance of winning. In Kansas, the Upshot model still gives Sen. Pat Roberts (R) a 76 chance of winning, while the Pollster model rates the race a 50-50 toss-up. In both cases, the polling is extremely thin and questionable -- just one recent automated survey in Kansas and just a handful of automated and internet polls in Alaska. In both cases, we are comfortable showing less confidence in the outcome, at least for now.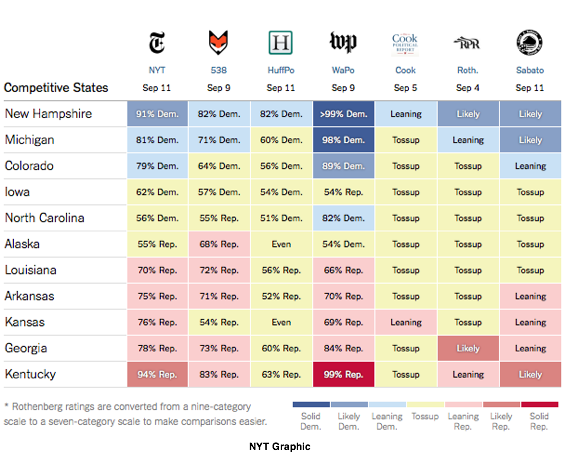 The Pollster forecasts are also generally less confident about the leaders' chances of victory across the board. This difference has the most apparent consequence when comparing the various models in Arkansas, Kentucky and Louisiana, where both the Upshot and FivethirtyEight models show 70 percent or better confidence in the Republican winning. Our model shows the Republican candidates leading in both states, but given the relatively slim polling margins in each -- including the 1.5 percentage point difference in Arkansas -- we are comfortable showing less confidence in projecting an ultimate winner.
INDEPENDENT ID REBOUNDS IN ALASKA - Justin McCarthy: "Amid a tight race for a U.S. Senate seat from Alaska, a growing proportion of Alaskans, now 59%, identify as political independents. At the same time, there are recent lows in the percentage of Alaskans identifying as Republicans (25%) and the percentage identifying as Democrats (13%). These shifts create a more challenging political landscape for the campaigns of both incumbent Democratic Sen. Mark Begich and his Republican challenger, former Alaska Attorney General Dan Sullivan….Alaska has traditionally been among the states with the highest percentages of residents who identify as independents, and the current Alaskan independent percentage far exceeds the national average of 40%. Historically, however, the state has leaned right. Despite Alaskans' initial inclination to identify as politically independent, when examined closer, more Alaska independents say they 'lean' to the Republican Party than to the Democratic Party. That leaves a situation in which 42% of Alaskan adults identify as Republican or lean Republican, compared with 34% who identify as Democrats or lean Democratic." [Gallup]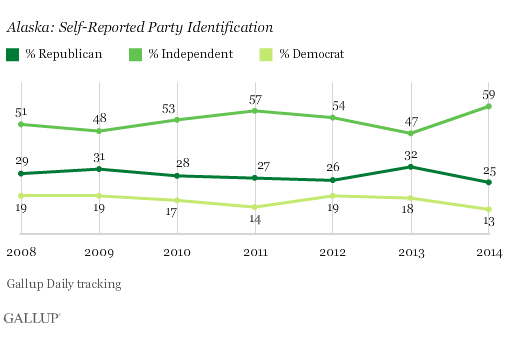 Similar to Alaska's party registration - HuffPollster notes that Alaska's unusually high level of independent identification is similar to the percentage of registered voters with no official party affiliation. According to the voter statistics we compiled in May, 27 percent of Alaska's voters are registered as Republicans, 14 percent as Democrats, 4 percent with another party and 53 percent have no affiliation. [HuffPollster]
GOP HAS A SMALL EDGE IN GUBERNATORIAL RACES - Nate Cohn: "Republicans hold a narrow but broad advantage across this year's governor's contests, according to the newest round of data from The New York Times/CBS News/YouGov online panel of more than 100,000 respondents. They hold at least a nominal lead in 22 of this year's 35 governor's races. The sizable Republican advantage is mainly a reflection of incumbency. The Republicans won 23 of 37 states in 2010, and all but three of those Republicans are running for re-election this year. The three retiring Republicans are all from red states. To make gains, Democrats will need to defeat Republican incumbents, many of whom represent blue or purple states where Republicans won under favorable conditions four years ago. In many of those states, Republican governors and state legislatures passed conservative policies, perhaps creating an opening for Democrats. Yet only one Republican incumbent, Tom Corbett of Pennsylvania, trails, according to the data." [NYT]
LOOKING AT THE POLITICAL IMPACTS OF 9/11 FOR THOSE CLOSEST TO THE ATTACKS - Dan Hopkins: "A long, distinguished body of research in political science suggests individuals' responses to major events — their engagement as well as their attitudes — tend to depend more on factors like their political partisanship than on where they happen to live or their personal experiences. But that conventional wisdom is what makes recent research on the political impacts of Sept. 11 a striking and noteworthy departure...Did simply living near the attacks also shape people's politics? To get at that question, I used a panel survey conducted by the National Election Study (NES) between 2000 and 2004. I measured how far each respondent lived from the attack sites...I then estimated models controlling for various individual-level factors to see whether Americans' proximity to the 9/11 sites predicted their support for anti-terror spending in 2004, more than three years after the attacks...Respondents living within 52 miles of either 9/11 site are 0.27 higher on the anti-terrorism spending scale than those who lived further away, with a 95 percent confidence interval from 0.04 to 0.51. Significant results persist for thresholds between 52 miles and 146 miles. At its maximum size, the effect of living within 70 miles of a 9/11 site is 0.28, a sizable change in attitude. And I've confirmed that no such pattern exists in spending preferences pre-9/11, making it more likely that this relationship was indeed a product of 9/11 and its aftermath." [538]
AMERICANS OPPOSE TEACHING CHILDREN HOW TO SHOOT GUNS - Emily Swanson and Christina Wilkie: "The vast majority of Americans think it's a bad idea to place a military-style weapon in the hands of a small child, a new HuffPost/YouGov poll shows...According to the new poll, only 26 percent of Americans think it's appropriate for a child under 10 years old to learn how to fire any kind of gun under supervision at a shooting range, while 63 percent said that is inappropriate. Only 7 percent said that it's acceptable for a child under 10 to fire submachine gun like the Uzi, while 86 percent said it's inappropriate. In fact, an earlier HuffPost/YouGov poll, also conducted after the shooting, found that the median age at which Americans think it's appropriate for someone to learn how to fire a gun is 16. That poll found variation along party lines on the median age listed as most appropriate -- Republicans said 14, independents said 15, and Democrats said 18." [HuffPost]
HUFFPOLLSTER VIA EMAIL! - You can receive this daily update every weekday morning via email! Just click here, enter your email address, and and click "sign up." That's all there is to it (and you can unsubscribe anytime).
FRIDAY'S 'OUTLIERS' - Links to the best of news at the intersection of polling, politics and political data:
-Siena College finds Republican Chris Gibson leading by 24 points in NY-19, and Republican Elise Stefanik up 13 points in NY-21. [Times Union]
-Harry Enten doubts Obama's foreign policy speech will boost his approval rating. [538]
-Key Obama constituencies, including women, younger Americans and Latinos, are losing confidence in his presidency. [WashPost]
-An NBC News/Wall Street Journal/Telemundo oversample finds President Obama's job approval rating down to 47 percent among Latino voters nationwide. [@mmurraypolitics, NBC]
-Americans believe political campaigns consume too much money, but the issue is hardly a priority. [NPR]
-Dylan Matthews discusses a study that found that receiving a letter from a legislator outlining his or her position on an issue can make constituents more likely to support that same position. [Vox]
-Victoria Velkoff reviews the different ways organizations measure income and poverty. [US Census Bureau]
-Greg Sargent reviews MoveOn polling of drop-off voters. [WashPost]
-Mona Chalabi looks at the data on who has already cast ballots in the referendum on Scottish independence. [538]
-Tom O'Grady looks at the upcoming Scottish vote on independence. [WashPost]
-Hickman Analytics (D) publishes a DIY Senate prediction tool. [Hickman]
-Greenberg Quinlan Rosner Research (D) adds James Morris as their fifth pahttp://gqrr.com/articles/2014/09/11/james-morris-becomes-gqr-s-fifth-partner. [GQRR]
-The Wizard of Id isn't a big fan of news polls. [GoComics via @LSimonetta]
BEFORE YOU GO
PHOTO GALLERY
Senate Seats Up For Grabs In 2014