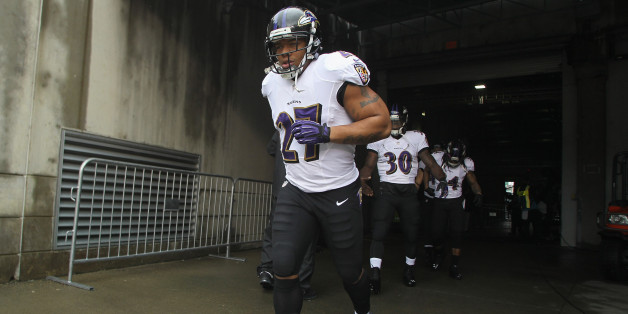 Sports can sometimes provide an escape from the world's troubles. Not this week. This week, the world couldn't escape the troubles making headlines in sports.
From explicit footage of domestic violence and audio recordings of racist remarks to murder trials and allegations of child abuse, here is a look back at some of the sports stories that generated outrage and necessitated some serious soul searching by athletes, league executives and fans alike this week. Taken together they offer a stark reminder that athletics don't simply showcase men and women performing at their best, they can also offer a haunting reflection of society at its worst.
The Ray Rice Video: On Monday, TMZ made public the infamous video of Ray Rice punching his then-fiancee and now wife in the elevator at a casino in February. Following the release of the explicit video, Rice's contract with the Baltimore Ravens was terminated and the NFL upgraded a two-game suspension into an indefinite ban. In attempting to explain why the initial ban had been just two games, a punishment widely criticized as being too lenient when it was levied in July, NFL Commissionner Roger Goodell claimed during a Tuesday interview with Norah O'Donnell of CBS that the league had not seen the footage inside the elevator until it was released by TMZ. He also, potentially deceitfully, claimed Rice's account of the incident had been "ambiguous." A day later, The Associated Press reported that a law enforcement official had sent the Ray Rice video to an NFL executive in April, five months before it became public. Amid calls for Goodell to resign or be fired, the league announced an investigation into its handling of the case.
The Oscar Pistorius Verdict: A judge began reading the verdict of Paralympic track star Oscar Pistorius in Pretoria, South Africa on Thursday. Pistorius, 27, had been charged with premeditated murder following the fatal shooting of his girlfriend, 30-year-old model Reeva Steenkamp, on Valentine's Day in 2013. Judge Thokozile Masipa ruled out both premeditated murder and murder verdicts but convicted Pistorius of culpable homicide.
The Atlanta Hawks' Race Problem: In a tumultuous week for the Atlanta Hawks, it became quite clear that the NBA did not rid itself of racism when it removed Donald Sterling as owner of the Los Angeles Clippers. Hawks General Manager Danny Ferry began an indefinite leave of absence on Friday, just days after it was revealed that he made racist remarks about free agent Luol Deng during a conference call with team owners in June, including saying that he "has got some African in him." The announcement that Ferry would take a leave of absence came less than a week after Hawks co-owner Bruce Levenson announced he would sell his controlling interest in the franchise over a racially charged email he had sent to team executives in 2012.
Adrian Peterson Indicted: Minnesota Vikings running back Adrian Peterson was indicted in a child abuse case on Friday, and a warrant was reportedly issued for his arrest. In a statement released to the media, Peterson's attorney claimed the alleged abuse involved disciplining a son with a switch. Citing police reports, Nick Wright of CBS Houston reported that the alleged abuse resulted in cuts and bruises to the child's back, buttocks, ankles, legs and scrotum.